2012 NFL Free Agents: Mario Manningham Rumored To Be Heading to Buccaneers
February 26, 2012

Rob Carr/Getty Images
Mario Manningham of the Super Bowl champion New York Giants could be on his way to the Tampa Bay Buccaneers, according to CBSSports.
Manningham, who made one of the greatest toe-touches in Super Bowl history, has said that he wants more passes thrown in his direction.
Manningham was the Giants' third leading receiver last season with 39 catches, but he recently told The Vindicator of Youngstown, Ohio, that he "wants the ball more." With Hakeem Nicks and Victor Cruz each producing over 1,000 yards in receptions last season, that is unlikely to happen in New York.
Do you blame him?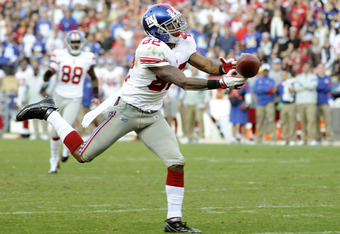 Thearon W. Henderson/Getty Images
Manningham was third on the Giants with 39 receptions. Hakeem Nicks recorded 76 and Victor Cruz poured on 82 this season.
With the emergence of Cruz, it looks like the Giants have their one-two combination set at wide receiver for years to come.
He already has his Lombardi Trophy, so why not go prove that you can be a No. 1 wide receiver in the NFL? I don't think he is that type of talent, but I don't blame the guy for wanting to see if he's capable.
Former Giants assistant Mike Sullivan recently took over the offensive coordinator position for the Buccaneers.
Manningham could move to a warm weather city, which is reported that he wants to do, and not miss a beat because of the system Sullivan would have in place.
It sounds like the perfect move for Manningham now that he isn't a top-two receiver on the Giants. The Buccaneers could have a nice quarterback-wide receiver combination with Manningham and Josh Freeman to build around.