Chicago Bulls: The Search for a Third Center Continues
February 23, 2012

Doug Pensinger/Getty Images
With reports that free agent Joel Pryzbilla will sign with the Portland Trail Blazers, the Chicago Bulls are back at square one with looking for a third-string center.
It makes sense that Chicago is focused on filling this roster spot, as the franchise has frequently carried three men in the middle.
Last season the Bulls enlisted the services of Joakim Noah, Omer Asik and Kurt Thomas.
Thomas actually came in handy, starting 37 games when Noah went down with a foot injury. He also played substantially in the playoffs, especially against the Miami Heat.
Noah has been holding up pretty well so far this season and Asik is definitely a more polished NBA player; however, it would be hard to argue that a third center wouldn't be nice to have.
Seeking a trade for a third-stringer hardly makes sense, so the free agent avenue should remain the means of pursuit for the Bulls management.
There is still some decent talent available, but it's hard to guess about whom Chicago would be interested in.
If Pryzbilla is used as baseline criteria, then it is easy to deduce that the Bulls are looking for someone in the same vain as their other two centers, one who can rebound and be a defensive presence in the paint.
Since the role will be very limited, most any center in playing shape can be that guy.
Luckily for Chicago there are still some guys, seasoned and springy, still available.
If the Bulls want to go with a veteran presence, Erik Dampier and Dan Gadzuric are still available.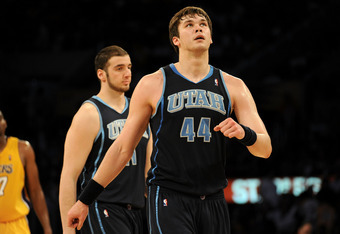 Harry How/Getty Images
Dampier has been a solid contributor on just about every team he's played for.
Last season's stint with the Miami Heat may smolder interest, though, as he rarely played, and when he did, he did not play well.
Gadzuric made the jump to China during the lockout saga. He was released because of an injury and is looking to break back into the NBA.
He's already worked out with the Philadelphia 76ers as well as the Los Angeles Clippers, so he seems ready to go.
If Chicago desires a more youthful player, then Kyrylo Fresenko is the guy to go after.
He's a solid seven-footer who tips the scales at 280 pounds.
Fresenko definitely gives Chicago a size contrast to the stringier Asik and Noah.
The upside of Fresenko's youth may also be his downfall, as it may be harder for him to come in and adjust to Thibodeau's system.
Considering the presence of Thomas last season and the interest in Pryzbilla this season, Chicago will more than likely continue to look for a well-established center whose knowledge of the game makes up for his lack of knowing the Bulls' scheme.
It's hard seeing the Bulls abandoning their search since they didn't get their guy, especially knowing how well having another big man served them last season.
Look for Chicago to press on with their search to land a middle-man insurance policy.