Seattle Seahawks: Will New Uniforms Delight, Distract, or Disgust?
February 23, 2012

Otto Greule Jr/Getty Images
Two words: feathered trim.
Let's all pause for a moment to consider the potential ramifications.
With Nike taking over the NFL contract for next season, it's almost a certainty the sports apparel giant will tweak every team's uniform just enough to have die-hard fans running to the store to get the latest and greatest.
According to Seattle Post-Intelligencer's Nick Eaton, "If you're anxious to see the Seahawks' new uniforms, I'm sorry—you still have a bit of a wait. The new duds will be revealed in 'early April,' Seahawks President Peter McLoughlin told KJR radio's Dave 'Softy' Mahler."
In terms of details, Danny O'Neil at the Seattle Times reported this: "What we've heard: A little birdie gave out a few hints the helmets will be darker, and there will be some feather trim. The helmets are not expected to go back to being silver."
For now that's it. 
What you do with that information is entirely up to you, but I'm actually a little concerned. 
Personally, I've always considered the Seahawks uniforms in the middle of the NFL spectrum, but outside of this technicolor nightmare they've managed to stay in bounds within the realm of good taste.
Still I tend to get a bit nostalgic about these things and truly believe the 'Hawks, through no fault of their own, were born too late.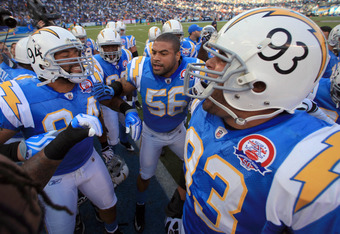 Donald Miralle/Getty Images
To me, perfection in pro football for uniforms came around the time LBJ was in the White House with the NFL teams dressed in clean, traditional jerseys, while the upstart AFL dared to be bold with more vivid colors and designs.    
Being an expansion team born a decade later, the 'Hawks tried to incorporate both a traditional look with a little bit of flair for the better part of their existence; however, to most fans outside of Seattle this look did little to earn the team much attention.  Still, it could have been much, much worse.
The latest unis were initially quite distinctive, yet the blue on blue look hasn't really improved much or aged well over time as other teams have tried to duplicate this look and failed.
So while I'm open to see some changes, I'm not quite sure the folks at Nike will cooperate.
But if anyone is listening...
I'd like to see a little more silver and/or grey worked in, especially with the pants, to provide some contrast and give a nod to the past.  Might also be fun to switch the helmets up a bit either at home or on the road with the blue and silver.  Other than that, please use the neon green with good taste as an accent.  Let people sense it, but not be overwhelmed by it. 
Clothes make the man, and if the Seahawks intend on dressing to impress let's hope they get it right.
Oh, and leave the feathers to the birds.
These are my thoughts.  Curious to hear yours. Do you love, hate, or couldn't care less about the current unis? 
How do you feel about the potential changes Nike has in store?
PS: If you like the Seahawks' current duds, make your way to the store ASAP to pick them up before they're gone.  Or, better yet for the daring bargain hunter, wait until they go on sale as part of a clearance once the new jerseys arrive.