Max Bretos' Wife: Ethnicity Adds Another Layer to ESPN Suspension
February 20, 2012

Max Bretos, the anchor that ESPN suspended for asking a question using a common sports phrase in a questionable manner during a postgame recap over the weekend, went on a Twitter rant to apologize and explain himself to the fans. 
One of the more interesting pieces of information that Bretos dropped on the social media website is that his wife is Asian.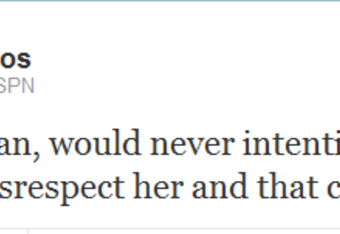 ESPN came under fire over the weekend for a Jeremy Lin headline following the New York Knicks' loss to the New Orleans Hornets. The network fired the editor who wrote it, and suspended Bretos for using it in a postgame recap. 
While the outrage towards the network and editor who came up with the headline is warranted, the suspension of Bretos is baffling. 
If Bretos was deliberately trying to raise the ire of people by using the phrase that he did, he would have tried to say it in a joking way. When you look at the video, he wasn't doing that. He was asking a question, but used poor phrasing in asking it. 
Lin's ethnicity has been a hot topic of conversation, with everyone from Jason Whitlock to Floyd Mayweather getting in on the action. 
The editor should have been fired, of course. You can't come up with that headline, put it through and expect everything to be fine.
Bretos was in a different position. He is on live television, likely coming up with questions as he goes along. He saw that Lin struggled and asked the question that he asked. It is a phrase that gets used in sports all the time, and no one bats an eye.
Make no mistake, I am not trying to defend racism or anything like that. I am just looking at everything surrounding Bretos, and there is nothing there to suggest that he was doing something just to be cute.
This is something that should not have happened; it is unfortunate that it did. Bretos is not a racist, and should not be vilified because of the comment.