Bud Shootout 2012: Pack Racing Is Back, but the Drivers Need to Pace Themselves
February 19, 2012

Jared C. Tilton/Getty Images
After last night's Bud Shootout, it is clear that pack racing is back at Daytona.  As a fan, I'm thrilled to see the "old style" of restrictor plate racing.
The drivers made the Bud Shootout a thriller for every single lap.  They were excited to see the return of pack racing after the race.
Drivers tried out the two-car tandem drafting, and they could not get away from the pack for too long, which is good news for NASCAR and the fans.
Seeing Dale Earnhardt, Jr. make some daring moves to take the lead early in the first segment got the crowd at the Daytona International Speedway on their feet cheering.
But with all this excitement, I think the drivers got a little too excited.
There were three big wrecks that basically made the 25-car field drop to about 10 cars by the end of the race. Drivers were bump drafting in the turns, and it caused the three "big ones" in the 75 lap event.
We saw David Ragan bump draft with Paul Menard in a turn, which made Menard spin and collect a total of eight cars. Then the same wreck happened again when Marcos Ambrose was bump drafting with Joey Logano in a turn and it caused a six car wreck.
There was more.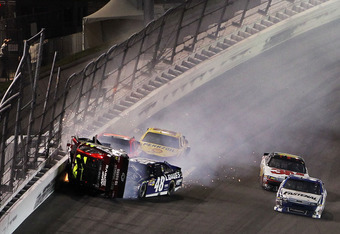 Jamie Squire/Getty Images
Jeff Gordon did the same thing and spun Kyle Busch (who survived getting spun out twice and won), and Gordon went up the track, causing eight cars to get damage.
Gordon went on a wild ride, flipping over on the driver's side window and sliding before the car flipped a few more times. That was the first time in Jeff Gordon's NASCAR career that he flipped a car over.
While the 2012 Bud Shootout was a phenomenal race, these drivers have to learn how to do pack racing again. Otherwise, no one will survive to finish next Sunday's Daytona 500.
There was a rule about 10 years ago that might have to be put back into effect again. That rule was "no bump drafting in the turns." It prevented a lot of big wrecks while it was in effect. NASCAR should enforce that rule again while it is still working on the aero packages of these cars.
What we learned last night was that these cars get really loose and out of control when a driver bump drafts on the left side of the rear bumper of another car.
The drivers, teams and NASCAR are going to have to learn as much as possible from the Bud Shootout and the Duel races to prevent too many big wrecks.
All I can say is, after last night's Bud Shootout, I can't wait for the 2012 Daytona 500.