Klitschko vs. Chisora: Dereck Chisora & the Craziest Fighters in Boxing History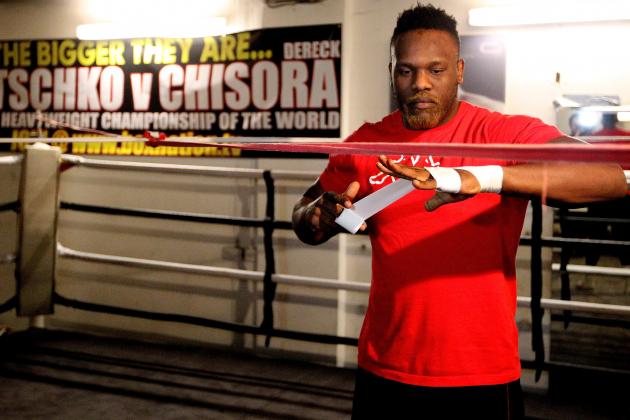 Scott Heavey/Getty Images

Dereck Chisora spit in the face of Wladimir Klitschko before fighting his brother Vitali. He then got in a brawl with fellow British fighter David Haye at the post-fight press conference.
Chisora is crazy.
But he's not the only boxer in history who left a few screws in another room. Far from it. Here are a few other boxers known for being pretty nuts.
(Note: The videos included are not safe for work.)
Begin Slideshow

»
Bernard Hopkins has had his fair share of nutty press conferences. He also has shown a strange infatuation with insulting Donovan McNabb.
He continued to fight into his forties, clearly not adverse to spending multiple decades sustaining blows to his head.
Hopkins was a fantastic fighter. He's also a bit batty.
I enjoy this little snippet from OrlandoSentinel.com:
Floyd Mayweather Jr. has had a pretty crazy past couple of years ranging from legal woes with security guards and charges of a domestic confrontation with a woman, getting into verbal altercation with his father Floyd Mayweather Sr. and even ripping his Golden Boy Promotions comrade Oscar De La Hoya on Twitter.
Speaking of Twitter, he made himself appear racially insensitive as well when he insinuated that Jeremy Lin's appeal was only based on his race.
Just fight, Floyd, and leave the social commentary to someone else.
As you can see, David Haye and Dereck Chisora's fight was pretty nasty and involved a few glass bottles and even a chair.
Yikes.
Oh, and here's video of him spitting in Wladimir Klitschko's face.
What a classy fellow.
1. Go watch Raging Bull. It's a fantastic film, and it will show you all you need to know about LaMotta.
2. In a Sports Illustrated review of the film in 1980, Frank DeFord called LaMotta scum and went on to note that LaMotta self-described himself as scum. And when DeFord writes something, I generally take it to heart.
3. He once threw a fight but refused to hit the canvas doing so. Unreal.
The following excerpt from an ESPN article about Tapia after he was in the hospital recovering from a cocaine overdose in 2007 should tell you all you need to know about Tapia's life.
Tapia was banned from boxing for 3½ years in the early 1990s because of his cocaine addiction. He spent six months in rehabilitation in 2003 after a collapse at home and later that year police said he overdosed on prescription pills.

It's has been a hard life outside the ring for Tapia, who was orphaned at 8, his mother stabbed 26 times with a screwdriver. He never knew his father and has battled cocaine addiction, alcohol, depression and numerous run-ins with the law.

In his book "Mi Vida Loca," Tapia said he's been declared clinically dead six times.
Tapia was one hell of a fighter, winning five titles in three weight classes over his career. But his life outside of the ring was tumultuous.
He talks a constant spew of trash (to the point I can't post his trash-talking highlights above for his many offensive remarks). He attacks wildly and goes for the kill. He's smoked cigarettes throughout his career.
He continued to fight even as he neared the age of forty.
Mayorga was a pretty scary dude. And pretty crazy to boot.