NHL Rumors: Toronto Maple Leafs Would Be Crazy to Trade Mikhail Grabovski
February 17, 2012

Claus Andersen/Getty Images
Toronto Maple Leafs center Mikhail Grabovski is an upcoming unrestricted free agent, and while the team would be smart to re-sign him, the two sides have yet to come to a contract agreement.
Grabovski is a very good player and is someone of great importance to the Leafs. General manager Brian Burke would be foolish to trade him. The trading deadline is February 27.
According to NBC Sports, Burke has received an offer believed to include a second-round pick and a prospect, however the team offering this package is not known.
Grabovski is an important player for the Leafs, and teammate Tyler Bozak spoke very highly of him in a recent Globe and Mail article, saying:
"He does everything pretty much," Bozak said. "He plays good defensively, he's fast, he's strong, he's got a good shot. He makes great passes. He's a complete player who's great at everything.

"He's 100 per cent a top two [line] centre in the league. He does everything right. He's not the tallest guy, but in the league these days, you don't have to be tall. You've just got to be strong and have good balance and he's got all of that.
Grabovski really does do a bit of everything for the Leafs. He scores goals, he is a solid playmaker and he won't hurt the team in the defensive end.
Grabovski has been joined by underperforming wingers on his line this season such as Nikolai Kulemin and hasn't had the luxury of playing with Phil Kessel this season for an extended period of time.
His worth is anywhere from $4-5 million per season but probably closer to $5 million and above. 
Considering the Leafs lack a true No. 1 center, Grabovski becomes even more valuable to the Leafs because losing him in free agency or through trade could really hurt the team's depth at center.
Since the calendar turned to 2012, Grabovski has played very well and is carrying the Leafs offense on many nights. Grabovski has scored 20 of his 39 points since the new year.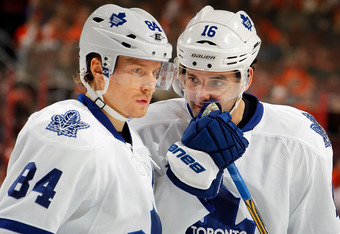 Paul Bereswill/Getty Images
I cannot imagine the Leafs being able get a center of Grabovski's caliber in return for him, which is why Burke will likely hold onto him at the trade deadline.
Burke doesn't like to make a lot of moves at the deadline because the prices are extremely high, even for average players, so I don't think he'll want to give up Grabovski while not acquiring another center in return.
Grabovski is a tremendous player for the Leafs and should not be traded because the team is ready to make the playoffs this season and end their postseason drought.