Christian Eriksen Could Move to Manchester United After Impressing Performance
February 17, 2012

Laurence Griffiths/Getty Images
Christian Eriksen has long been one of the most sought-after talents in all of Europe. At the ripe young age of 20 and with some incredible playing abilities, Eriksen is one of the best young players to come out of Denmark and appears destined to one day join one of Europe's big clubs.
Eriksen played for Denmark in the 2010 World Cup and made an appearance as an 18-year-old. Erkisen was the youngest player at that World Cup.
Since then, Eriksen has become a regular on the Danish national team and has become a reliable player for Ajax.
Last night, Eriksen started for Ajax and put on another solid performance in a 2-0 loss. Ajax will need a great performance in the second leg in order to advance over this English giant, but this might not be the last we hear of Eriksen with the English side.
After the match, Sir Alex Ferguson told TV3+, 
"He's a good player—a typical Ajax player who is good on the ball—but we already knew that... We have many young players at the club, but we are always looking for talent."
Eriksen was flattered by this revelation, telling Ekstra Bladet, 
"It is great to hear and an honour to hear him saying positive things about me, especially as it's not just come from any old manager...It's something I have to get used to. I would say that he is one of the game's greatest managers."
Eriksen will get one more opportunity to impress Sir Alex next Tuesday at Old Trafford. From what it sounds like, this may not be the last time that Eriksen suits up to play in the Theatre of Dreams.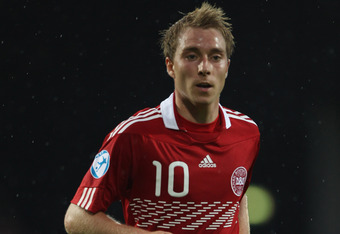 Michael Steele/Getty Images
Already, the likes of Arsenal and Liverpool have been linked to the young midfielder and, after Euro 2012, Eriksen will probably be one of the most sought-after players in Europe.
International competitions are known for driving up the price for players and, with Eden Hazard taking up most of the attention during this transfer window, Eriksen will probably be an expensive player this summer.
It would be a smart idea for United to pursue Eriksen as a long-term option in the midfield with an uncertain future for Paul Scholes. Eriksen has a great work-ethic and a fantastic first touch and has been trained at the Ajax academy, something that will be a major benefit for the young Danish star in his future.
Follow me on Twitter @Andrew_Jordan