Philadelphia Phillies: Why They Will Miss Each Departed Free Agent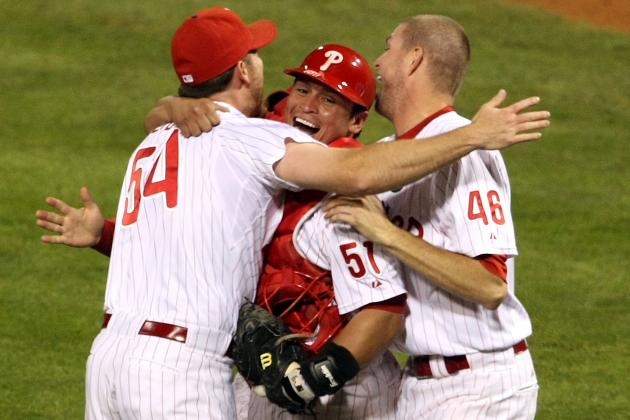 Nick Laham/Getty Images
Lidge and Madson had some good year pitching innings 8 and 9
Going into the off season the Phillies had a list of some pretty significant players being without contract.
Ruben Amaro Jr. and his team looked at the value of each player, tried assigning dollar values to that, and worked to sign the ones he could and wanted to bring back to Philadelphia.
In doing so, along with making some other moves, he may have prevented himself from signing some of his own free agents.
At the end of the off season, with Spring Training a few days away, it turns out the Phillies lost as many of their own free agents as they signed.
For the two that left for other cities, here is what the Phillies will miss:
Begin Slideshow

»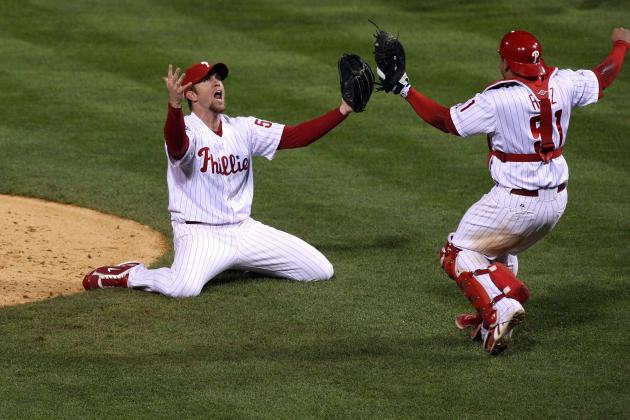 Jim McIsaac/Getty Images
Lidge's perfect season was so dominant
What the Phillies will miss most from Lidge is the memory of only four seasons ago, the perfect season.
While Lidge has lost a few MPH's on his fastball, he still has proven to be a more than effective relief pitcher. His ERA the past two seasons was less than 2.50. Interestingly, his K/9 rate had increased the past three seasons, meaning the Phillies could have found him useful.
It's hard to understand how they gave Chad Qualls more money than the Nationals gave Lidge given that Lidge left for more money, but Philadelphia will miss his veteran leadership and his reliability.
Lidge's leadership helped Ryan Madson go from being a horrible closer to adequate, and even an above average one last season. Lidge was reliable because you knew whenever Charlie Manuel called for him, he'd be ready to come in, injured or not. That is something you could not say about every member of the bullpen.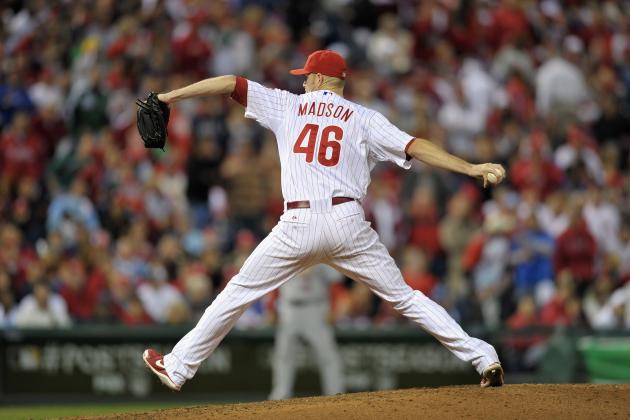 Drew Hallowell/Getty Images
Madson had his 9th inning struggles, but was money in innings 7-8
The Phills will miss Madson for how dominant he usually was in the eighth inning of games. As his changeup developed into a better pitch, he gained more command against hitters. Although he had his struggles as a closer, he usually was money in the eighth innings to his credit.
The Phillies will bank on Antonio Bastardo rebounding from a rough September to make the team forget all about Ryan Madson, but until he proves he can solidify it, Madson will be missed that inning. Throw in the fact that he was a homegrown guy and that may make people miss him a little more than just a typical relief pitcher.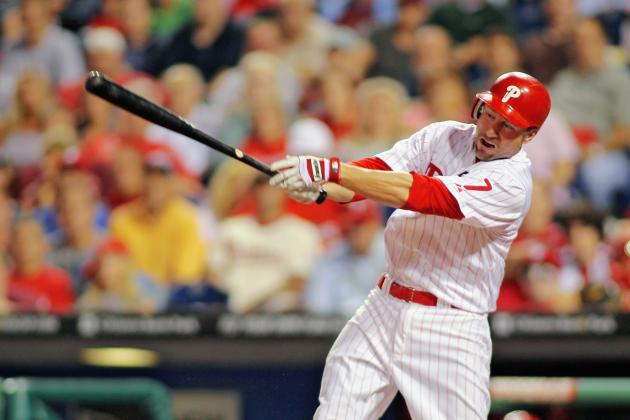 Len Redkoles/Getty Images
If Gload and his hip were to sign elsewhere, would anyone miss him?
Ross Gload, Raul Ibanez and Roy Oswalt all may be free agents, but they are unsigned so they really haven't left for another team or city.
The fact that they all are free agents still, with Spring Training underway, gives you an idea of how little (if at all) they will be missed. If the Phillies really wanted them at this point, they can have them.
The roster is stacked in such a way that they really won't be missing these guys anyway, except maybe Ibanez because of his character and how popular he was in the clubhouse.