NHL Trade Rumors: Why Sabres Should Move Ryan Miller
March 31, 2017
Rick Stewart/Getty Images
The most valuable chip that the Buffalo Sabres have is goalie Ryan Miller. He is a franchise goalie that any team on the brink of contention needs to go for. From the Sabres' perspective, there is one major fish that they can hook, at least according to talk show host Darren Millard. 
Millard tweeted a juicy rumor that former NHL player Nick Kypreos had shared on his show.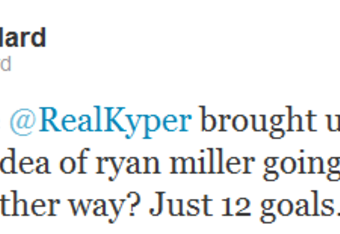 He later clarified with this tweet: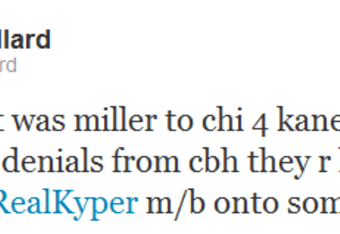 Looking at the NHL standings, it is obvious that the Sabres have to pull the trigger on this move. They not only have the second-worst record in the Eastern Conference, but trail only the Islanders in the conference in goals scored. 
Kane is a prolific scorer. More than that, Kane is only 23, while Miller is 31. Looking at a team that struggles to score goals, they really can't afford to do anything, but bring Kane in. 
What really works in the Sabres' favor is that the Blackhawks can't afford to be picky or drive a hard bargain. They are on a nine-game losing streak, and now they stand only three points away from being out of the Western Conference playoffs. In that stretch, they have allowed over four goals per game. 
Translation—they need a goalie, and they're not going to find a better one than Miller. The Blackhawks have a lot of offense right now, so moving Kane would not be the end of the world. 
This trade is out there, and Buffalo has to follow through on it. They need to develop a legitimate offense for not only this season, but the future. 
Looking at the current offensive leaders of the Sabres, there isn't a reason to be terribly optimistic.
| | | |
| --- | --- | --- |
| Player   | Goals   | Age   |
| Jason Pominville    | 21 | 29 |
| Thomas Vanek | 20 | 28 |
| Derek Roy | 11 | 28 |
| Luke Adam | 10 | 22 |
It is bad enough that through 56 games, only three players have more than 10 goals. Adam is the only one of those players young enough to think that his best days are ahead of him, and he is currently in the minors. 
That isn't much of an offensive foundation to have for the future. Even though Kane is in a bad year, he is a reliable 25-30 goal scorer every year, and he is younger than all, but one of Buffalo's leading scorers. On top of all of that, he is actually from Buffalo, so this would be a nice return home. 
This move would give the Sabres an offensive foundation that they don't have right now. They have no choice but to make it happen.