Klitschko vs. Chisora: Preview, Start Time, Live Streaming and TV Info
February 13, 2012

Andrew Redington/Getty Images
When Vitali Klitschko defends his WBC World Heavyweight Title against British challenger Dereck Chisora, there may be very few picking the English underdog to steal the show.
While he isn't getting much respect, Chisora is a dangerous fighter. Klitschko is the champion for a reason, though.
Despite Vitali's age (40), he is still one of the top two heavyweights in the world and will look to continue his reign with a win on Saturday.
Where: Olympiahalle, Munich, Germany
When: Saturday, February, 18, 4:30 p.m. ET
Watch: PPV
Live Stream: RTL (Using Google Translate, it's in German)
Vitali Klitschko's Keys to Victory
With a career record of 43-2, with 40 of those wins coming by knockout, Vitali Klitschko has dominated the heavyweight division for a long time. That dominance will continue as he trounces his English foe.
Vitali's key will be keeping the smaller man at a distance and using his range to keep this from turning into a wrestling match. If Klitschko utilizes his reach advantage, it's all over for Chisora.
Dereck Chisora's Keys to Victory
With it very obvious that Klitschko has far more power, size and speed than Chisora, even at 40 years old, the only way the English fighter can win will be by keeping it in tight.
As much as fans will hate the idea of this turning into a wrestling match, the only way that Chisora can steal this win will be if he keeps it close to the body so Vitali can't get full shots off.
What They're Saying
Chisora told the Daily Star about his gameplan:
"If he [Vitali] doesn't go down I will just keep working. I'm not going there looking for a knockout. I'm going there to out out-work this guy…He's going to feel the pace by the middle rounds."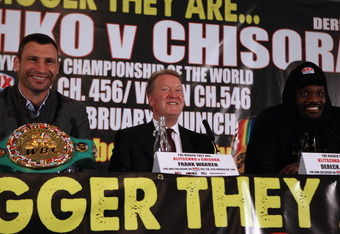 Andrew Redington/Getty Images
Main-Event Prediction
As much as I want to see some excitement in the heavyweight division of boxing, it won't happen this time around. While Chisora is a good talker, he doesn't have the size or speed to stand toe-to-toe with the towering punching machine. I think Vitali knocks out Chisora within the first four rounds.
Check back for more on Boxing as it comes, and check out Bleacher Report's Boxing Page to get your fill of all things from the squared circle. For more on boxing, check out Ring Rust Radio for all of the hot topics.