Dispelling 5 Offseason Misconceptions About the Philadelphia Eagles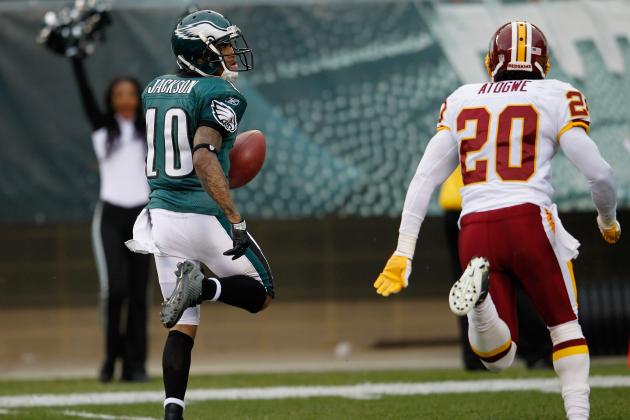 Rob Carr/Getty Images

There are a lot of misconceptions regarding the Philadelphia Eagles and what they need to do this offseason.
They actually don't have a lot of pressing needs. They need depth at running back, offensive line, linebackers and a few other positions. As for starting spots, they are pretty set depending on what happens with a few players whose contracts have run out.
This isn't a team that needs a lot of big name free agents. Last season wasn't about a team that just didn't have the players needed to compete with the upper echelon of the league, it was about coaches that didn't do a good enough job and players who didn't execute.
Players like Jamar Chaney and Michael Vick—along with a better prepared coaching staff in 2012—will do more for this team than any big name free agent or early-round draft pick.
This is a very crucial offseason for a team that is on the cusp of being great.
Begin Slideshow

»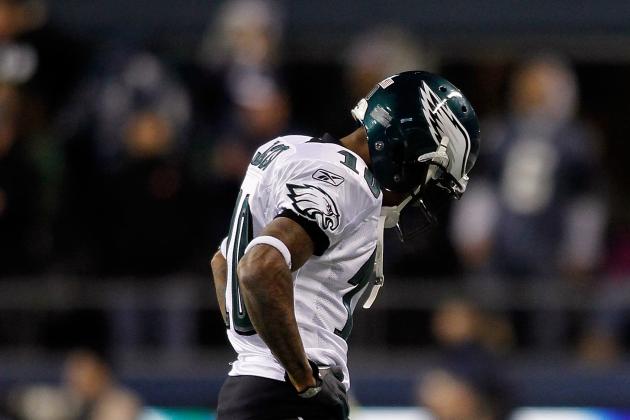 Jonathan Ferrey/Getty Images

DeSean Jackson is one of the most popular Eagles during the Andy Reid era in Philadelphia. His speed is on a completely other level from any other wide receiver in the NFL and that makes him one of the most unique players in the game.
Having said that, unless he gets a little more realistic with his next contract, Jackson will not be back in an Eagles uniform in 2012. His lack of production in the red zone is too much of an issue for a team that greatly struggles inside the 20 to give him top-five receiver money.
There has been some speculation that the Eagles might use the franchise tag on Jackson and then trade him. That is a pretty realistic possibility. Almost every single team could use Jackson as a very dangerous deep threat.
Teams like the New England Patriots and the San Francisco 49ers desperately need to add a true deep threat this offseason and would be ideal trade partners.
If the Eagles don't decide to tag him for whatever reason, he will hit the free agent market and give his desired contract to a more wide receiver needy team. The Eagles have cap room to sign a big name wideout and three picks in the first two rounds to go after a big time receiver in the draft.
Patrick McDermott/Getty Images

The Eagles need to get a jump ball wide receiver to help them score more touchdowns inside the 20. Jeremy Maclin would be the Eagles' number one wideout if Jackson is gone, but winning jump balls is about the only thing Maclin doesn't excel at. Riley Cooper was supposed to be that type of player but he rarely comes back to the football and has failed to win jump balls against even smaller corners.
Plaxico Burress just makes the most sense for the Eagles. Reportedly he wants to play for the Eagles in 2011. He wanted to come here last season but took $3 million in guaranteed money with the Jets instead. He finished 2011 in New York with eight touchdowns.
Burress would allow the Eagles to get that desired red-zone target at a much cheaper rate than a Vincent Jackson or a Dwayne Bowe. The Eagles would still need to get a quality outside receiver to play opposite of Maclin as Burress isn't an every down outside receiver anymore.
The Eagles have the 15th overall pick in the draft and two second-round picks as well to use to get a big name wideout in the draft like a Justin Blackmon if they decide to trade up or take a Mohamed Sanu or Michael Floyd with their first-round pick.
Rob Carr/Getty Images

The smart money this offseason will be the Eagles bringing in a quality middle linebacker either in free agency or through the draft. The problem with that is all the quality free agent MIKE linebackers will be either franchised or re-signed before the Eagles can even offer them more money. There is also no guarantee that a rookie linebacker will be ready to make an immediate impact. Middle linebacker is one of the toughest position to play, especially in the 4-3 defense.
Jamar Chaney getting another shot at the position is a very real possibility. He has the physical tools to succeed at the position. He has ideal size at 6'0, 242 lbs and he is incredibly athletic for his position. He also proved his abilities when he filled in for Stewart Bradley late in the 2010 season.
Expect Andy Reid and company to explore all possibilities this offseason at the position. If they are high on Luke Kuechly, they will take him with their first pick. If they like a free agent who tests the market like a Stephen Tulloch or Curtis Lofton over Chaney at the position they will make it happen.
Nobody really knows what the Eagles will do at middle linebacker. All three possible scenarios—free agency, the draft or Chaney—are realistic options for the Eagles as long as he comes back strong from his neck surgery.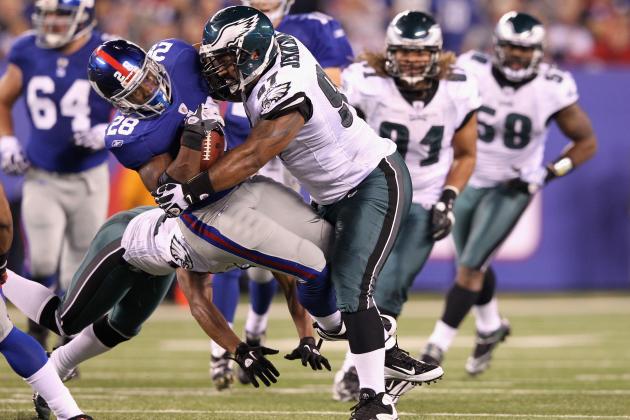 Al Bello/Getty Images

The Eagles seem like they are pretty set at defensive line after they racked up 46 sacks in 2011. They are loaded with depth all across the line and on paper would seem to be pretty set this offseason.
Defensive tackle is up in the air right now. Mike Patterson is coming off brain surgery to repair a tangle in his blood vessels, Cullen Jenkins is due a $5 million dollar roster bonus, and Antonio Dixon is coming off the IR while both Derek Landri and Trevor Laws are free agents.
Patterson is probably the safest bet as long as he has no set backs. Jenkins is a bit of a mystery. He will cost the Eagles $7.75 million this season and could be seen as more of a one-year pickup last season. He did get consistent pressure in the backfield and racked up 5.5 sacks in 2011. He would be a major loss if the Eagles decided to cut him in order to create more cap room.
Dixon is a valuable run stuffer who is a restricted free agent who could get a second-round tender this offseason. He should be back in 2012. I believe the Eagles will bring back both Landri and Laws next season. Laws is invaluable because of his versatility to line up all across the line. Landri was a nice surprise last season after he was cut during final cuts but came back after Dixon was lost for the season.
None of the Eagles' tackles from 2011 are sure bets to be back in 2012. All five players fit well in Jim Washburn's scheme and all five players have the potential to be even better next season.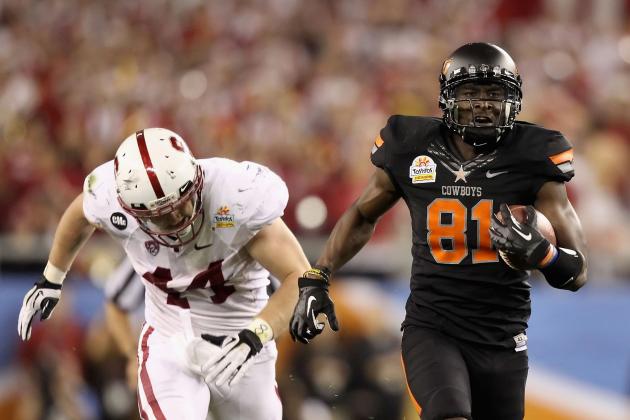 Christian Petersen/Getty Images

In a dream scenario the Eagles would use their three draft picks in the first two rounds to move up and take a player that can come in right away and play as a Pro Bowl caliber player. Justin Blackmon is that player and if DeSean Jackson goes elsewhere he would be a definite need.
Blackmon would be the perfect complement to Jeremy Maclin on the outside. He is listed at just 6'1", 215 pounds but when you watch him on film he plays more like a 6'5", 230-pound receiver. He has the athleticism to jump out of the building and he is an incredibly strong receiver for someone listed under 220 lbs.
He can gain separation on deep routes, is outstanding on crossing routes and also excelled in the screen pass game while at Oklahoma State. He is also a great jump ball receiver which will really get Eagles fans excited.
Blackmon should go around the fifth or sixth pick in the draft which means the Eagles only need to spend enough to move up 10 picks. He would be worth the Eagles trading away three or four picks to get the next superstar at wide receiver for a very pass happy team.