Xherdan Shaqiri Transfer Is Similar to Chicharito Hernandez's Move to Man United
February 9, 2012

EuroFootball/Getty Images
It was announced today that FC Basel winger Xherdan Shaqiri had completed a move to Bayern Munich that will take affect this summer.
Shaqiri was going to be one of the most pursued players of the summer after his fantastic performances in the Champions League group stage this autumn. This included two assists against Manchester United in the final match of the group stage that knocked last year's runner-up out of the tournament.
It has been estimated that the 20-year-old Swiss international's cost is between 12 and 13 million euros.
Considering that many of Bayern Munich's players will be gone on Euro 2012 duty during the summer, there will be a great opportunity for Shaqiri to start and succeed with Bayern with the start of a new season.
Shaqiri is going to directly compete with Dutch winger Arjen Robben for a starting role. Knowing Robben's history of injuries and that he is a 28-year-old winger coming off an international tournament, Shaqiri will certainly get a chance to succeed with Bayern.
The fact that Bayern have acquired a future star like Shaqiri for such a low price brings out a familiar memory of a certain Mexican striker joining Manchester United two years ago.
When Javier Hernandez joined Manchester United in April 2010, he came to a new club in his young twenties just months before a major international tournament (the 2010 World Cup) was about to begin.
Chicharito of course scored twice in that tournament and had to jump into a starting role at Man United due to the Wayne Rooney saga.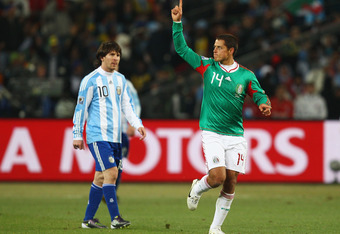 Richard Heathcote/Getty Images
This did not hurt Hernandez, who went on to score 20 goals with United, the first time that a first-year player scored 20 goals with the Red Devils since Ruud van Nistelrooy did so in the 2001-02 campaign.
Now there are some differences between Shaqiri and Chicharito. Shaqiri will not be in Euro 2012 because Switzerland failed to qualify. Also, Shaqiri is not going to score the goals that Hernandez tallied. Shaqiri is a talented passer who can score, but that is not his primary goal on the pitch.
Yet the striking similarity of two players coming in at discounted prices with a strong chance of becoming stars is certainly a helpful similarity.
Shaqiri will have a chance to shine against Bayern in Basel's upcoming Champions League round of 16 matches. Getting a chance to play against his future teammates will only benefit Shaqiri, especially considering Basel have very little chance of advancing.
Even though there is a fantastic Bundesliga race going on this season, it is certainly nice to already know of a player that will have a great impact in the new campaign.
Follow me on Twitter @Andrew_Jordan