Florida vs. Kentucky: No. 1 Wildcats Roll over the 7th-Ranked Gators
February 7, 2012

Andy Lyons/Getty Images
There is no question that Kentucky's recent schedule has been quite favorable. Even though they looked great in blowout wins against LSU, Tennessee and South Carolina, it had been a while since the Wildcats experienced a true test.
They got one at Rupp Arena tonight in the form of the No. 7 Florida Gators, a team that could explode at any time from three-point range (which also happens to be Kentucky's primary defensive weakness). The Wildcats didn't have nearly as easy a time dispatching the Gators as their previous opponents—they were only able to defeat them by a score of 78-58, a slim margin of 20 points.
The Good
Doron Lamb scored 18 points, shooting 4-5 from three-point range. Goggles up, indeed.
Michael Kidd-Gilchrist scored 13 points, including an amazing drive and layup while getting fouled with 15:27 left in the second half. He also grabbed 13 rebounds, including four on offense.
Defensive dominance is always expected when Anthony Davis is on the floor, but his offense was felt in full force tonight as well. Most of Davis' 16 points came off great looks and lobs from his teammates, but he even managed to occasionally create some of his own shots (which is one of the few things he normally cannot seem to do).
Kyle Wiltjer made the only two three-point shots that he attempted and showed a little more willingness to be aggressive near the basket.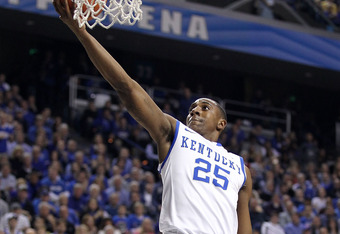 Andy Lyons/Getty Images
Marquis Teague had 10 assists and 12 points, including his usual display of lane slashing and strong finishes.  He was also 2-of-3 from three-point range.
The Bad
Remember the guy named Marquis Teague we were just talking about? He also had five turnovers and repeatedly didn't get himself free to catch the ball from inbound passes under the basket.
Kidd-Gilchrist was missed cutting underneath the basket multiple times in the first half.
Four minutes of Eloy Vargas.
After a stretch of dominating performances, Terrence Jones had only four points on 2-of-7 shooting.  He didn't slash through the lane like we had seen recently, partly because of Florida's excellent interior defense against him (which is part of the reason Davis was open so many times as well). 
Jones also had serious trouble finishing around the basket, including a few missed dunks that should have been easy. The only reason I'm not terribly worried is that unlike his performance in Kentucky's only loss this season, Jones was hustling all over the floor and still seemed to have his head in the game.   
The Weird
Florida shot 6-of-27 from three-point range (22 percent). While I would love to say that all of it was Kentucky's excellent perimeter defense, the Gators had multiple wide-open looks that, in most situations, would have gone in—and probably will on March 4 in Gainesville.
Fans who attended the game at Rupp received a pretty cool Anthony Davis poster. I was a little jealous that I wouldn't get a chance to have my own, but I'm still pretty content with my Kentucky hockey poster featuring Ashley Judd.