NBA Rumors: J.R. Smith and New York Knicks Likely on Collision Course
February 7, 2012

Doug Pensinger/Getty Images
Once J.R. Smith's season ends in China, it's looking more and more likely that he'll land with the New York Knicks.
The New York Post reported on Sunday that head coach Mike D'Antoni is aggressively pursuing Smith, who would be a great addition to reverse their three-point shooting woes.
Smith has shot 37 percent from beyond the arc for his career, including 39 percent last season in 79 games with the Denver Nuggets. He also has experience in an up-tempo offense, which D'Antoni loves, and he played with Carmelo Anthony in Denver.
The 26-year-old has been linked to the Los Angeles Lakers, San Antonio Spurs and Los Angeles Clippers, but after the Clippers used their $2.5 million mini mid-level exception on Kenyon Martin, the Knicks could have the upper hand.
Wrote Broderick Turner of the LA Times:
The New York Knicks might have a big advantage in landing Smith because of the possibility he could be a starter for them and make more money, according to two people with knowledge of the situation who were not authorized to speak publicly on the matter.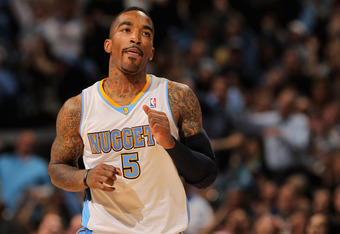 Doug Pensinger/Getty Images
In that case, Smith would start over Landry Fields at shooting guard. Fields had a promising rookie year last season, but his three-point percentage has dropped from 39 percent to less than 29 percent. It's one of the reasons why the Knicks are shooting 30.4 percent from downtown, 26th in the NBA.
There is a trade-off in this move, however. Smith has averaged over 1.0 steals per game his last two seasons, but he's never been a very good on-the-ball defender, meaning the Knicks defense could actually get worse if he starts. For a defense already allowing opponents to shoot nearly 45 percent from the floor, the Knicks may not improve as much as expected.
However, for D'Antoni, who's never exactly been known as a defensive mind, it appears to be a good fit.