Sting Should Be Undertaker's Final Opponent at WrestleMania 29
February 5, 2012

With the Undertaker already locked into a match at this year's WrestleMania, it is never too early to look ahead at what is in store for the Dead Man next year. If he were to come back for one more big match on the grandest stage WWE has to offer, who better to send him off than Sting?
Fans have talked about a possible matchup between Undertaker and Sting ad nauseam for the last two years. There were rumors about the "2-21-11" videos being about Sting coming to WWE, even though it was clearly for Undertaker's return. 
Sting did an interview with CNY KISS FM 107.5 in New York promoting TNA when he was asked about the possibility of being at WrestleMania last year and whether he would like to do a match in WWE with the Undertaker. 
 I've had great conversations with him (Vince McMahon) over the years and been real close on probably three or four different occasions of going up there. But, there was always a need met or a desire of mine met with WCW and now with TNA, so I stay."

--snip--

I'd have to say the top (match), and it's all over Twitter, I might as well just comment on it - Undertaker. Wrestling fans have wanted to see Sting vs. Undertaker for years. And, I think between his gimmick and mine, it could be pretty cool.
Now, here we are with another Undertaker-Triple H match in store for WrestleMania 28. No disrespect to the match, but we have already seen it two times before with Undertaker winning both of them.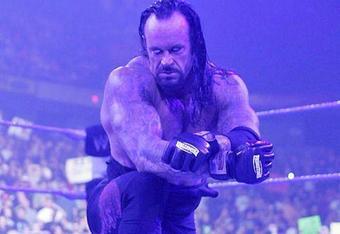 If Undertaker were to return next year—and as of right now there is no reason to think he won't—there would have to be someone special for him to wrestle again. He has been spoiled over the last four years wrestling Shawn Michaels and Triple H. 
The only other name that WWE could get for Undertaker that would be bigger is Brock Lesnar. But who is to say that Lesnar won't come back to wrestle Steve Austin? Lesnar talked about it a few months ago in an interview with ESPN.com to promote his appearance in WWE '12.
As great as the spectacle of these two stars would be, I do have some trepidation about the quality of the match. Neither wrestler is in pristine physical condition, nor can they do many of the things that they once did. 
Of course, I said the same thing last year about Undertaker and Triple H. That one turned out pretty well for them and the fans. 
The time for talking about this fantasy match has passed. It is time to start doing something to make it happen. There is one year to make preparations for WrestleMania 29. As long as Sting can get out of his TNA contract, the match he has dreamed about should be the final one for the Undertaker. 
Check back for more on the WWE as it comes, and check out Bleacher Report's Wrestling Page to get your fill of the WWE. For more WWE talk, check out Ring Rust Radio for all of the hot topics you just can't miss.
Listen to internet radio with RingRustRadio on Blog Talk Radio