Pebble Beach National Pro-Am Golf 2012: Celebrities, Pairings and Predictions
February 5, 2012

Ross Kinnaird/Getty Images
The Pebble Beach National Pro-Am will be an exciting event where your favorite professional golfers such as Tiger Woods will compete in a tournament where celebrities like New England Patriots head coach Bill Belichick also show their golf skills.
Any time you have the world's best players competing with celebrities, the tournament is guaranteed to be an exciting event to watch unfold.
Let's take a look at the top celebrities who will take part in the event and other information to get you ready for the Pebble Beach National Pro-Am.
Where: Pebble Beach Golf Links, Monterey, Calif.
When: Feb. 9 through Feb. 12
Watch: 1st and 2nd rounds on GOLF Channel, 3rd and 4th rounds on CBS.
Golfer You Have to Watch: Tiger Woods
Tiger Woods will play in his first American tournament of the season when he competes in the Pebble Beach National Pro-Am this month.
Woods has had previous success at Pebble Beach, which is the site of his thrilling U.S. Open win in 2000 when he was nearly unbeatable.
Woods played well last month and will be looking to make a strong showing in California as he prepares himself for the Masters in April in Augusta.
Notable Celebrities
The celebrities at this event will play as amateurs, of course, and the lineup of fascinating stars is quite good this year.
Let's take a look at the most notable celebrities who will compete in the Pebble Beach National Pro-Am in 2012.
| | | |
| --- | --- | --- |
| Celebrity | Team/Affiliation | Career Accomplishments |
| Bill Belichick | New England Patriots | Five Super Bowl wins as HC/DC |
| Jim Harbaugh | San Francisco 49ers | 2011 NFL Coach of the Year |
| Chris Berman | ESPN | Notable NFL personality |
| Harris Barton | San Francisco 49ers | Super Bowl champion |
| Herm Edwards | ESPN | Former NFL head coach |
| Matt Cain | San Francisco Giants | World Series champion |
| Bob Stoops | Oklahoma Football | BCS title winning head coach |
| Tony Romo | Dallas Cowboys | Talented NFL QB |
Tee Times/Pairings
Tee Times for the Pebble Beach National Pro-Am have not been determined yet, but when they are, check back to this article for the listings of notable players.
Pairing will be available on Thursday.
Prediction: Tiger Woods Wins by Three Strokes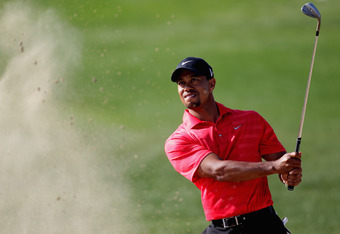 Ross Kinnaird/Getty Images
Woods is on a mission to prove his doubters wrong and reach the elite level he played at for much of his career, when players feared going into final rounds if he was on top of the leaderboard.
Woods' game has been better this season than last, and is slowly starting to really improve in each facet of his game, including his swing.
One thing Tiger needs to do better is hit more greens in regulation because he cannot afford to lose strokes by not creating quality birdie opportunities.
Expect Woods to put on a show at Pebble beach, a course he's familiar with, and win his first tournament of 2012.
Overview
The Pebble Beach National Pro-Am is one of the most exciting tournaments of the golfing season and is well worth attending or following on television. Very rarely do sports and entertainment stars play in the same tournament on such a nice golf course such as Pebble Beach.
For golf fans, this tournament will be an early season treat before the major tournaments begin in April with the Masters.