Arsenal Games: Reacting to the Blackburn Rovers' Rout
February 5, 2012

Paul Gilham/Getty Images
Arsenal routed Blackburn Rovers on a frigid match day at the Emirates to avenge their 4-3 loss at Ewood Park in September of 2011 in a match that Arsenal scored five goals and yet lost.
Arsenal tore Blackburn apart at the blast of the whistle to score their first goal in 80 seconds. They then proceeded to camp in Blackburn's half for most of the first half, dominating possession and causing all kinds of trouble for the Blackburn defense.
The old feeling that things might not be alright, after all, surfaced in the 31st minute of the match, when Blackburn equalized through a well-taken free kick by Morten Gamst Pedersen, just outside Arsenal's 25-yard box.
The feeling, though, did not last, as Arsenal responded very quickly through a well-worked attack, beginning with Wojciech Szczęsny at the back and culminating with another Robin van Persie goal.
By match's end, Arsenal had routed Blackburn 7-1, with Robin van Persie scoring a hat trick, Alex Oxlade-Chamberlain a brace and Mikel Arteta and Thierry Henry providing the icing on the cake.
The Arsenal faithfuls, who braved the cold weather to support the team were duly rewarded. The feeling of doom that has overtaken Arsenal in the last three days has been dispelled for now. There is thus:
1. Joy to Go Around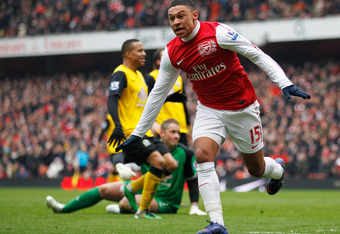 Paul Gilham/Getty Images
Accusations and counter-accusations have flown to and fro these last three days among Arsenal supporters on the question: who is the real Arsenal fan.
Is he the person who wants Arsene Wenger sacked, Ivan Gazidis and Stan Kroenke toppled so an oligarch can funnel the cash needed to buy the stars, or is she or he the person that takes the contrary view?
I say, all that shouldn't matter right now. Let's all celebrate together.
2. Walcott Showed Class in Providing Three Assists
Hardly has Theo Walcott's name been mentioned in the euphoria that has followed this sweet victory. There's a reason why.
Theo Walcott is an inconsistent player. But like I and others have always maintained, he will yet grow and get better.
He did well today, even though he didn't score. Understandably, the recognition goes to the goal scorers. There's nothing wrong with that, but we shouldn't forget to laud the other players too.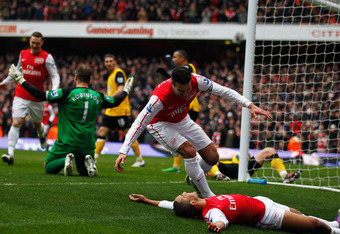 Paul Gilham/Getty Images
3. Alex Oxlade-Chamberlain Shone, but Let's Be Cautious
Here's what Arsene Wenger says about him:
Alex Oxlade-Chamberlain is developing well, and he can assist and score as well. What is surprising to me is in September he looked junior, not mature enough, but in space of two-to-three months he is ready to be in the team.
AOC is a delight to watch. I'd say it was a five-star performance from him. Watching him must bring a lot of encouragement to Arsenal fans: the future can only be bright.
If I caution anything, it is overpraising him to the skies only to condemn him when the inevitable bad run of form comes.
It has happened to Andrei Arshavin and Theo Walcott. In fact, even Marouane Chamakh, who began last season on a splendid form.
So let's praise him, but while we do, we should remember to support him when he needs us most, when the bad form strikes.
4. Robin van Persie Now Has 22 Premier League Goals 
Robin van Persie tops the scorers list with seven goals clear of everyone else.
I can wish for nothing more than he gets the highest scorer award this season.
What a lethal striker.
Let's forget about injury fears, whether or not he'll stay in the summer, and for now bask in his incredible talent and enjoy the week.
5. Arsenal Are Not Out of the Woods
The road ahead is tough, but as they say, a journey of a thousand miles begins with a single step. The victory takes the team in the right direction.
Let's hope for more good news in the coming weeks.
Congratulations to all.