New York Yankees: What Is Michael Pineda's Ceiling in New York?
February 4, 2012

Stephen Brashear/Getty Images
A few weeks ago, the New York Yankees bolstered their rotation by adding Hiroki Kuroda and Michael Pineda to a rotation that already includes stud CC Sabathia and upcoming star Ivan Nova.
The 23-year-old phenom spent his rookie season playing for the small market Seattle Mariners, where he won nine games for a team that managed only 67 wins and finished dead last in the American League West division.
The biggest question for Pineda is if he'll be able to handle pitching on the brightest stage in professional sports.
While that question can't be answered until the end of April, the Dominican-born starter has proved his worth in the MLB.
At first glance his 9-10 record doesn't seem impressive, but when you consider who he played for and his other statistics, you can see the full potential of the Yankee's newest arm.
The 6-7, 260 lb. righty led all rookies last season in strikeouts with 173 in 171 innings of work, and also featured a 3.74 ERA and a 1.10 WHIP. 
He also displayed his durability last season, as he started 28 games, which was tied for the second-most among all rookies. Also impressive is the fact that Pineda accumulated 3.4 wins above replacement, and the fact that opposing hitters averaged a mere .211 against him last season.
Pineda, who earned a spot on the AL All-Star team as a rookie, has already proven that he can pitch in the American League by earning victories against solid ball clubs.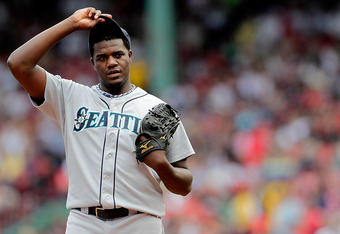 Jim Rogash/Getty Images
On April 28, he earned a victory over the Detroit Tigers that saw him go six innings, surrendering just four hits and striking out nine.
On May 27, he earned a victory over the Yankees, throwing five solid innings of three-hit ball and striking out five, and he also was victorious over the Tampa Bay Rays on July 30, when he allowed just one hit and fanned 10 in 6.1 innings.
To put his season into perspective, only Brandon Morrow (10.19) struck out more batters in the AL per nine innings than Pineda (9.11). 
Only time will tell what Pineda can accomplish in New York.
But we do know one thing; at just 23 years of age, this guy has great upside. If Pineda can overcome the lights of the big stage, he's poised for a successful career in the Big Apple.