Stanford's Best NSD Ever: 5-Star Recruits Peat, Murphy, Shittu
February 1, 2012

Ezra Shaw/Getty Images
Stanford football, fresh off back-to-back BCS bowls and three straight Heisman runner-ups, made another major statement on National Signing Day. They landed not one, not two, but three 5-star recruits to complete its 22-man recruiting class which is the best, on paper, in its history.
The Cardinal reeled in three of the nation's highest profile players who had not previously committed.
As described in Stanford's official press release, the first Cardinal prize of the day was Andrus Peat, a 6' 7", 305-pound, 5-star offensive lineman from Chandler, AZ, and the son of former NFL lineman Todd Peat. The Sporting News rated Peat as the nation's top offensive lineman and top recruit overall.
Early in the afternoon Pacific time, Kyle Murphy, another 6' 7", 5-star offensive lineman from San Clemente, California, chose Stanford as well. Rated third nationally by Rivals, he had narrowed his choices down to The Farm and USC.
The NSD 5-star trifecta was completed in the afternoon with the signing of Aziz Shittu, a 5-star defensive lineman who like Murphy was rated third nationally at his position by Rivals. Shittu chose Stanford over USC, UCLA and Cal.
Peat, Murphy and Shittu join the Cardinal's January jewels, RB Barry J. Sanders and fellow 5-star OL Joshua Garnett.
The Cardinal also landed 4-star OLs Graham Shuler and Nick Davidson, along with highly regarded OLs Johnny Caspers and Brandon Fanaika, the latter of whom will begin his college career after he returns from his mission for the Mormon church.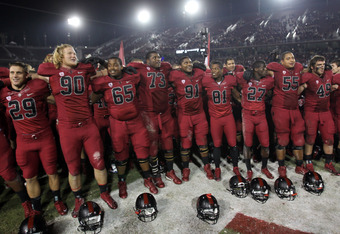 Ezra Shaw/Getty Images
When was the last time a school hauled in five offensive linemen with 5-star and 4-star ratings? Maybe never.
The six incoming freshmen linemen will contend for starting spots alongside returning starters Sam Schwartzstein, Cam Fleming and David Yankey on the offensive line.
Coach David Shaw now has the makings of a deep and talented offensive line in 2012 and, beyond that, will compare favorably to the units of the past few years, which pulverized opponents in the Pac-12 and elsewhere.
In his press conference at the Arrillaga Sports Center to announce the signings, Coach Shaw noted that Stanford attracts top linemen because, "we have outstanding coaches, teachers who help these guys become successful at this level, and at the next level."
Stanford's class of 2016 totals 21 players and has been ranked fifth nationally by Rivals.  More details soon on the rest of this historic class.