NHL Trade Rumors: Is Jeff Carter's Attitude Scaring Away Interested Teams?
January 31, 2012

Richard Wolowicz/Getty Images
Ever since the Philadelphia Flyers decided to trade center Jeff Carter to the Columbus Blue Jackets before the 2011 NHL Entry Draft, the 27-year-old has seemed unhappy with the cards he's been dealt.
Immediately after the trade, Carter had no desire to talk to the media about the trade for several days, until Jackets' general manager Scott Howson and captain Rick Nash went to New Jersey to talk with him.
Carter stated that he was excited about coming to Columbus and helping a young franchise. He was hopeful that he was the missing piece in the Jackets finally becoming a playoff contender.
With the trade, as well as the signing of power-play defenseman James Wisniewski, the future was bright for the Blue Jackets in 2011-2012.
However, nothing went according to plan, as Wisniewski was slapped with an eight-game suspension in the preseason and Carter suffered a fracture in his foot only five games into the season.
The Jackets struggled and quickly found themselves in the cellar of the Western Conference standings, where they have stayed for the better part of the season.
Carter would return to the lineup in November, but he quickly made headlines when it was reported that the All-Star had requested a trade out of Columbus.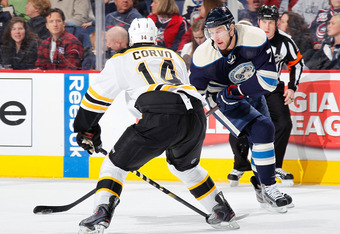 Gregory Shamus/Getty Images
Although Carter and Howson both denied the rumor, one wondered if the Jackets continued to struggle if that rumor would gain more headway.
Now, with the trade deadline less than a month away, the Jackets have made it clear that Carter is in fact available and are looking for something big in return.
The Jackets gave up a first- and third-round pick in the entry draft, as well as talented youngster Jakub Voracek, and would like something similar if they were to trade Carter.
Several teams have inquired about the top-line center since November, but it seems that nothing is getting close to a deal.
Many believe the reasoning behind this was the massive contract that Carter had signed with Philly for 11 years with an annual cap hit of $5.27 million.
However, now it is being reported by Yahoo! Sports that Carter's unhappiness and attitude toward Columbus are keeping teams away:
Independent sources have confirmed that there have been inquiries about a Carter trade, but they cooled to the notion of a trade when his unhappiness/attitude with Columbus were confirmed to the interested teams.

While this doesn't preclude a trade from happening, there is absolutely no way for Blue Jackets GM Scott Howson to come close to getting in return for Carter what Philadelphia got when they traded Carter away. He knows this, and at this point, has to be willing to take almost anything in return for clearing Carter from the team.
An issue with Carter's unhappiness lies with the fact that his no-trade clause kicks in next season, so if a team were to trade for him before the deadline, chances are he would be with that team for quite some time.
If Carter was traded and his attitude continued with his new team, it would undoubtedly be detrimental to the team and cause the same struggles the Blue Jackets are experiencing this season.
When asked about the situation, Curran was quick to defend Carter.
"He's tried to give his best effort while in Columbus, Curran said. "His main concern is to get healthy and get back in the lineup as soon as possible to help his team. He shares the same frustrations with the team about the way this season has unfolded."
He concluded by saying that Carter "has not made a trade request to the Columbus organization."
It is clear that Jeff Carter needs a serious attitude adjustment, regardless of whether or not he is traded before the trade deadline.
This will be a very interesting month of February in Columbus.