Liverpool FC and Warrior Sports: A Perfect Match?
February 1, 2012

At the end of this 2011-12 season, Liverpool Football Club will end a long and successful relationship with sporting giants Adidas.
Liverpool and Adidas first came together in 1985 to create one the Reds' most iconic kits with Crown Paints splashed on its front.
It 1996, the Anfield club turned to Reebok to supply their kits, but returned to the German giants a decade later.
So, come the end of this current league campaign, Liverpool will once again say "Auf Wiedersehen" to Adidas and "Hi" to Warrior Sports.
Warrior is a sports clothing manufacturer that is owned by athletic shoe makers New Balance and is based in Boston, Massachusetts (USA).
Liverpool's club management team has worked hard to ensure that the club maximises its commercial revenue, and deals with Standard Chartered Bank and now Warrior Sports are testimony to this.
The Reds' agreement with the US sporting goods giant is lucrative to say the least and will see Liverpool bag a whopping £25 million a year, eclipsing the current British record fee that Nike pay to Manchester United, which is £23.5 million a year.
To say the Liverpool's club management team deserve a big pat of the back is an understatement, as Liverpool's previous arrangement with Adidas netted only £13 million a year.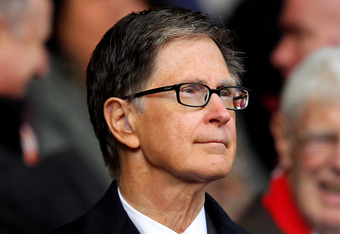 Alex Livesey/Getty Images
New Balance and Warrior Sports also supply John Henry's other club, the Boston Red Sox, with all their kit and it seems sensible for them to supply Liverpool too. But Warrior won the right to supply the Reds fair and square, with Liverpool running a transparent, professional decision-making process.
Warrior has made a huge impact on the sporting goods market in the United States, with apparel for sports such a lacrosse and ice hockey.
One look at their website and Liverpool fans will see a site that is cutting edge, creative, daring and edgy.
Warrior Sports, as the name implies, seems to be a company that is ready for battle and itching to take itself into a new market and be successful in it.
Liverpool fans will hope that Warrior will provide a kit that is both innovative in design, yet maintains the traditions of the club. What we have seen on the net certainly seems to suggest that Warrior could be heading in the right direction.
Warrior's commitment to Liverpool FC cannot be questioned, their website has a fantastic page dedicated to Liverpool FC.
With Liverpool entering into a whole new era with new owners, more investment, possibly even a new stadium, a new kit seems quite a natural progression.
Certainly from a commercial point of view, Liverpool could not have done better. Now it is up to Warrior Sports to deliver, and early indications suggestion they will.