10 Reasons the Murray State Racers Are a Legit Final Four Threat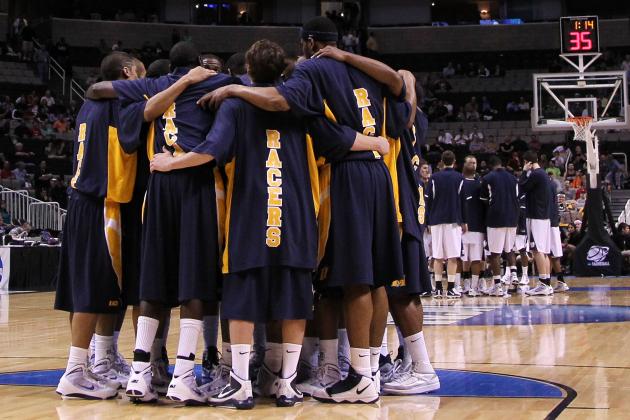 Jed Jacobsohn/Getty Images

If there were bets taken in November about who would be the last undefeated team in college basketball, absolutely no one would have answered the Murray State Racers.
Chances are, most people didn't even know where Murray State was. But now, the tiny school in Murray, Kentucky is famous.
The Racers are 20-0 and ranked ninth in the country. Ninth! Overall!
That's ahead of traditional powerhouses like the Florida Gators, Indiana Hoosiers and Connecticut Huskies.
The question on almost everyone's mind now is whether or not Murray State is for real.
Will the Racers finish the season without a loss? When the NCAA Men's Basketball Tournament starts, will they lose by 20 in the first round? Or could the team make it to the championship game?
My answer? Watch out, NCAA, Murray State is coming to crash the postseason. Here is why the Racers are a legitimate Final Four threat.
Begin Slideshow

»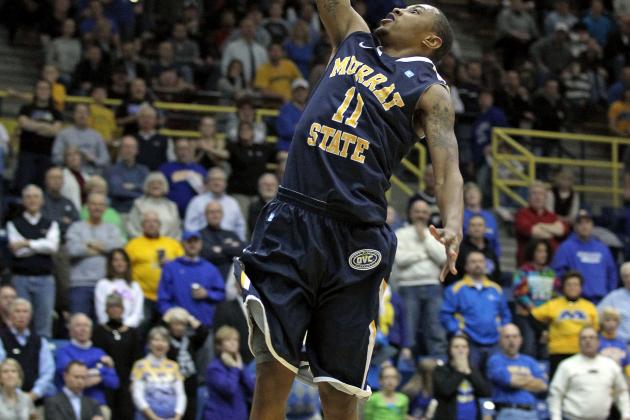 Andy Lyons/Getty Images

Being an undefeated team says a lot, no matter what conference you're playing in.
For the Murray State Racers, winning 20 games in a row is a great achievement and should not be taken lightly.
It is true that the Ohio Valley Conference does not have the same level of competition that the SEC does. But still, there is a reason that the last undefeated team in any conference was the Indiana Hoosiers in 1976.
It's not easy.
In each game that the Racers play, the target on their backs becomes that much larger. Opponents treat their matchups against Murray State as if it were a championship game.
Talk about pressure.
But what that means for Murray Stat is that they have been tested. Their games are tougher because of the pressure put on them by fans, the media and, most importantly, their opposition.
The Racers have not played all of the best teams in the country, but the team has no nights off. The fact that they are still undefeated shows just how good the Racers really are.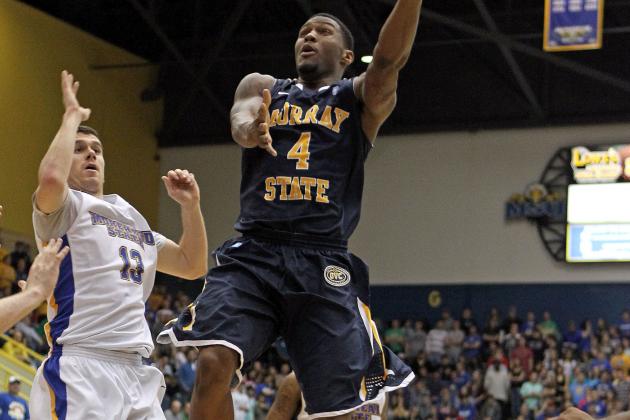 Andy Lyons/Getty Images

All of the Murray State Racers' opponents want nothing more than to win, and yet Murray State's margin of victory is almost 13 points.
The fact that Murray State is winning games frequently by double digits suggests that they are not lucky. The team is better than its competition and is proving it in games.
The Racers beat a very impressive Dayton Flyers team (look for them in March too) by 17 points.
If Murray State can continue to win games by such a large margin, the team can also afford to rest their starters more.
The Racers would then have another advantage when they make a run at the Final Four. If their starters can get even just a few minutes of rest in games toward the end of the season, the team will be fresh for the fast-paced tournament schedule.
Jed Jacobsohn/Getty Images

Nothing can give an opponent more confidence than hitting a few key threes. If a team gets hot, a double-digit lead can quickly evaporate.
The change in momentum will energize a crowd and completely change the course of a game.
Fortunately, the Murray State Racers do not let that happen. The team is ranked 11th in the nation in three-point field goal defense, allowing opponents to shoot just 28 percent from behind the arc.
Murray State ensures that if a team is going to score on them, it will be on hard drives to the basket, difficult post moves or long jump shots.
When the NCAA Men's Basketball Tournament begins, the Racers' defense will be key.
If they can take the opposing crowd out of the game and start making the other team nervous, Murray State will be in a perfect position. Good three-point field goal defense also means that the team is not lazy on defense. They get out on shooters and keep their feet moving.
Solid defense is key to upsets and the Racers certainly have an edge in that department.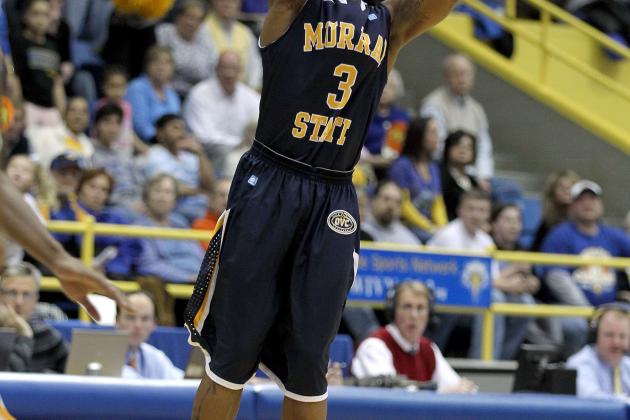 Andy Lyons/Getty Images

Remember all those things I said about hitting threes? Like how it can get an entire team fired up and make a lead disappear in seconds?
Well, the Murray State Racers just happen to be even better at shooting threes than they are at defending against them.
The team converts 42 percent of their shots from deep, ranking them fourth in the country.
The combination of Murray State's defense and their ability to convert threes will make them deadly come tournament time.
One of the best ways to upset (and yes, I would consider it an upset. I don't think a team like the Duke Blue Devils would expect to be in a tight game with Murray State), an opponent is simply to take them out of the game quickly and easily.
The Racers will force their opponents to hit tough two-point shots, then go down on offense and hit threes. Simple math will tell you that the team hitting the threes will win.
But more importantly, three-pointers are demoralizing. When Murray State has success from deep, oftentimes the other team feels it must compensate by shooting threes as well. Then the Racers continue to play solid defense and the opposition's threes do not go in, and Murray State increases its lead.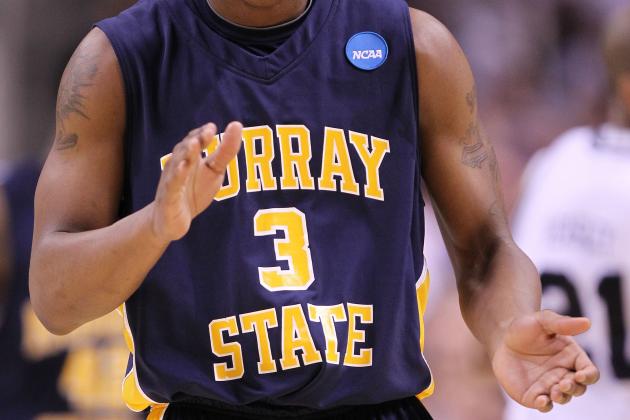 Jed Jacobsohn/Getty Images

Simply put, Isaiah Canaan is a stud.
He is averaging almost 19 points per game, four assists, three rebounds and shooting 47 percent from the floor and from deep.
The kid can play.
He is a junior who has improved every year he has played for the Murray State Racers. Canaan is the leader of his team and will be a steadying presence when the team reaches the NCAA Men's Basketball Tournament.
Canaan has also had experience playing against teams from major conferences, so he will know what to expect when the competition gets tougher.
Since Canaan is considered the star of the Murray State team, defenses have been concentrating on him from the opening tip, yet he still scores 20 points a game.
Canaan is a seasoned player who knows how to get shots off under duress, but also has learned when to hit open teammates for easy baskets.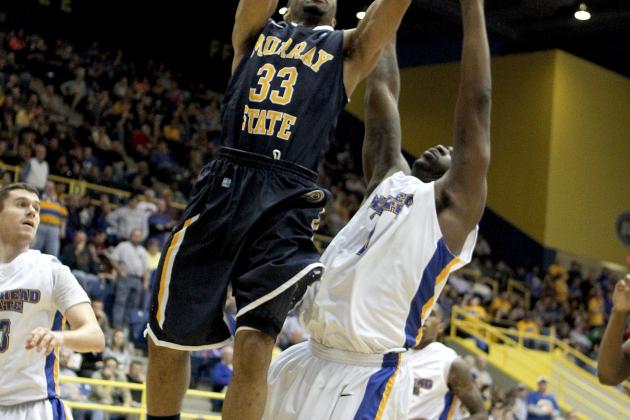 Andy Lyons/Getty Images

Yet another formula for success in March? Good players off the bench.
That's one more advantage for the Murray State Racers.
The team has nine players that average more than 12 minutes per game. Just one player—Isaiah Canaan—plays more than 30.
Therefore, if anyone gets in foul trouble, a sub will be at the ready. And since so many players on Murray State's roster have seen extended minutes this season, there should be a seamless transition when the bench players come in.
No one will be nervous or unable to play with the starters. Any player can step in and contribute.
The Racers are a team that is very capable of wearing down an opponent. Even players who do not score a lot contribute in other ways.
For example, Latreze Mushatt averages less than four points a game, but he is grabbing five rebounds a contest.
Murray State can beat a team in many different ways—and their deep bench is proof.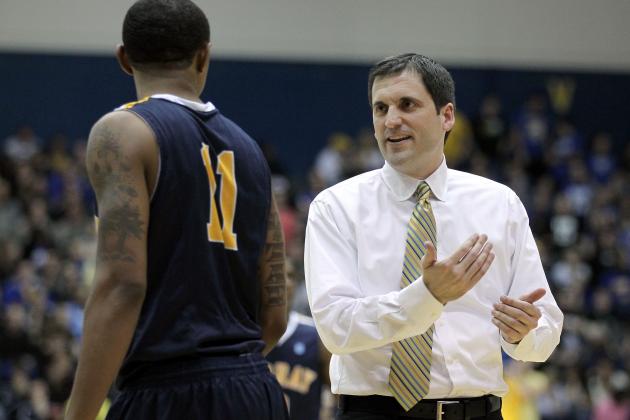 Andy Lyons/Getty Images

Okay, this is getting old. Indulge me once more and let me list another way that mid-majors snag upsets in the NCAA Men's Basketball Tournament: by forcing turnovers.
The Murray State Racers—you guessed it—are forcing over 16 turnovers per game. The team is in the Top 10 nationally in opponent assist-to-turnover ratio. Turnovers are one of the most important ways that the Racers can disrupt their opposition and get easy points.
Taking a methodical and well-coached team out of their offense makes that team tight and nervous. They begin forcing passes and putting up bad shots, which just lead to more turnovers and fewer points scored.
When Murray State is forcing turnovers, it is scoring more easily at the other end of the floor. Fast break points are another way to steal momentum.
Only two players for the Racers are averaging more than two turnovers per game. One is Isaiah Canaan, the team's point guard, who has the ball in his hands every possession.
Murray State will succeed in March because they can force opponents out of their comfort zone, create easy baskets and hold onto the ball.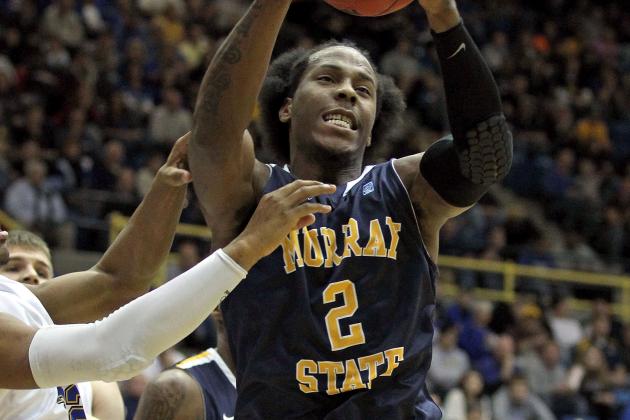 Andy Lyons/Getty Images

It does not matter that the Murray State Racers are ranked in the Top 10. It does not matter that the team has not lost a game all season. It will not matter if the team wins every game they play by 25 points.
The fact is that Murray State still plays in the Ohio Valley Conference and was unknown to almost the entire basketball world before this season.
The Racers will always be thought of as an underdog and opponents will take them lightly. While that is unfortunate for a team that is playing so well, it might help them make a run to the Final Four.
The saying holds true for Murray State just as much as any underdog—if you can keep the game close or get ahead, the favored team will start to get tight and make mistakes.
Even if the Racers are playing a very good team, all they have to do is hang around, keep the game within five or 10 points and wait.
Sooner or later, that Goliath of a team will realize that Murray State is not going away. Then the Racers will gain confidence while their opponent gets nervous.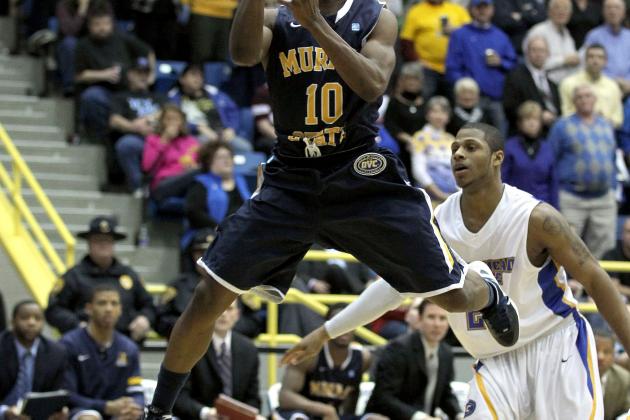 Andy Lyons/Getty Images

Yes, Isaiah Canaan is the Murray State Racers' best player and highest scorer, but he has help.
Three players score more than 10 points per game. Donte Poole averages almost 15 and Ivan Aska scores almost 13 points and grabs six rebounds a game. Complimenting that trio nicely are Jewuan Long and Ed Daniel, who both score around eight points a game.
Any one of those five players are a threat to have a big game. More importantly, all are shooting over 45 percent from the floor. If defenses allow any Murray State player an open shot, chances are he will make it.
That means that opposing defenses cannot concentrate on just one or two players. But then, of course, Canaan or Poole could score 30.
Many of Murray State's players are versatile scorers who are quick enough to take their defender off the dribble. But, they can also get off shots underneath and create matchup problems.
Simply put, the Racers are a well-rounded team who do not rely on just one player to lead them to success.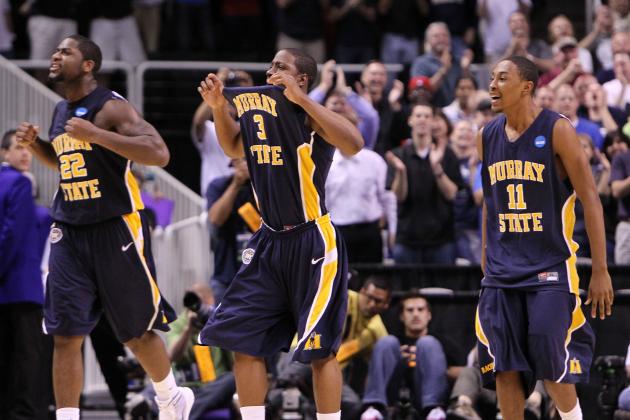 Jed Jacobsohn/Getty Images

The Murray State Racers have one more ace up their sleeve—postseason experience.
The team plays just one freshman more than 10 minutes (Zay Jackson) per game. Other than that, every player who gets a lot of minutes for Murray State is a junior or a senior.
That means that almost every player on the Racers' roster was around in 2010 when Murray State went to the NCAA Men's Basketball Tournament and upset the Vanderbilt Commodores in the first round.
Last season, the team went to the NIT and got another taste of tournament life.
The Racers will not be phased by the atmosphere in March. The majority of the players have been there before and know what it takes to win games.
If Murray State is not worrying about the crowds, the gym or their opponent, the only thing left to focus on is winning. And the Racers are sure to do that.