5 New York Rangers Who Could Be Traded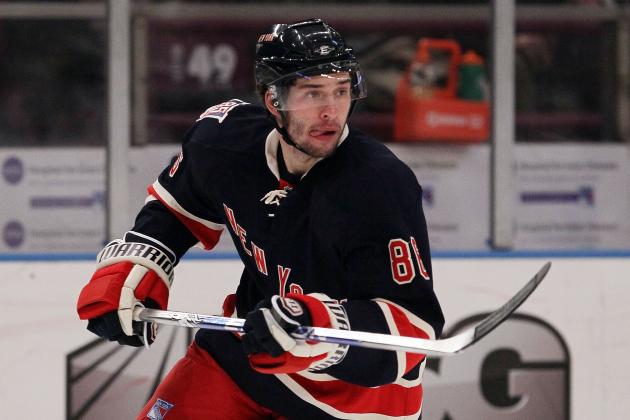 Jim McIsaac/Getty Images
Wojtek Wolski has become the odd-man out in the New York Rangers roster.
With the February 27 NHL trade deadline just over a month away, speculation is running rampant about who the New York Rangers might deal away in an attempt to bolster their offensive or defensive lines.

While many Rangers fans have long asked for another offensive contributor this season, the prolonged injury of Michael Sauer due to a concussion could result in a offensive-defenseman trade focus.

Let's take a look at the Top 5 members of the New York Rangers roster that may be dealt by the deadline.

All salary information is courtesy of CapGeek.com.
Begin Slideshow

»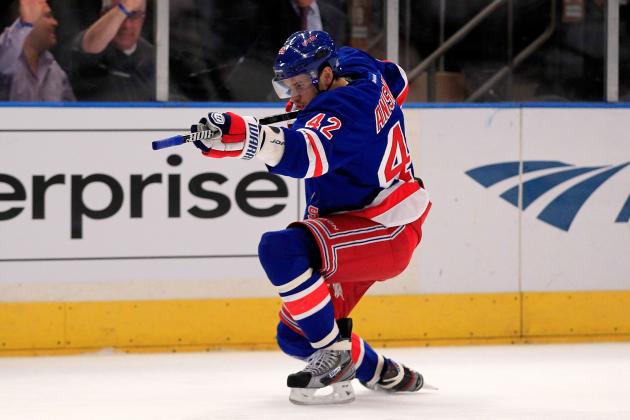 Chris Trotman/Getty Images
Artem Anisimov
Artem Anisimov was part of the highly effective "GAS" line (Marian Gaborik, Artem Anisimov, Derek Stepan) for the majority of the season, but has recently been demoted to fourth-line status.

Anisimov no doubt elevated his game this season thanks to the pairing of Gaborik and Stepan, but his game has since cooled off. Rangers head coach John Tortorella said via ESPN that the GAS line has "dried up," and targeted Anisimov specifically, stating that Anisimov's game has "gone flat."

Suddenly, Anisimov has become some sort of a pariah in the Rangers roster.

Anisimov carries a $1.875 million cap hit for the next two seasons in New York.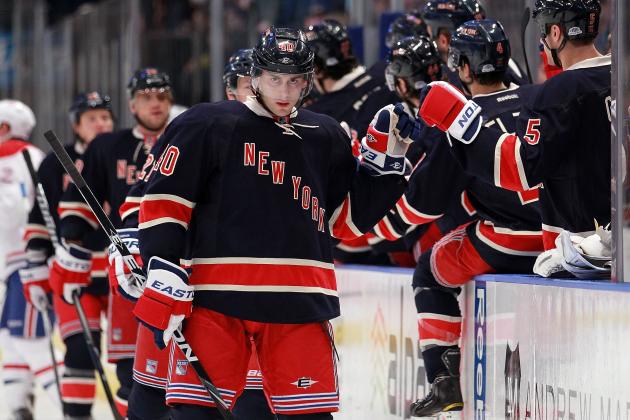 Nick Laham/Getty Images
Erik Christensen
Erik Christensen is best known as a Ranger for his snazzy moves in the shootout. Trouble is, the Rangers need a center who can play 60 minutes of solid hockey—not just dazzle in the final moments.

Christensen hasn't been able to maintain his slot as a Ranger in this year's roster, playing only 20 games this season. He's been a healthy scratch for the majority of his time in New York and was recently sent down to the Rangers' AHL affiliate, the Connecticut Whale, for a two-week conditioning stint.

He has posted only one goal and four assists this season.

There's no doubt that Christensen has the talent to play at the NHL level—there just isn't room for him on the hot Rangers roster.

Christensen carries a $925,000 cap hit and is in the final year of his contract with the Rangers.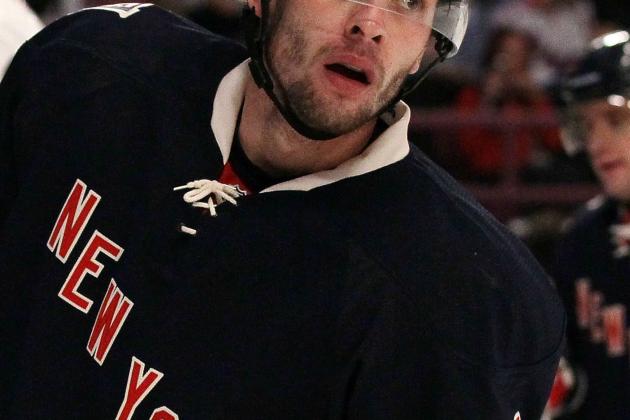 Jim McIsaac/Getty Images
Wojtek Wolski
Wojtek Wolski never quite worked out for the New York Rangers.
He was acquired from the Phoenix Coyotes in early January, 2011 in a trade for former Rangers defenseman Michal Rozsival—a player many Rangers fans thought General Manager Glen Sather could never dump thanks to his four-year, $20 million contract.

Wolski missed nearly the entire first half of this season with a sports-hernia injury requiring surgery. He was ready to come back into the Rangers roster by the new year, but with the Rangers doing so well, head coach John Tortorella said there was no spot for Wolski in the lineup.

What complicates the situation for Wolski is that once he returned to the lineup, he still remained a healthy scratch.
Wolski got a break with a couple opportunities to play when Brandon Dubinsky suffered a minor shoulder injury, but that window of opportunity is closed barring any other injuries to the Rangers offensive lines.

Also take note: Unlike Erik Christensen, who willingly accepted a two-week AHL conditioning stint with the Hartford Whale, Wolski never accepted—or declined—a similar deal.
Tortorella has been adamant that anyone who isn't in the lineup needs to play, and says the Whale are "right down the street."

Wolski has denied that he needs any further conditioning to his game, and it seems pretty clear that he wants out of New York and onto an active roster.

To complicate Wolski's situation a little more, Tortorella has also said that Wolski "needs to stay here (with the New York Rangers) now" due to recent minor injuries on the offensive lines.

It's hard to stay game-ready if you're not playing, and Wolski seems to grow more frustrated as the weeks go by.

Wolski is a restricted free agent in his final year of a two-year, $7.6 million contract.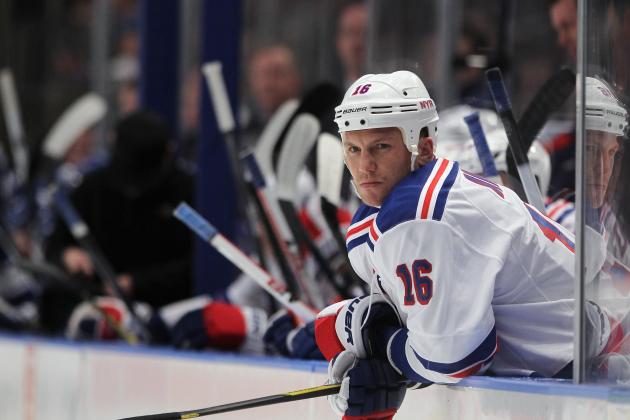 Bruce Bennett/Getty Images
Sean Avery
When Sean Avery cleared waivers on December 31, it seemed that his NHL days were finished.
He had too many "second chances" with the New York Rangers. His agent even acknowledged that Avery was not ruling out playing the rest of the season with the KHL.

But then word came earlier this month that General Manager Glen Sather rejected multiple offers from NHL teams to acquire Sean Avery.
Sather instead offered to trade Avery in a minor league deal under which the Rangers would take back additional dollars, but the responsibility for placing Avery on re-entry would then pass to the acquiring club that would then bear the burden of carrying dead salary-cap space upon a claim.

Sather has remained adamant that he will not trade Avery "right now"—but don't be surprised if the time is right by Feb. 27.

Avery is in his final contract year with the Rangers and has a no-trade clause. But he clearly isn't going to be a Ranger anytime soon, if ever again.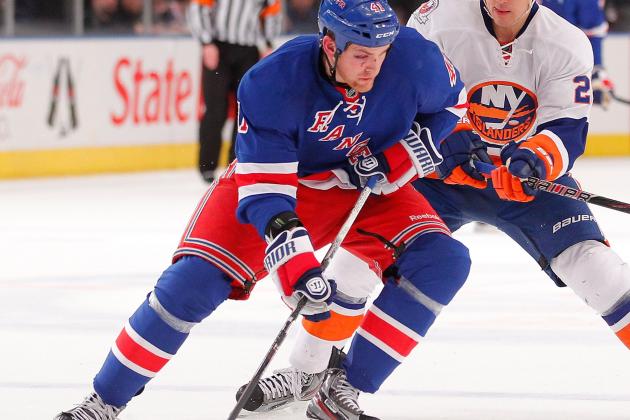 Paul Bereswill/Getty Images
Stu Bickel
Stu Bickel is a recent Hartford Whale call-up who has done reasonably well as a New York Ranger. He's a young enforcer who has contributed offensively as well, with four assists.

But recent mistakes on the blue line have reduced his ice time, something that Bickel himself admits "is completely out of my control."

Bickel was benched during the recent Montreal Canadiens game.

He didn't even reach six minutes of ice time in the 3-0 victory over the Winnipeg Jets on January 24.

He is in the middle of a one-year, two-way contract that pays him $75,000 in the AHL and $600,000 when he's in the NHL.

It's doubtful the Rangers would want to part with Bickel, but if they decide to pursue a star defenseman by the trade deadline, Bickel may be dealt.

One thing is for sure: If Bickel isn't traded, expect to see him back with the Whale once Steve Eminger and Jeff Woywitka return to the lineup.