2012 Philadelphia Eagles Draft: Expect at Least 3 Senior Bowl Players Drafted
January 24, 2012

Handout/Getty Images
If you want a good list of college prospects that the Philadelphia Eagles will choose from in the 2012 NFL Draft, look no further than the 2012 Senior Bowl rosters. If Andy Reid's draft history is any indication, expect the Eagles to pick at least three players from this group of prospects.
The annual Senior Bowl is almost like a mini combine in the sense that numerous NFL scouts and coaches descend down to Mobile, Alabama for an up-close and personal look at some of the best prospects in college football.
The event lasts an entire week and are full of practices that ultimately lead to a game between the North and South. Coaches and scouts have this time to evaluate players in practice drills designed to see how they match up against other elite-level players.
After looking at all 13 drafts of the Andy Reid era, the Senior Bowl is certainly an area that the Eagles seem to focus on for draft prospects. This is especially true for the past two drafts led by Howie Roseman as the GM.
Out of 116 total draft picks under Andy Reid, 47 of them were on the Senior Bowl roster that year. That's a whopping 40 percent of his draft picks and makes for an average of between three to four players per draft.
Furthermore, if you just look at the past two years with Howie Roseman, the Eagles used 11 of their 24 draft picks on Senior Bowl players, including their first and second rounders in each draft. That's darn near 50 percent of their total haul!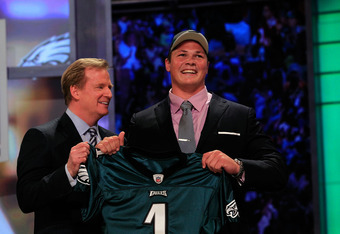 Chris Trotman/Getty Images
If you want to go further inside the numbers here, out of the 47 draft picks who were on the Senior Bowl rosters, 36 players were drafted between Rounds 1 and 4. That indicates that the Eagles tend to use their more valuable draft picks on these players.
Here is the list of Senior Bowl participants during the Andy Reid era that the Eagles drafted, including the round they were selected:
1999
QB Donovan McNabb - 1st
LB Barry Gardner - 2nd
OL Doug Brzezinski -3rd
WR Na Brown - 4th
DB Damon Moore - 4th
2000
WR Todd Pinkston - 2nd
OL Bobby Williams - 2nd
WR Gari Scott - 4th
2001
LB Quinton Caver - 2nd
DE Derrick Burgess - 3rd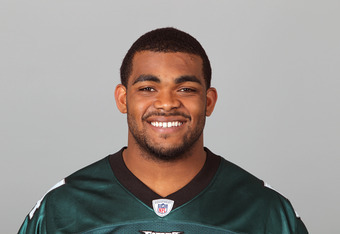 Handout/Getty Images
2002
CB Sheldon Brown - 2nd
S Michael Lewis - 2nd
RB Brian Westbrook - 3rd
OL Scott Peters - 4th
WR Freddie Milons - 5th
2003
DE Jerome McDougle - 1st
DE Jamaal Green - 4th
2004
RB Thomas Tapeh - 5th
OL Adrien Clarke - 7th
2005
DT Mike Patterson - 1st
WR Reggie Brown - 2nd
S Sean Considine - 4th
DE Trent Cole - 5th
2006
DT Brodrick Bunkley - 1st
OL Max Jean-Gilles - 4th
WR Jason Avant - 4th
2007
QB Kevin Kolb - 2nd
DE Victor Abiamiri - 2nd
RB Tony Hunt - 3rd
LB Stewart Bradley - 3rd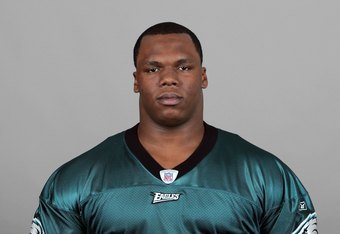 Getty Images/Getty Images
2008
DT Trevor Laws - 2nd
S Quintin Demps - 4th
OL Mike McGlynn - 4th
2009
DB Macho Harris - 5th
WR Brandon Gibson - 6th
LB Moise Fokou - 7th
2010
DE Brandon Graham - 1st
S Nate Allen - 2nd
CB Trevard Lindley - 4th
WR Riley Cooper - 5th
S Kurt Coleman - 7th
LB Jamar Chaney - 7th
DT Jeff Owens - 7th
2011
OL Danny Watkins - 1st
S Jaiquawn Jarrett - 2nd
LB Casey Matthews - 4th
K Alex Henery - 4th
As you can see, the Eagles have picked 18 of these players in Rounds 1 and 2, and another 18 in Rounds 3 and 4. In eight of Reid's 13 drafts, he used his first pick on a Senior Bowl player (in '07 and '08 his first pick came in Round 2).
We should also note that 14 of the Eagles' 47 total Senior Bowl picks were defensive linemen, by far the position most frequently targeted.
Most interesting to me is the past two drafts with Roseman. The top two picks in each draft were Senior Bowl participants as well as the aforementioned 11 of their past 24 picks overall.
Will Andy Reid and Howie Roseman make it three years in a row in taking their top two picks from the Senior Bowl rosters? For the fans' sake, I certainly hope not because that would mean no Luke Kuechly, Dont'a Hightower or Vontaze Burfict.
However, we all know how Reid and the Eagles are when it comes to linebackers, especially first-round linebackers. So, I wouldn't be surprised if they again skip that position in the first round this year and take one of the players on the Senior Bowl roster.
With that in mind, we might as well look at this year's Senior Bowl rosters and take a preliminary guess as to who could be of interest for the birds. However, that's a little lengthy for this article so there will be more to come on that.
Stay tuned!