Miami Floridians: Grading Every Funkadelic Member of the Retro Miami Floridians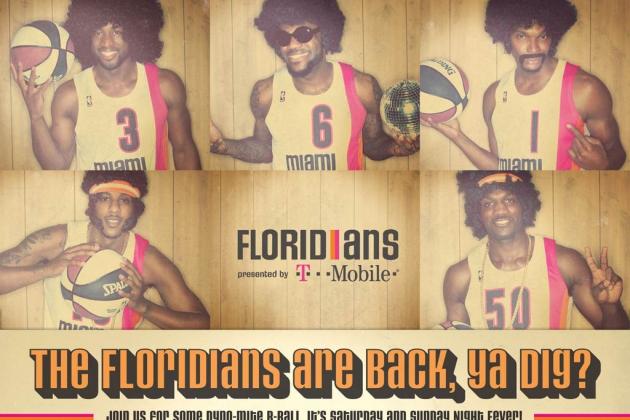 Photos courtesy of www.opposingviews.com
The Miami Heat took a trip back to the 1970s last night against the 76ers, donning their retro ABA Miami Floridian jerseys.
The Heat, or should I say Floridians, looked pretty fresh in their ABA unis, but they looked even fresher in their retro "The Floridians Are Back" photo shoot, that all 15 members of the Heat's roster took part in.
So whether or not you dig the Floridian throwback uniforms that the Heat wore last night, here are grades for every member of the Miami Floridians in their stylish 1970s retro photo shoot.
Dig it. I'm just a little bummed that Erik Spoelstra didn't take part in this.
Begin Slideshow

»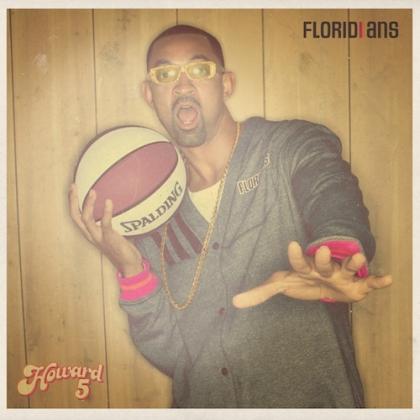 Nice call on the cardigan here. Juwan Howard went all in in this photo.
He's got the cardigan, the shocked "Chris Webber just did what?" look, and the solid yellow shades on, which makes him look pretty stellar as a member of the Miami Floridians.
Howard could have used a nice afro wig in the photo, though, that would have taken him to the next level.
Grade: B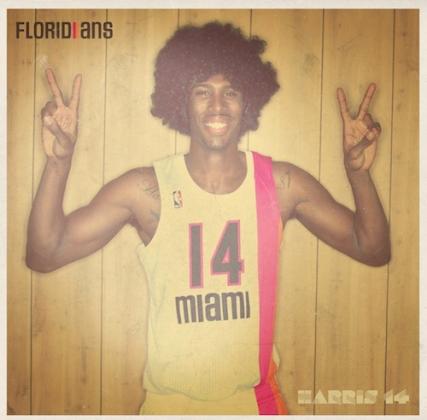 Terrell Harris apparently believes in world peace, and lots of it.
Harris must not have known there was a prop basket on set, because if you had never seen him before you would think he didn't change anything about himself.
Harris gets a D well because besides putting an afro wig on, he did nothing. He didn't even pick up one of those sweet ABA balls. Fail, well almost fail.
Grade: D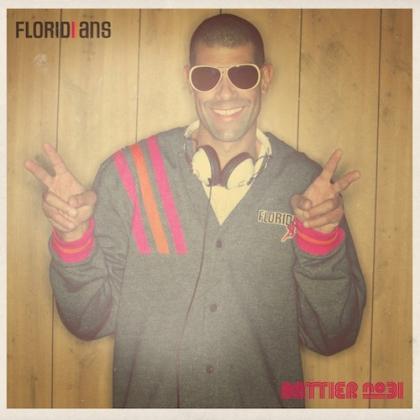 Kudos to Shane Battier for putting on the smooth cardigan, but come on, where's the jersey? Luckily Battier looks pretty sick in that cardigan with the retro aviators on.
If he didn't look as cool as he did, he'd get a lower grade, mainly because he copied Terrell Harris' "peace to the world" gesture. I know the 70s were all about peace, but not when you're wearing a cardigan Battier, come on.
Grade: B-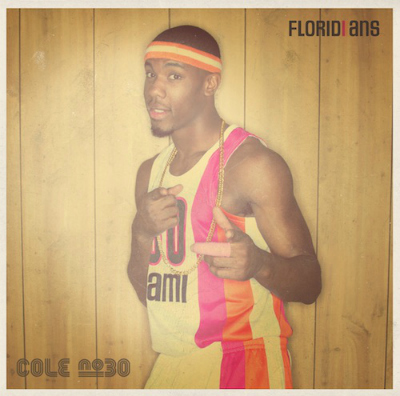 Was Norris Cole not made aware that there were huge awesome afro wigs available for this photo shoot?
Cole's had a pretty impressive rookie year so far, but he clearly dropped the ball in his retro photo opportunity.
The Semi-Pro headband just doesn't look as cool without an afro, that's just common sense.
Solid D+ here. At least Cole didn't give another "peace to the world" gesture.
Grade: D+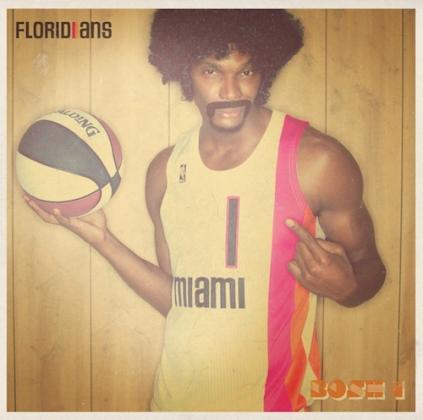 Well done Chris Bosh, well done. Bosh did what no other member of the Miami Floridians did. He put on the super-creeper fake mustache/fumanchu.
Sure the added facial hair makes Bosh look like a massive creep, but at least he took this opportunity to that level.
With the afro, the facial hair and the point, Chris Bosh takes home the highest grade and the award for most awesome Miami Floridian.
Grade: A+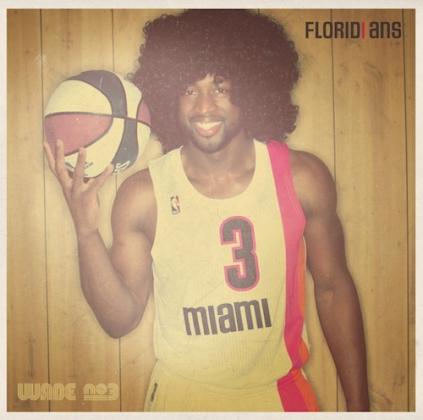 Wade earns the lowest grade of all the "Big Three" because he didn't take advantage of any of the props.
Chris Bosh put on the super-creep mustache/fumanchu and LeBron put on the shades and held the disco ball, and what does Wade do, he just stands there with a huge afro.
While the afro is nice, it's just not enough when your a member of the Big Three. I'll chalk up his average performance to his recent injuries.
Grade: C+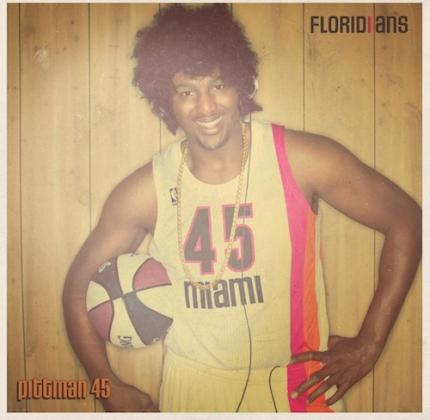 Come on Pittman. Your afro wig is all over the place and you're not really doing anything at all.
He's got the headphones on, because you can see the cord on his jersey, but you can't see them on his head.
Unfortunately, Pittman missed the mark on this one, better luck next year. Pittman needs to work on that afro, that's for sure
Grade: D+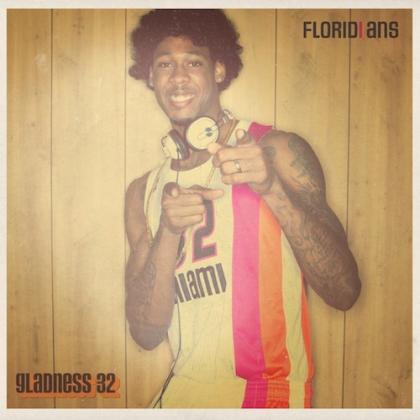 Props to Gladness first of all for having the last name Gladness.
Secondly, props to him for rocking his wedding ring in the photo.
Finally, props to Mickell for sporting the first "Beats by Dre" headphones.
Not sure Gladness is going to get many more opportunities like this, so it's nice to see him make the most of it. Afro's way too small, though. Take note of that for the future, Gladness.
Grade: C+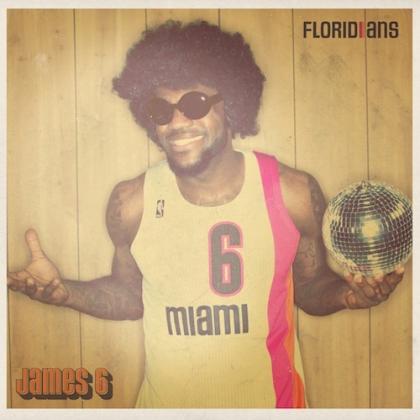 LeBron definitely took advantage of the props here. Although I wish he grabbed the sick boom box Haslem had in his photo, at least LeBron put on some awesome '70s thug blockers.
I think LeBron really needs to grow out his hair and have that sized afro for the Heatles playoff run. Taking it back to the 1970s is a good look for the king.
Grade: A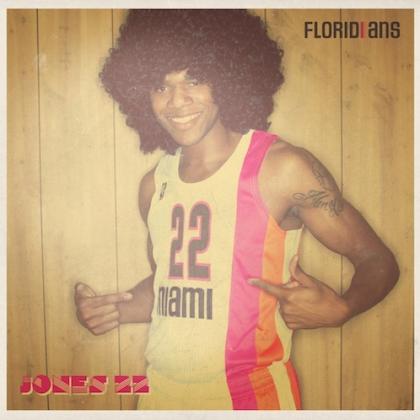 All James Jones did was put an afro wig on and point to himself. Maybe that's the reason why Erik Spoelstra's been keeping him on the bench lately.
Jones gets a D+ for this one mainly because of his lack of effort. I mean really, you've got a sick retro jersey on and all you do is point to yourself? That's the kind of charisma that keeps you on the bench.
Grade: D+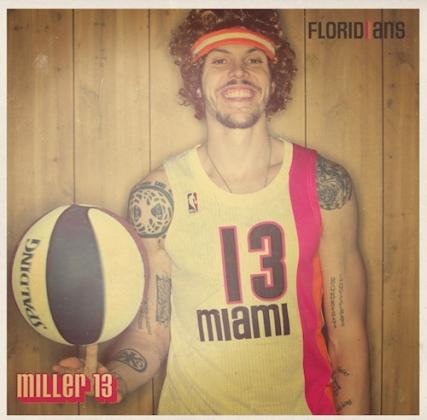 Mike Miller definitely has that 1970s vibe going on with his awesome tattoos and perfectly placed headband.
Miller looks more like hippy than he does an actual member of the ABA Miami Floridians roster.
Kudos to Miller for the nice retro ABA ball spin. Can't tell if it's his middle finger or not, though, he could be flipping us all the bird.
Grade: B-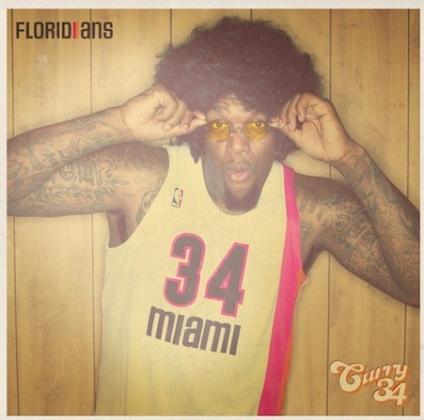 It's no secret that Eddy Curry lost around 100 pounds prior to the beginning of the season, and you can definitely tell that in his Miami Floridians picture.
Props to Curry for showing off those stellar tinted sunglasses and his new and improved slim physique.
Solid B for Curry.
Grade: B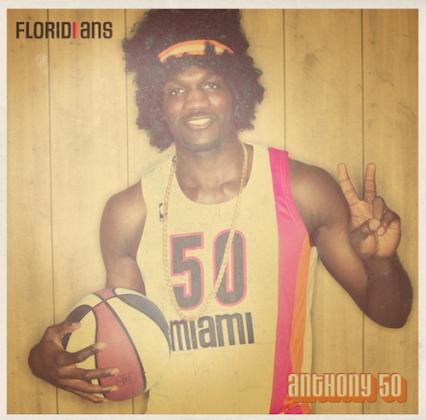 More than any player on the Floridians roster, Joel Anthony reminds me of Will Ferrell in his movie Semi-Pro. I'm pretty sure they shared headbands.
Anthony gets a C+ for his "glazed over" look that definitely takes you back to the days of the ABA.
Anthony definitely looks like he could hop right into the real lineup of the actual 1970s Miami Floridians without missing a beat.
Grade: C+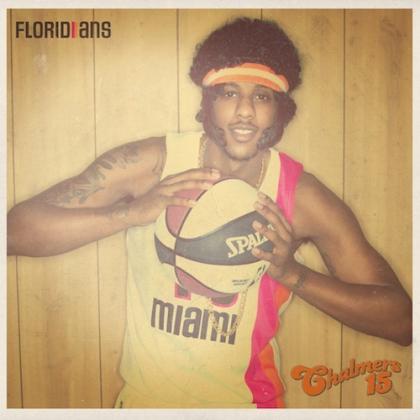 It's ridiculous how perfectly Mario Chalmers could fit into the 1970s on the actual ABA Miami Floridians roster.
The sideburn mutton chops absolute make his picture. Not to mention the sweet Will Ferrell Semi-Pro headband he's rocking.
In all honesty, he looks strikingly similar to Ferrell in Semi-Pro, which is quite an honor.
Grade: A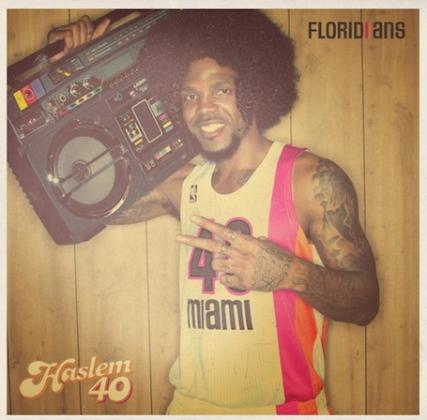 Haslem's super retro boom box steals the show here.
I can picture Haslem walking down the sidewalks in Miami in the 1970s with that boom box, and that's why he gets an A-.
If Haslem had those tinted yellow glasses on that Anthony wore, he'd get an A+. Take note of that for next year, buddy. Also, is it just me or does Haslem look a lot like Andre 3000 in Semi-Pro?
Grade: A