Breaking News: Fab Melo Not Traveling with Syracuse, Mookie Jones Leaves Team
January 21, 2012

Patrick McDermott/Getty Images
The Syracuse men's basketball team's depth will be tested against Notre Dame on Saturday due to the absence of Fab Melo.
An academic issue is reportedly keeping Fab Melo from playing against Notre Dame on Saturday and then again at Cincinnati on Monday night.
The Syracuse Athletic department released the following statement:
The Athletics Department's Communications Office is releasing two separate and unrelated matters regarding the men's basketball team:

-Sophomore Fab Melo is not with the team for the current road trip, which includes games against Notre Dame (tonight) and against Cincinnati (Jan.23).

-Junior Mookie Jones has left Syracuse University for personal reasons, and currently is not a member of the team.

Given University policy and federal student privacy laws, we are not able to provide any further details at this time.
ESPN's Andy Katz reported, "Melo is being held out due to an unresolved academic issue from the first semester, according to a source… the school is hoping the matter can be cleared up next week."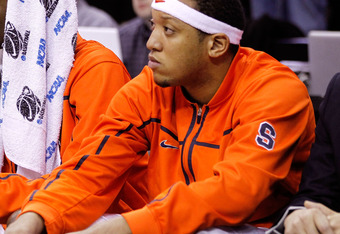 Gregory Shamus/Getty Images
The much-maligned Melo had been enjoying a renaissance of sorts. As a freshman, he was selected as the preseason Big East freshman of the year, but the out of shape Brazilian's lack of discipline on the court made for a nightmare season of failed promise.
Melo came back for his sophomore campaign leaner, meaner and more focused. He has established himself as one of the nation's premier shot-blockers, averaging three blocks per game to go with seven points and almost six rebounds in platooned time.
Rakeem Christmas and Baye Moussa Keita will be expected to pick up the slack in Melo's absence.
Mookie Jones' absence will be much less noticeable as the Junior's contributions have diminished over his time at Syracuse due to his quick trigger and poor defense.