Oklahoma Football: 2012 Ripe for National Title Run
January 21, 2012
Christian Petersen/Getty Images
It seems like almost every season is hyped as "the year" for the Oklahoma Sooners, who are expected to compete for the national championship on a perennial basis. Despite not quite living up to their expectations in 2011, the Sooners enter 2012 with a golden opportunity to achieve their goal of returning to the title game. In fact, it may be the last best opportunity the team sees in a while.
Let's start with the returning players. Landry Jones' surprising decision to return for his senior season means OU will have an experienced and capable player at the quarterback position, something that couldn't be said if Jones bolted early for the NFL. Although he struggled at times last season, Jones has the potential to go down as one of the all-time greats for the Sooners. 
Joining Jones on the offense is tailback Dominique Whaley, who rushed for 627 yards and nine touchdowns as a junior despite accumulating statistics in only six games. He dazzled Sooners fans as a walk-on phenom with his explosive speed, and he will be a huge contributor next season. With Roy Finch and Brennan Clay joining him at tailback, the Sooners should field a potent ground attack. 
The receiving corps will be talented, as well. Although Broyles is gone, Kenny Stills, who will play potentially his last season as a Sooner in 2012, is poised to have a big year as the top wideout. Likewise, Jaz Reynolds and Trey Franks could have breakout junior seasons, and expect prized recruits Trey Metoyer, Durron Neal and Sterling Shepard to make immediate impacts at the position.
Perhaps the most encouraging news for the offense is that four starters are retained on the O-line. The presence of Gabe Ikard, Ben Habern, Tyler Evans and Lane Johnson/Daryl Williams cannot be understated; an experienced and talented offensive line is foundational for a successful offense.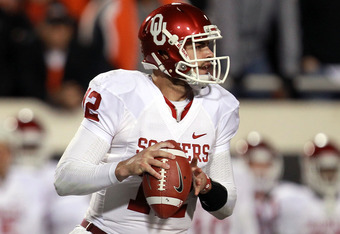 Ronald Martinez/Getty Images
Lastly, fullback Trey Millard returns for his junior season; his versatility gives the offense an added dimension, something it could lack if Millard forgoes his senior year. 
Defensively, the Sooners feature many talented players who will be gone after the 2012 season. All of the four likely starters on the defensive line—R.J. Washington, Casey Walker, Jamarkus McFarland and David King—will be seniors next season. Linebackers Tom Wort and Corey Nelson, who have showed immense talent and potential, could easily bolt early for the NFL after big seasons under Mike Stoops' tutelage. 
In the defensive backfield, playmaking cornerback Demontre Hurst will be a senior, as will safety Javon Harris. Aaron Colvin, who will be a junior, may leave early if he continues to improve at his current pace. Lastly, strong-side linebacker/nickelback Tony Jefferson will be tempted by the NFL after turning in what should be another impressive campaign.
Mike Stoops' return to Norman should excite OU fans—even though Brent Venables is gone, there is no reason not to believe Stoops will turn around a suspect unit and restore the D to its rightful place as an aggressive shutdown unit. 
The main point about the 2012 Sooners team is that it will feature a talented group of players, many of which won't be around the next season. So the team needs to take advantage of its opportunity to create a lasting legacy.
Additionally, other hot teams in the Big 12 will be rebuilding. Oklahoma State will be much less intimidating without Brandon Weeden and Justin Blackmon. Baylor loses the superhuman Robert Griffin III. Texas A&M is off to the SEC, and Texas, despite showing steady improvement, won't be quite up to OU's level next season. 
Big 12 newcomers TCU and West Virginia (if it joins next season) should be intriguing and should be challenges for the Sooners. But OU has what it takes to beat them.
It's encouraging to see Stoops turn in another top-10 recruiting class, but nothing is a given in terms of how talent will pan out. The Sooners will always have a lot of talented players but, after 2012, the team will lose a lot of experience. 
All things considered, 2012 could be a special season for Oklahoma. The team will be hungry for redemption after falling short of its aspirations in 2011. Hopefully, the players will realize that the returning talent puts them in a unique position to achieve greatness. And who knows, if Stoops and his team capitalize on that opportunity, they may put an end to the mighty SEC title streak.
Fall can't come soon enough for disciples of the Crimson and Cream.