NFL Offseason 2012: What If the New Orleans Saints Lose Marques Colston?
Use your ← → (arrow) keys to browse more stories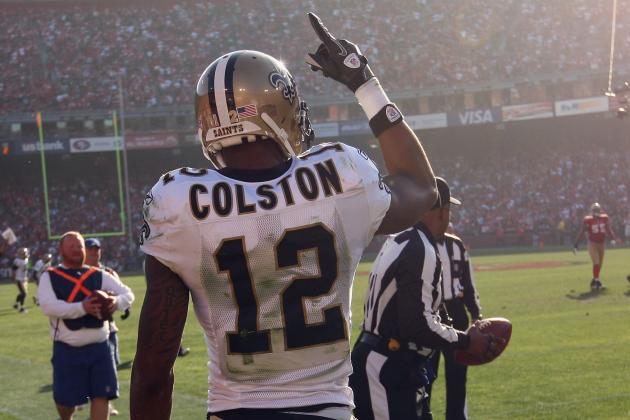 Ezra Shaw/Getty Images

The New Orleans Saints have many potential free agents on their roster entering the 2012 NFL offseason.
Among their current players that will hit the market is No. 1 wide receiver Marques Colston.
The Saints drafted Colston in the seventh round of the 2006 NFL draft, and he has been the starting receiver in New Orleans ever since.
In six years, Colston has 6,240 receiving yards and 48 touchdowns. He is quarterback Drew Brees' favorite target and one of the most important parts of the Saints' record-breaking offense.
At 6'4" and 225 pounds, Colston is a huge target, and has the hands to consistently make tough catches over the middle. The Saints constantly use Colston to get those tough third-down conversions.
New Orleans has a good amount of capable receivers already on the roster, but Colston is the best and most important. It would be a huge blow to the Saints if Colston were to leave in the offseason.
However, general manager Mickey Loomis and head coach Sean Payton would be able to move on without Colston. In 2012, the Saints will definitely have receivers Lance Moore, Devery Henderson and Adrian Arrington. These guys are under contract, and will be in the black and gold unless traded or released.
Colston and Robert Meachem are both going to become free agents. If Colston leaves, then that means the Saints will need to find someone to replace him, especially if Meachem leaves as well.
Will the Saints be able to recover if Colston leaves in free agency?
There are a good amount of free agent receivers this year, but if the Saints sign any receivers during free agency, it will likely be Colston or Meachem.
However, there are a good amount of receivers in the draft that the Saints could get to replace Colston if he leaves.
Arkansas' Greg Childs and LSU's Reuben Randle are both players similar to Colston and could be drafted with a middle-round pick.
The Saints are also very good at finding receiver talent in the late rounds and in the undrafted free-agent pool. The Saints got Colston and Arrington in the seventh round of the draft, and Moore was an undrafted free agent and practice squad player.
The bottom line is that the Saints will be fine, no matter what happens with Colston. If he comes back, then they will continue to be one of the best offenses in the league. If Colston leaves in free agency, then the Saints will do what they have to in order to replace his production.
Since Payton has been the head coach, the Saints have seen key players leave year after year, but they continue to be a great team.
This is a team that saw its best receiver in franchise history, Joe Horn, walk away after they went to the NFC Championship Game in 2006. Horn left the Saints to take more money at the division rival Atlanta Falcons and the Saints continued on without him.
Loomis, Payton and the Saints do what they have to in order to keep winning. They found Horn's replacement with Colston, and if Colston leaves then they will just move on and find his replacement.