NHL 2011-12: San Jose Sharks' Forward Depth Is Better Than Ever
January 21, 2012

Ezra Shaw/Getty Images
Ever since Doug Wilson took over as the San Jose Sharks general manager he has been trying to concoct a Stanley Cup champion.
I suppose every general manager does this. What separates Wilson from the majority is that he has been incredibly successful in most areas.
He has pieced together daunting top sixes, trading for megastars such as Joe Thornton and Dany Heatley. He has used excess pieces or cap space to bolster his defense and goaltending, bringing in guys like Dan Boyle, Rob Blake, Brent Burns and Antti Niemi.
The two areas in which Wilson has never gotten it just right? His third and fourth lines.
The Sharks have had established yet declining scorers grace their third line, such as Jeremy Roenick and Jonathan Cheecho. They've based third lines around playmaking centers like Manny Malhotra and Joe Pavelski. Wilson has attempted to create grinding lines by acquiring guys like Mike Grier, Travis Moen and Scott Nichol.
An effective third line needs to provide a team with bailout goals when the top six struggles, as well as play consistent defense while wearing down the opponent. Ultimately, San Jose's third lines have lacked either consistency, cohesiveness or an adequate scoring punch.
Last year, the Sharks had their best third line in years. The emergence of super-rookie Logan Couture forced Pavelski down to center the third line. Pavelski, an established top-six forward with an uncanny ability to play well both on and away from the puck, win faceoffs, set up teammates, score and defend, made the Sharks third line pretty good on his own.
After Wilson signed free-agent winger Kyle Wellwood, the Sharks' third line became superb. The combination of Torrey Mitchell's speed, Wellwood's puck handling and Pavelski's creativity was lethal. The line put up big plus numbers due to their ability to win draws, control the puck in the offensive zone and generate scoring chances.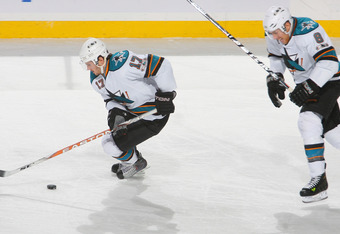 Rick Stewart/Getty Images
But come playoff time, this incarnation of San Jose's third line was exposed. Pavelski played like his usual big-game self, coming through in the clutch and giving it his all in all three zones. However, the somewhat timid wingers were completely beaten down by bigger, grittier third lines in each and every series.
San Jose survived Los Angeles and Detroit due to heroic play from their top six. By the Vancouver series, the lack of depth caught up with the Sharks. The third line didn't survive the series, nor did the team.
Doug Wilson has been equally frustrated in his attempts to bring in fourth liners. He's gone the enforcer route, acquiring guys like Jody Shelley and Brad Staubitz. He's attempted to give his team an edge via experience with veterans like Claude Lemieux, Brad Lukowich and Jamal Mayers.
An effective fourth line needs to be relentless, physical and smart, so this approach made sense. However, fourth lines also need to provide their team with energetic minutes, solid puck possession so as to not give the other team momentum and the occasional unexpected goal or drawn penalty.
Last year's fourth line provided very little of this throughout the season. Granted, the top three lines were all so good at these things that the team hardly needed the fourth to generate offense. But this led to a sense of complacency among players like Scott Nichol and Jamal Mayers, aging veterans who were feeling the grind of the season.
Come playoff time, these guys were simply not physically or mentally ready and were absolutely dominated by their counterparts. In a short series, where every shift of every game could determine which team advances, it is often up to a team's fourth line to provide that edge to push their team over the top.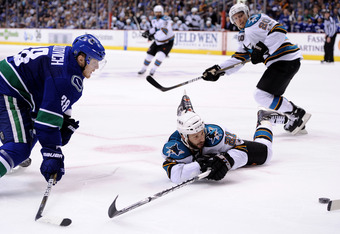 Harry How/Getty Images
Once again, San Jose's dominance elsewhere allowed the fourth line to escape the L.A. and Detroit series. Coach Todd McLellan juggled the line throughout, testing youngsters that barely played with each other during the season.
Ultimately, despite a decent game from Jamie McGinn here and Benn Ferriero there, the performances of Jamal Mayers, Scott Nichol and Ben Eager cost San Jose. Their awful play in the first two rounds forced McLellan to take them off the ice, leaving the top lines overworked and worn out come the Vancouver series.
Heading into the offseason, Wilson was in a bind. The fact was that San Jose had to get better. The most glaring hole after the Vancouver series was on the blue line, so Wilson brought in Brent Burns. This cost the Sharks Devin Setoguchi, however, which in turn pulled Pavelski back into the top six.
Without Pavelski, complimentary guys like Wellwood and Mitchell would certainly not get the job done. But rather than attempting to bring in another "top six on any other team" type of forward, Wilson reconstructed the line.
Michal Handzus was signed to a two-year, $5 million deal. The former Kings centerman provides the Sharks with elite penalty killing, but he has also given them a perfect third line center.
Handzus can create offense, but is more importantly a big body and a puck-possession guy. While he may not have the skill of a Pavelski or speed of a Manny Malhotra, he possesses the same essential skills that made them good third-line centers, as well as greater size and physicality.
With this added size, the Sharks could keep Torrey Mitchell on the third line. Each of the top two lines feature a blazing fast winger, and Mitchell's speed keeps the Sharks neutral zone play and fast-break sharp.
Without a dynamic playmaker alongside Wellwood, San Jose wouldn't get enough offense out of him. Pressure was on Doug Wilson to upgrade his spot by signing or trading for a proven scorer.
Instead, he stood pat. McLellan went with an internal option, Jamie McGinn.
On paper the decision made sense. McGinn is a speedy skater and a big hitter. He would help make the line fast as well as strong. Even if they didn't score many goals, the third line wouldn't waver from the overall team structure and game plan. 
But McGinn had other plans.
Throughout his young career, McGinn had displayed the tools necessary to score goals. He has a hard shot, is a load to handle in front of the net and has some nice skating moves. However, his game was sloppy, his play inconsistent, his willingness to trust the game plan underwhelming and his eagerness to try and do too much overwhelming.
Nevertheless, McLellan gave McGinn an opportunity to skate on the third line after scoring just one goal, tallying five assists and finishing a minus-six in 49 games last year. The coach's vote of confidence has led to a breakout season for Jamie.
In 44 games (he's played in every game), McGinn has nine goals, seven assists, a plus-10 rating and only 15 penalty minutes. He has utilized his skills better through making smarter decisions.
He has simplified and slowed his game, but that isn't to say he plays with less fire. He just uses that fire to crash the net and fight for rebounds rather than to line up big hits.
McGinn has developed excellent chemistry with Handzus. Torrey Mitchell seems to become more comfortable by the day with his role as the guy who draws more defensive attention but is, in fact, the second scoring option.
Every player is doing an excellent job staying on the puck and out of the penalty box, and this dimensional line seems to be playoff ready.
San Jose took an entirely new approach in constructing this year's fourth line. Rather than getting tougher or more experienced (an approach continuously attempted to no avail), the Sharks decided to get younger and quicker.
Andrew Desjardins and Andrew Murray won two of the positions in the preseason. And while the youngsters may "know less about winning" than Scott Nichol or Jamal Mayers, they have the uncertainty of minimum contracts and non-guaranteed roster spots to motivate them.
Brad Winchester was brought in to complete the line. While Winchester does bring experience and a tough-guy mentality (which are not bad things), he also brings relatively youthful athleticism, size and physicality and a killer shot.
The combination of a veteran who plays with a rookie's energy and rookies who play with a veteran's commitment level has San Jose's fourth line looking like one that could inflict real damage come playoff time.
This past offseason is thought of mostly by Sharks fans as one in which they moved Dany Heatley and Devin Setoguchi while acquiring Brent Burns and Martin Havlat. However, if the Sharks are to get over the hump and win the Stanley Cup this year, look straight down to the humbled down, simplified bottom six.
And while you're at it, look up to Doug Wilson and Todd McLellan—for avoiding the temptation to do the same thing over and over again while expecting different results.