Chicago White Sox: Is the Organization Really Better Off Without Ozzie Guillen?
January 19, 2012

David Banks/Getty Images
With two games left in the season for the Chicago White Sox, Ozzie Guillen walked away from his players, his coaching staff and the City of Chicago.
Are the White Sox better off without Ozzie at the helm?
Short answer…yes, they are. Not only did Guillen wear out his welcome on the South Side, but he isn't very good at managing anymore.
Over the last five seasons, according to Baseball Reference, Ozzie has a combined record of 406 wins and 403 losses. This is the record one would expect from a manager who is not very good. This is not one season for the White Sox during which the players underperformed or were not very good like the 2011 season.
This is a track record compiled over the course of five seasons and represents the bulk of Ozzie's managerial career. Ozzie is not a bad manager, just not very good.
The way that he has handled the pitching staff the last few years is an example of questionable managing. As an example, why was there not a reliever warming up during the fourth inning of every Jake Peavy start? Seemed like clockwork where Peavy would cruise through the first three innings and give up four in the fourth with no one ready to take the reins. 
Further, good managers don't put a starter in a game for four innings of relief work like Ozzie did with Peavy against the Washington Nationals. It does not matter the Sox were using a six-man rotation at the time. Good managers don't put the rest of a starting pitcher's season in jeopardy over four innings of relief work.
No question that as a result of that outing and coming off three days rest, Peavy never recovered. 
Guillen's penchant for letting relievers pitch past their effectiveness was alarming. Going back to 2006 when he began using Bobby Jenks for more than one inning, Guillen has handed opposing teams runs. After a pitcher blows two opportunities in split-inning situations, it should not be done again. Period.
Sergio Santos. J.J. Putz. Will Ohman. Scott Linebrink. Matt Thornton. The list of examples goes on and on where Ozzie put his pitchers in position to fail by ignoring both matchups and the individual players proven ability to perform in a given situation. 
Earlier this year, White Sox general manager Kenny Williams took responsibility for the players, the payroll and the performance of the team he put together. He gave Ozzie carte blanche to blow up the lineup, bench high-dollar players and get a lineup on the field that would play the game with passion and intensity. That night Guillen started Alex Rios in center field.
Excuse me?
He moved team captain Paul Konerko into the three hole in order to make sure the team maximized the number of at-bats their most productive hitter got. Great idea. Ozzie then bats Adam Dunn in the cleanup spot behind him.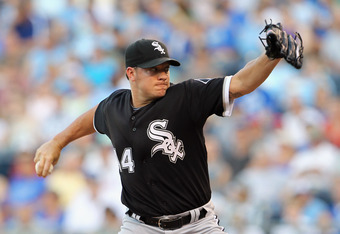 Jamie Squire/Getty Images
Huh?
No protection for your best hitter to make sure he sees the most hittable pitches possible? 
Brent Lillibridge can play every position on the field. Why, oh why, did Omar "I have no range in the field" Vizquel get 167 plate appearances this year? Good managers like Joe Girardi move struggling players down in the lineup or to the bench. It is that simple. Loyalty to players does not lose baseball games, but poor decisions sure do.
Following the season, Peavy touched on how removed Ozzie was from the realities facing the White Sox. In an interview with the Chicago Tribune on January 14, Peavy elaborates on the decision to shut him down late in the season. "At the end of the day, Ozzie didn't really know what goes on (about the decision)," Peavy said.
Earlier in the offseason, Peavy questioned who actually quit. Did the Sox quit on Guillen after getting as close as four games from the division-leading Detroit Tigers on August 15, or was it the other way around? Among others, Peavy thinks that Ozzie checked out long before he walked away.
Guillen does not play the field, pitch or swing a bat, but it was time for a change. The sideshow that Ozzie became, not just locally but nationally, had to end.
The White Sox and their fans do not know what to expect from new manager Robin Ventura. He has absolutely no experience coaching, let alone managing. The team is not going to look all that different from last year's underachieving bunch other than the departures of Mark Buerhle and Carlos Quentin, so expectations are pretty low in Chicago right now.
White Sox fans will see their fair share of bad moves by a rookie manager and a team trying to learn how to exist in a completely different environment, but it's better than more of the same.
It was time for a change. Ozzie Guillen is just not a good manager anymore.