Landon Donovan V Clint Dempsey: Who's More Important for the Future of USMNT?
January 16, 2012

Gregory Shamus/Getty Images
It is an inevitable question USMNT fans always wished we would never be asked: What will happen after Landon Donovan/Clint Dempsey? These two American superstars have carried the USMNT attack for over a half decade and were absolutely vital to the tremendous American success the last World Cup cycle.
However, the painful thought of losing these two is finally relevant, as age would imply neither has much longer in a Yankee uniform.
Both of these American starlets are likely to play some role in this next World Cup cycle, but which one will establish himself as THE go-to player? Who will be more important from 2012-2014, Dempsey or Donovan? The answer lies below. 
Basic Information
Clint Dempsey
Club: Fulham
Age: 28
USMNT Caps: 82
USMNT Goals: 24
Key USMNT Moment: World Cup Goal vs England
Club: Los Angeles Galaxy (Currently on-loan to Everton)
Age: 29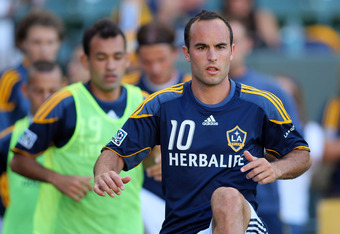 Victor Decolongon/Getty Images
USMNT Caps: 138
USMNT Goals: 46
Key USMNT Moment: World Cup Goal vs Algeria
The Verdict
The two big questions we have to look at to answer this question are: who will be more effective, and who does the USMNT need more?
Let's start with the first question above.
As you can see, the minimal age difference would imply that both Donovan and Dempsey's careers will fade at relatively the same pace in the next half-decade. However, when you look at both of their performances in the last year, it is obvious who is projected to have a better upcoming World Cup cycle.
Clint Dempsey has scored 25 club goals for Fulham in all competitions since the last World Cup, more than any other player at the EPL club. His form over the last couple months has been absolutely outstanding, and one could even say that his club career is progressing as if he was ten years younger.
With such a late-blooming characteristic, these next three years could actually feature some of the best football we ever see from the Clint Dempsey we have known for so long.
On the other hand, while Landon is still a very dangerous threat in the attacking third at both Everton and the Galaxy, his performances have not exactly inclined like his fellow USMNT teammate.
All trophies and accolades aside, Donovan's play since the 2010 World Cup has been nothing more than expected of an aging star. Hampered by multiple reoccurring injuries, LD can't seem to match the form and goals that Dempsey has put up against superior competition at the club level.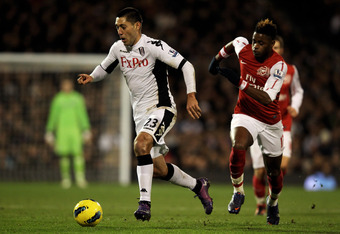 Clive Rose/Getty Images
It is evident that Donovan seems to be aging faster than fellow American star Dempsey, and it's no wonder why. Clint Dempsey started playing professional ball in 2004, when he was drafted by the New England Revolution of MLS. After three years of domestic football, he left for Fulham where he has played since 2007.
All that being said, Clint Dempsey has played a mere eight and a half years of professional, hard-core football in his career.
That number is just a fraction of Donovan's professional tenure, who began at Bayer Leverkusen back in 1999 and is now beginning his 15th year of ball. Donovan has also been a key member of the USMNT for 11 years, and is often training with European clubs in the MLS offseason to keep fit. His body may feel like it has been playing professionally far longer than just a decade and a half.
When it comes to age and form, Dempsey clearly looks like he is going to be more beneficial to the USMNT these next couple of years. In a perfect world, both Landon and Clint would sustain their superstar status until 2014, but if USMNT fans had to bet on who would remain effective, Dempsey would be the wise choice.
On to Question #2.
Considering all the recent forward problems for the USMNT, Dempsey's goal-scoring prowess is an absolute necessity for the future of the team.
While Donovan's contributions to the team are immeasurable, his role can be replaced by a number of shining young USMNT prospects. Whether it is Brek Shea, Danny Williams, Josh Gatt, or Joseph Gyau, the wing can still be occupied with a decent American who can get the job done.
A true goalscorer in Dempsey who is not afraid to get his dirty jersey and can play in multiple positions on the pitch is far more necessary for this developing American team than a winger on the back end of his second decade of football.
That is how I see it, folks. When you look at who has the brighter future and will contribute to the team more, there is no doubt in my mind that Dempsey is more important this World Cup cycle.
Do you agree? Tell me who you think is more important in the comments section!