Washington Capitals Trade Speculation: Will the Caps Take a Run at Olli Jokinen?
January 16, 2012

Christian Petersen/Getty Images
A perennial cup contender, the Washington Capitals have struggled this season.
While their 24-17-2 record places them atop the Southeast Division they have won four years in a row and consequently at third in the Eastern Conference, the Caps are far from the team they were at their prime in the 2009-10 season.
Earlier in the season, the Caps fired coach Bruce Boudreau after a dismal 12-9-1 start in the hopes of improving, but they have only managed a 12-8-1 record under new coach Dale Hunter. Changes are on the horizon in the form of trades, and at this point it seems to only be a matter of time.
The greatest need appears to be a true second-line center.
With Nicklas Bäckström's concussion set to keep him out long-term, the Caps lack depth in that position, with only Marcus Johansson and Brooks Laich as top-six options.
Johansson, while a phenomenal two-way player with an impressive 26 points through 42 games, has struggled in the faceoff circle this season, making the need for a center even more dire.
Furthermore, "Mojo" is showing great potential on the wing, rather than down the middle.
One name that has been thrown around as a potential trade target is that of Olli Jokinen, a Finnish center currently plying his trade for the Calgary Flames. The gritty 33-year-old has scored 12 goals and added 23 assists for 35 points through 46 games, solidifying himself as one of the Flames' most important players and as one of the league's better two-way centers.
The struggling Flames have already completed two trades in 2012, and show no signs of slowing down. The team is halfway through an abysmal season which has seen them compile a 21-20-5 record, and the aging roster appears to be heading for a full rebuild.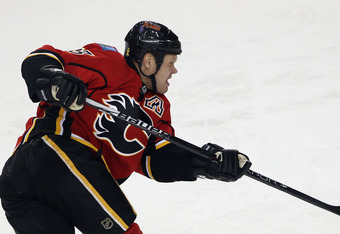 Bruce Bennett/Getty Images
Everyone is on the trade block, including Olli Jokinen.
Caps fans have seen plenty of Jokinen from his days as a Florida Panther, and know exactly what he would bring to the lineup: grit, energy, physical play and goals. 
As far as what it might take to get him, the Flames would almost certainly ask for enigmatic winger Alexander Semin in return. However, Semin is surging, playing some of the best hockey he has in a long time. The 12 points in his last 13 games proves that. General manager George McPhee working a deal that would avoid being forced to lose Semin would be ideal.
As mentioned, the Flames are rebuilding, and would look for draft picks and prospects in return for their veteran. The Caps conditionally have as many as nine picks available in the upcoming draft as well as a solid pipeline of prospects, and it's likely the Flames would ask for one of each.
Swedish center Mattias Sjögren is certainly a player the Flames could use. He is just 24 and would fit their system well. Throw in the second-round pick the Caps acquired in their deal with Colorado regarding Semyon Varlamov, and the trade would be pretty hard to turn down if you're Calgary.
Follow Jake Ware on Twitter at @JacobWare95