Eden Hazard: Transfer Off, Lille Midfielder to Stay in France for Rest of Season
January 11, 2012
Claudio Villa/Getty Images
He is one of the most talented young footballers in Europe today and the subject of numerous transfer rumors, yet it looks like Eden Hazard will not be moving during this winter transfer window.
In an interview with Lille's academy director Jean-Michel Vandamme, the director told the media:
We have received some very interesting propositions for Hazard, but the player will stay with us until at least the end of the season.

He certainly won't leave until then. Then, if we can find someone willing to make an appropriate offer, we will look to reach an agreement.
This should help squash some of the numerous transfer rumors concerning the Belgian international. Throughout the last several weeks, Hazard has been at the center of numerous transfer rumors.
Clubs that have been rumored to be interested in his services include Real Madrid, Inter Milan, Arsenal, Chelsea and Manchester City.
So far this season, Hazard has registered seven goals and six assists while playing for Lille. Unfortunately for many clubs that have been interested in his services, Hazard is already cup-tied to Lille from his six appearances in the Champions League during the group stage.
Last year, Hazard played a key role for Lille in completing their double of Ligue 1 and the Coupe de France.
Hazard has been such a talented player that Zinedine Zidane said: "I'd sign him [Hazard] for Real Madrid with my eyes closed."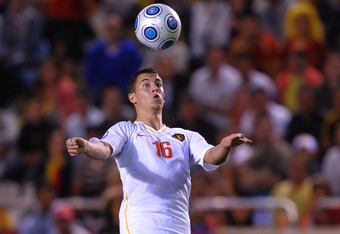 Denis Doyle/Getty Images
Former French international Christophe Dugarry has even said that Hazard reminds him of Cristiano Ronaldo.
Even though he is only 21, Hazard played a critical role for Belgium during their attempt to qualify for Euro 2012. Even though they finished third in a difficult group, Hazard will be a crucial player for Belgium in future international competitions.
Hazard was able to score his first international goal against Kazakhstan last year.
During the interview, Vandamme told the media that Hazard's transfer price was going to be around €40 million (£33m).
It was previously believed that Hazard's price was going to be in the range of €25 to €30 million, so this interview will help to drive up Hazard's price when he is bought. 
Follow me on Twitter @Andrew_Jordan