UFC 142 Predictions: Technical Breakdown of Mike Massenzio vs. Rousimar Palhares
January 12, 2012

For all intents and purposes, Rousimar Palhares should be on the verge of earning a middleweight title shot. 
Since joining the UFC in May 2008, "Toquinho" has only lost to Dan Henderson and Nate Marquardt while definitively defeating six other opponents. Even in defeat against two of the top fighters in the middleweight division, Palhares wasn't manhandled by any means.
Palhares slammed Henderson with a double-leg takedown in the second round of their fight and threatened the former Pride and Strikeforce champion with submission.
Against Marquardt, Palhares was hit with a shot while trying to argue that his opponent greased his legs. While Marquardt was innocent and the loss was Palhares' fault, the bout didn't really give a true indication of who the better fighter was.
It is likely those types of mental lapses that have caused the UFC to hesitate in giving Palhares another fight with a 185-pound contender.
In his last appearance, Palhares jumped onto the top of the Octagon fencing in celebration of what he believed to be a knockout victory over Dan Miller.
After he was refocused by referee Herb Dean, Palhares learned that the fight was never stopped, and he was forced to continue fighting his way to a decision victory.
Under most circumstances, a win over Dan Miller would be a ticket to a bout with a marquee middleweight. However, Palhares has been matched against Mike Massenzio, a fighter coming off a win but still far from the top of the division.
With wins over Dan Miller and Steve Cantwell, Massenzio shouldn't be taken lightly, but a win in this fight wouldn't do much for Palhares in terms of advancing himself in most pundits' rankings. While you can never say never in this sport, Palhares is a simply awful stylistic matchup for Massenzio.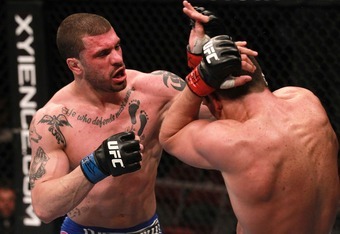 A jiu-jitsu black belt with only two knockout victories in his career, Massenzio largely depends on his ground game to carry him to victory. Against Palhares, going to the ground is usually the last thing opponents want to do.
Though both fighters are black belts, Palhares is at a whole other level when it comes to submissions. In addition to picking up three of his past four MMA victories via leg locks, Palhares was a runner-up at the ADCC Submission Wrestling World Championships in 2011.
Massenzio's grappling background may save him from a trip to the hospital, as Palhares has been known to unnecessarily crank on leg locks, but it likely won't be enough for him to walk away with a victory at UFC 142.
With improved striking and a Brazilian crowd behind him, this fight is set up for Palhares to win any way he wants. Look for Palhares to walk away with a lopsided decision victory on Saturday, which may finally earn him another shot at a middleweight contender.
Sean Smith is a Featured Columnist for Bleacher Report MMA. For the latest insight and updates on everything MMA, you can follow Sean on Twitter @SeanSmithMMA.