Al Jefferson: 6 Early Signs He's Going to Make the NBA All-Star Team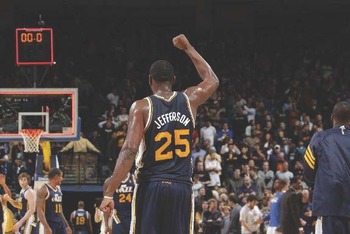 Ezra Shaw/Getty Images
Al Jefferson is having an outstanding season for the Utah Jazz.
He leads the team in scoring, rebounding, blocks, and in a related and important category: minutes per game. He is the focal point of the Jazz offense when he is on the floor.
Due to his performance in the first eight games of this shortened season, he has been placed on the ballot for the 2012 NBA All-Star Game, alongside fellow Jazz players Paul Millsap, Derrick Favors and Devin Harris.
His production, his stature on the team, and the schedule that the Jazz will face prior to the selection of the All-Stars will all help Jefferson represent Utah in Orlando, Fla.
Scoring Average
Ezra Shaw/Getty Images
Jefferson is averaging 19.6 points per game, which puts him first on the Jazz and in the Western Conference among centers. His 30-point performance against the Cleveland Cavaliers on Jan. 10 helped push him past Andrew Bynum of the Los Angeles Lakers for first place; Bynum averages 17.9 points per game.
The All-Star game is all about offensive production, and Big Al's scoring puts him as a strong contender to make the team. Jefferson is shooting 51.5 percent from the field, a bit higher than his career average of.50.1.
If he continues to shoot that well, his offensive production figures to further increase prior to the All-Star voting deadline of Jan. 31.
Rebounding
Ezra Shaw/Getty Images
Jefferson is also the leading rebounder on the Jazz, averaging 8.9 per game, and he ranks fifth in rebounding among Western Conference centers on the All-Star ballot behind Andrew Bynum (Lakers, 14.6), Marc Gasol (Memphis Grizzlies, 10.8), DeMarcus Cousins (Sacramento Kings, 10.1), and Marcus Camby (Portland Trailblazers, 9.2).
Though his rank for rebounding among his peers is not as high as his scoring, Jefferson is still within the top five for rebounding among his competition. And he did have an impressive 10 rebounds in the first half against the Cleveland Cavaliers on Tuesday.
Favorable January Schedule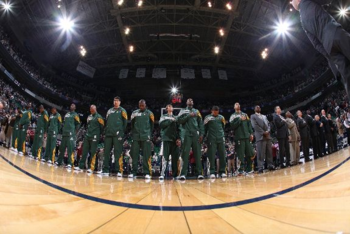 Copyright 2012 NBAE (Photo by Melissa Majchrzak/NBAE via Getty Images)
The timing of the All-Star voting, which ends on Jan. 31, is ideal for Jefferson. Utah plays eight of its next 10 games in EnergySolutions Arena in Salt Lake City, meaning Jefferson will be able to play on his home floor through the majority of the time the All-Star voting is open.
Not only are the Jazz undefeated at home this season, but Jefferson is averaging more points at home than on the road (24.5 home, 14.8 road), is shooting a higher percentage (61.4% home, 40.6% road), and is playing more minutes (35.4 home, 31.0 road).
Utah's Record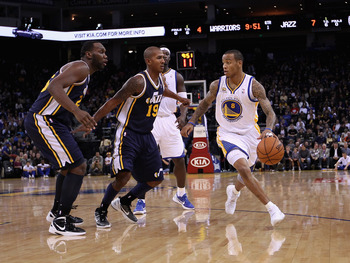 Ezra Shaw/Getty Images
Though Utah may not remain undefeated at home throughout the entire All-Star voting process, with eight of 10 home games remaining for the Jazz in January, the team has the opportunity to win several games in the next month.
Though playing at home will help Jefferson's chances, the Jazz do face several tough games in January at home, including a visit from the Los Angeles Lakers on Jan. 11, along with a visit from once-Jazzman Wesley Matthews and his Northwest Division Portland Trailblazers on Jan. 30.
It is feasible that the Jazz could end January at or above .600, which will give Jefferson a brighter spotlight to play under as other teams take notice of the buzz about them coming out of Salt Lake.
Opportunities/Minutes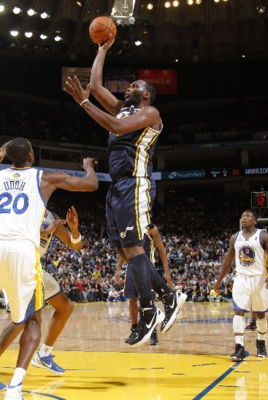 Ezra Shaw/Getty Images
Jefferson is averaging 33.2 minutes per game, ranking first on the Jazz while ranking third in the Western Conference among centers. Only Marc Gasol of the Memphis Grizzlies (37.5 minutes per game) and the Lakers Andrew Bynum (33.5 minutes per game) are averaging more time than Big Al.
Despite playing fewer minutes, Jefferson averages more points than both Gasol and Bynum.
Leader of His Team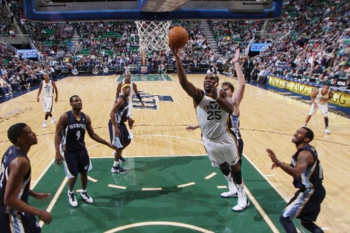 Copyright 2012 NBAE (Photo by Melissa Majchrzak/NBAE via Getty Images)
Though not a vocal leader on the court, Jefferson's output gets the team going and can help them break out of scoreless slumps.
His near double-double average of 18.6 points and 9.7 rebounds last season helped keep the bottom from completely falling out the franchise after a tumultuous 2010-11 season that saw Hall of Fame coach Jerry Sloan and All-Star guard Deron Williams leave Salt Lake City.
Keep Reading

Utah Jazz: Like this team?