C.J. Mosley Injury: Updates on Alabama LB's BCS Knee Injury
January 10, 2012
Chris Graythen/Getty Images
Not all is sunny in Tuscaloosa. Despite holding a commanding lead over LSU in the fourth quarter of the BCS national championship tonight, 21-0, there is some sobering news.
Alabama is going to be without linebacker C.J. Mosley for a long time.
UPDATE: January, 10 at 10:30am EST
According to TideSports.com's Tommy Deas, Mosley has a dislocated hip. He states that Mosley should be fine in at least six weeks depending on possible joint damage.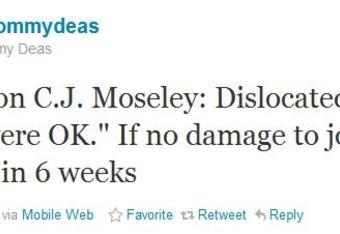 The sophomore picked off an errant pitch by Tigers quarterback Jordan Jefferson and was viciously tackled by the signal-caller. Jefferson seemed to twist his body around in a circle, and Mosley's leg got stuck in the turf.
The video replay doesn't look good, and the diagnosis by Fox Sports medical expert Dr. Mark Adickes is even worse:
If the nerve damage is significant, this may be an injury that haunts Mosley for the rest of his career. He was carted off the field after being down for a significant amount of time.
Mosley earned freshman All-American honors in 2010 but was hampered by an elbow injury for a chunk of games in 2011.
At 6'2", 235 pounds, he is the prototypical size for an NFL linebacker. His lateral movement and tackling technique make him one of the most highly sought-after linebackers in the nation. The only thing holding him back was his strength. Mosley was supposed to be the star of the linebacker corps for the next two years.
He was on pace to be another stud 'Bama alum destined for NFL success. Now that's all up in the air. A broken femur with potential nerve damage would be a devastating injury for an athlete that generates the majority of his power from his lower body.
Regardless of whether Mosley will be 100 percent by the beginning of September, Yahoo! Sports writer Dan Wetzel tweeted some good news:
At least he's in good spirits.
After such a horrific injury, that's all you can ask for.