Thierry Henry's Goal Marks End of Turbulent Time for the Striker
January 9, 2012
Clive Mason/Getty Images
Tonight Thierry Henry scored the winning goal for Arsenal in their FA Cup third-round match against Leeds United. It was Henry's first appearance with the club since 2007, and he certainly made his impact felt with a great performance off the bench.
It certainly was a nice goal that Henry scored and it meant a lot for an Arsenal side that is looking to win its first major trophy since 2005.
However, this goal certainly meant just as much for Henry. Throughout the last several years, Henry has gone through the toughest stretch of his career.
Henry's career has been on a crazy ride since November 2009. It was in that month that Henry saw his reputation tarnished for twice handling the football inside of the penalty area on a free kick that allowed William Gallas to score the winning goal for France, which allowed them to advance into the 2010 World Cup over Ireland.
The international outcry that subsequently followed Henry hurt the player tremendously. People from every corner of the world criticized Henry for his handball to allow for France to advance.
Due to his handball, Henry saw his career move into a different stage. No longer was he as glamorous of a footballer that he was back when he was with Arsenal. Henry also saw his career put under a microscope, which in turn hurt his form tremendously with Barcelona.
Just several months before, Henry was a key part of a Barcelona side that completed an unprecedented Spanish treble. However, Henry scored only four more goals for Barcelona in the entire season following the handball.
When he did play, Henry did not play a full 90 minutes. After a Copa de Rey win over Sevilla in Jan 2010, he did not play a full 90 minutes again for Barcelona.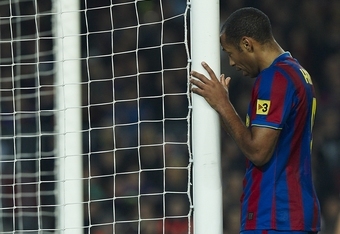 Manuel Queimadelos Alonso/Getty Images
Henry did not play against Inter Milan in Barca's Champions League semifinal, and was often an unused substitute.
In the World Cup, Henry did become the first Frenchman to play in four World Cups. But his time in South Africa got overlooked due to the strike that the French national team had over the expulsion of Nicolas Anelka from the national team.
Henry was suspended from the French national team after the World Cup, but instead chose to retire from the international game and move to the New York Red Bulls of MLS.
With former Barcelona teammate Rafael Marquez, Henry joined the Red Bulls and made the side the talk of MLS. In his first year, he struggled to adjust and the Red Bulls were knocked out by the San Jose Earthquakes in the quarterfinal.
This past season, Henry finished third in the league in goals and did look more like he did with Barcelona before the handball, but once again the Red Bulls were eliminated in the MLS Cup playoffs, this time to David Beckham's Los Angeles Galaxy.
Henry originally did say that he was going to stay with the Red Bulls to finish out his career, but once he saw a chance to go back to Arsenal, he did not hesitate.
The Arsenal legend started to train with the club and he decided then to sign a temporary six-week loan with the club.
Henry was included in Arsenal's Champions League squad for their upcoming matchup against AC Milan, and it looked like people were ready for the best for Henry's return.
Yet even the biggest Henry fans probably couldn't imagine him scoring in his return to Arsenal. No one can understand how important that goal really is to Henry.
After going through so much of pain the last two years, Thierry Henry deserved to score the winning goal against Leeds on his return to Arsenal.

Follow me on Twitter @Andrew_Jordan