Purdue Basketball: Matt Painter Needs to Rethink One of His Coaching Strategies
January 10, 2012
Joe Robbins/Getty Images
Purdue basketball coach Matt Painter is one of the best in the country, and by far one of the most underrated. Painter has turned Purdue into a year in, year out tournament team and a powerhouse in the Big Ten, but this team is different, which calls for a change.
Although Painter knows what he is doing, and generally always makes smart decisions on the coaching front, there is one thing that really sticks out that needs changing.
In the NFL when a team is up by a lot, it goes into a prevent defense. Well, this is great if the game is out of reach, but it allows a team to really pick apart the defense and usually results in a few points on the board. The problem occurs when that out-of-reach score turns into a reachable one. 
A lot of people have been known to say, "A preventive defense prevents you from winning." 
Basketball is the same concept, except on the offensive end.
When a team has the lead, it does what it can to milk the clock and slow the game down, which is causing this Purdue team to stumble.
When up big on opponents, Purdue goes into cruise control, which has led to trouble on a few occasions this season, including blowing two double-digit leads against Xavier and Butler in the second half. 
Against Minnesota, Purdue was up 67-46 with 10 minutes remaining but did not score a basket until inside the four-minute mark, allowing Minnesota to get within seven.
Here is the call to change.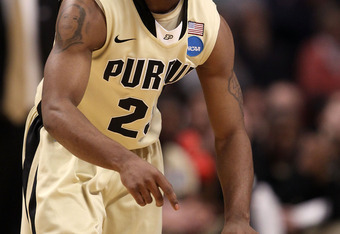 Jonathan Daniel/Getty Images
This team seems to not know how to slow down and continue to milk a lead and hit shots, so Purdue should keep the foot on the gas.
Keep pushing the ball, taking open shots and making them. 
This team is great at running the court. That is the style of a Matt Painter team. The Boilermakers hustle so hard that they are allowed easy points and take big leads. 
When Purdue re-took control of the game against Minnesota, it was done by D.J. Byrd breaking the press himself and just driving it to the hoop and scoring, not running out the clock.
Although Matt Painter has a great basketball mind, hopefully he can see through this clock management issue and keep the Boilermakers aggressive throughout the game, even during big leads.
This could potentially solve this problem, and even if it doesn't, at least Purdue would be trying something to fix it instead of waiting for the team to respond.