Offseason Wishlist: Some Free Agents That the Packers Might Target
January 6, 2012
Streeter Lecka/Getty Images
Yes...I know. The use of free agency is not really part of Ted Thompson's modus operandi.  Thompson believes in building the team through the NFL draft for the most part.  Since 2005, Thompson has rarely dipped his toes into free agency, but when he has, it's been pretty good.
Case in point: CB Charles Woodson, the 2009 NFL Defensive Player of the Year.  Since 2006, when Thompson signed Woodson via free agency, Woodson has played magnificently over those five years.
Since his arrival in Green Bay, Woodson has 37 interceptions, nine of which were returned for TDs.  Woodson also has averaged almost 85 tackles per season, plus has 10 sacks, forced 14 fumbles and also recovered one that he returned for an additional TD.
One would have to say that Woodson is right up there with Reggie White as being the best free agent signing in the history of the Packers certainly and perhaps in NFL history as well.  Thompson was in Green Bay when the Packers signed White in free agency, as Thompson was then the director of Pro Personnel for the team. 
Thompson also signed DT Ryan Pickett in 2006, and Pickett has been a steady force for the Green Bay defensive line since then.  Thompson also signed LB Brandon Chillar in 2008, and Chillar was fairly effective when he played, but was limited due to a shoulder injury.  In fact, Chillar was placed on Injured Reserve late last season due to the shoulder injury.  Chillar is not on the team in 2011.
Thompson has also signed a number of "street" free agents.  That list includes CB Tramon Williams, LS Brett Goode, LB Robert Francois, TE Tom Crabtree, QB Graham Harrell, P Tim Masthay, S Charlie Peprah, CB Sam Shields, LB Erik Walden, LB Frank Zombo, OL Ray Dominguez, S M.D. Jennings, LB Jamari Lattimore, RB Brandon Saine and LB Vic So'oto.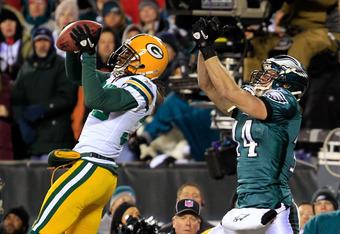 Chris Trotman/Getty Images
In terms of free agency, the first thing Thompson wants to do is make sure the Packers keep their own free agents.  The process started before this season with the contract extensions given to K Mason Crosby and RB John Kuhn. The Packers also gave contract extensions to G Josh Sitton in September and WR Jordy Nelson in October.
The Packers also would like to do a contract extension for C Scott Wells, plus they will most likely use the franchise tag on TE Jermichael Finley.  However using the franchise tag on Finley depends on what happens with the impending free agency of QB Matt Flynn, who the Packers might franchise and then trade, similar to the Matt Cassel situation a couple years back.
In terms of utilizing free agency, one can almost bet that Thompson will not make offers to the high-priced free agents who might be available. 
However, one player who would make a lot of sense in terms of being a need is LB Mario Williams of the Houston Texans, who is currently on IR due to a torn pectoral muscle.  Before the injury, Williams was having a great season in 2011, as he had five sacks through five games.  Williams is also only 26 years old.  Could you imagine Clay Matthews and Williams as bookends at the OLB position?
Another free agent who will be highly sought-after is DE Robert Mathis of the Indianapolis Colts.  Mathis would never be able to play on the defensive line of the Packers in their 3-4 defensive scheme, but he does have the size and quickness to play OLB in the 3-4 scheme, much like Williams does in Houston.  Mathis had 9.5 sacks in 2011 for the Colts.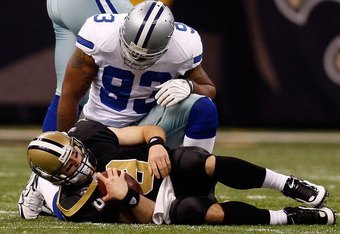 Chris Graythen/Getty Images
Expect the cost for signing the likes of Williams or Mathis to be too rich for Thompson's blood.
However, Anthony Spencer of the Dallas Cowboys is a free agent who Thompson might be interested in to play ROLB; he would most likely not be cost-prohibitive.  Spencer is only 27 years old and had 50 tackles for the Boys, plus five sacks.
Another free agency area that Thompson might look into is the defensive line position.  The Denver Broncos have two potential free agents whom Thompson might be interested in.  They would be Brodrick Bunkley and Marcus Thomas.  Both have the size to play the DE position in the 3-4 scheme, plus could slide to the NT position if need be.  Either would be a good fit for the Packers.
Both are over 300 pounds and are still fairly young.  Bunkley is only 28 years old, while Thomas is just 26.  Both have been effective for the Broncos defense (especially run defense) and like Spencer, would not come at a major cost.
Bottom line, I don't see Thompson venturing into the free agent market, unless he sees someone who would fill a major need and would be cost-effective for the Packers.  I see Thompson doing what he always does.
That is, re-signing his own players and using the NFL draft to replenish the roster of the Packers.  That and signing "street" free agents who have the potential.
We shall see.