EPL: Newcastle United and the Dominance of Demba Ba
January 5, 2012
Stu Forster/Getty Images
After watching Newcastle United crush title-hopefuls Manchester United, I'm almost willing to declare a very scary fact. Remember the Newcastle that started the first 11 games of the season?
Yeah, they're back.
Whilst it might seem premature to call it and give off the appearance that I'm simply jumping on a train that hasn't even left the station, it would take a brave soul to state that Newcastle didn't look good as they dismantled Manchester United.
And for me, the key to United's success (Newcastle, that is), has been in Demba Ba.
This season, Ba has been simply unstoppable, and considering that Newcastle still sits outside the top four, his goal-scoring feats and attacking play takes on extra significance and is harder to achieve at times.
It's not as if sides aren't stalking him in defense; he is simply too good for the coverage he's receiving, and defensive sides and coaches around the league need to figure out ways to stop him if they want to take down Newcastle.
Throughout the year, his numbers have been phenomenal as he spearheads the Newcastle attack. For the first five games of the season, Ba didn't score at all.
But in Week Six, against an average Blackburn side, Ba netted a hat-trick and sealed a 3-1 victory for Newcastle. From there, the flood gates opened.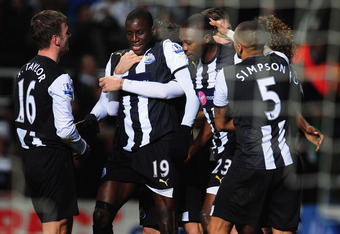 Stu Forster/Getty Images
He put another three past Stoke on the 31st of October in a 3-1 victory, and also put doubles past West Bromwich Albion and Norwich City—games in which Newcastle also lost.
And whilst there might not seem necessary to highlight a striker scoring in a losing team, the fact that Demba Ba is finding the net when the offense isn't finding a whole lot else emphasises his dominance over defences, and his necessity to this Newcastle unit.
With 15 goals in his last 15 games, Ba is in clinical form currently, and considering he's scored more than half of Newcastle's total goals this season, he looks set to continue his dominant form.
If he can score doubles in losing sides when the team is not firing, he will only prove to be more a handful as the season continues and Newcastle begin to gel again once more—especially as, despite their offensive struggles, over half their games are still going over the 2.5 goal mark.
And if this is Ba in a down period, it is truly a scary thought to see what he will be in a firing Newcastle side.
Seriously scary thought.