Michael Dyer: Former Auburn Star Reportedly Transferring to Arkansas State
January 9, 2012
Butch Dill/Getty Images
Less than a week after he was granted his release from Auburn University, running back Michael Dyer is poised to transfer to Arkansas State.
According to a report from the Associated Press, a person with knowledge of the situation claims Dyer will transfer to Arkansas State in the near future, where he will join up with former Auburn offensive coordinator Gus Malzahn.
Last Thursday, The Birmingham News reported that Dyer had been granted a conditional release that would allow him to transfer to a limited number of schools. Arkansas State was believed to be on the list.
Rumors of Dyer's transfer have been circulating for several days at this point. Last Wednesday, NationalFootballAuthority.com claimed Dyer had already filed paperwork with Arkansas State with plans to request a medical hardship that would allow him to play in 2012.
This ran contrary to what Richard Davenport of the Arkansas Democrat-Gazette had to say on Dec. 29: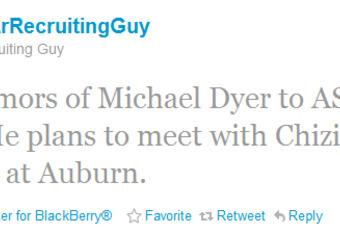 In the middle of December, Auburn head coach Gene Chizik suspended Dyer for undisclosed reasons, and he did not play in the Chick-fil-A Bowl against Virginia.
Kevin Scarbinsky of The Birmingham News noted that only Dyer's stats were featured in Auburn's media guide for the Chick-fil-A Bowl, and he wasn't featured at all in the team's video highlight reel.
And Dyer would have been featured. He rushed for over 1,200 yards during the regular season. He also boasts the distinction of having been the Offensive Player of the Game in Auburn's win over Oregon in last year's BCS National Championship Game.
Dyer is also the only running back in Auburn history to rush for 1,000 yards in each of his first two seasons.
Right around the time Dyer was suspended by Chizik, Malzahn was stepping down from his post as Auburn's OC, a position he'd had since 2009.