The 1990 "Cinderella" Cincinnati Reds: Remembering the World Series Champions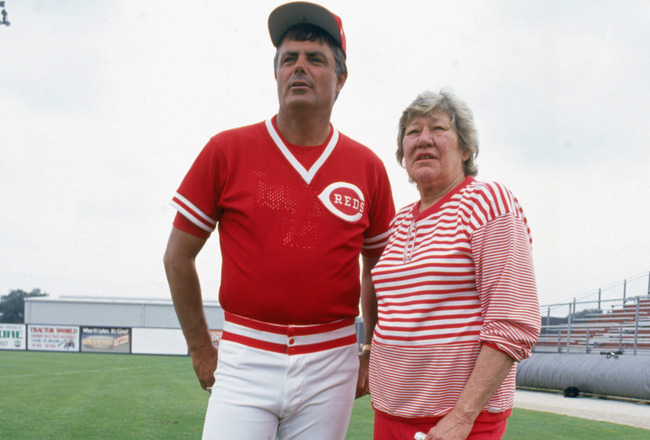 Jonathan Daniel/Getty Images
Sparky Anderson and later John McNamara were the skippers when the Cincinnati Reds dominated the 1970s, which included six divisional titles and four National League pennants, of which twice they won the World Series.
From 1982 to 1984 the Reds lost 61, 74 and 70 games and had four managers during those years.
Finally, stability was had with an old face. "Charlie Hustle" Pete Rose was traded back from the Montreal Expos for Tom Lawless in August of 1984 and instantly became the player/manager.
Due to some shrewd drafting, the Reds fielded a solid team who finished in second place from 1985 through 1988 but just couldn't get past that year's division champ.
Then in 1989, the team took a step backwards and won only 75 games due to the commissioner investigation of Pete Rose for illegal gambling. Rose resigned as manager in August of 1989.
Rose's full-time replacement became another fiery former player named Lou Pinella, who managed the New York Yankees for two-and-a-half years.
Nobody realized the stars were lining up—The Cincinnati Reds would become the Cinderella Reds in 1990 and go on to beat the Pittsburgh Pirates in the NLCS in six games and sweep the reigning champs the Oakland Athletics in the World Series.
This slideshow is to remember the key players of 1990 World Series champions.
First Base: Hal Morris and Todd Benzinger
Morris finished behind David Justice and Delino Deshields in the ROY race in 1990
Getty Images/Getty Images
R
Hal Morris' 1990 Stats: .340 - 50 R - 7 HR - 36 RBI - 309 AB
Todd Benzinger's 1990 Stats: .253 - 35 R - 5 HR - 46 RBI - 376 AB
How They Became Reds
Morris: Traded by the New York Yankees for Tim Leary and Van Snider prior to the '90 season
Benzinger: Traded by the Boston Red Sox with Jeff Sellers and a player to be named later for Nick Esasky and Rob Murphy prior to the '89 season
Todd's batting style and stats brought comparisons with Mark Grace.
He finished one point behind Terry Pendleton in the batting title race in 1991 with a .318 average. His best season as a Red was in 1994 when he hit .335 with 78 RBI. He finished 15th that season in the MVP race.
After the 1997 season, Morris signed with the Kansas City Royals and hit only four home runs after leaving.
As for the trade with the Yankees, Leary led the AL in losses with 19 in 1990 and followed up with double digit losses in '91 and '92.
Benzinger was not able to build on his breakout season of '89, which saw him reach 628 at-bats and hit 17 round-trippers.
With the Reds' future first baseman in Morris, Benzinger was traded to the Kansas City Royals before the '91 trade deadline for Carmelo Martinez.
As for the trade, Esasky hit 30 home runs and drove in 108 runs in his one season with the Red Sox. Boston was smart to let him walk as his career was finished in 1991 due to vertigo.
The other player the Reds sent over had a solid season in 1989 with an ERA of 2.74 over 105 innings pitched. Murphy would become a journeyman by pitching for seven teams from '89-'95.
Second Base: Mariano Duncan
In 1990, Duncan batted .306 and led the NL in triples with 11. Both are career highs.
Rick Stewart/Getty Images
Mariano Duncan's 1990 Stats: .306 - 67 R - 10 HR - 55 RBI - 11 triples
How He Became A Red
Traded with Tim Leary by the Los Angeles Dodgers for Kal Daniels and Lenny Harris
Since Joe Morgan left town, the Reds didn't have an above-average second baseman during the '80s. A young Ron Oester was serviceable in the early '80s but by the mid-'80s the Reds were looking to find their future second baseman.
During this time, the Reds tried Kurt Stillwell and Jeff Treadway but found themselves utilizing Oester. This led to the trade in July of 1989 for Duncan who possessed speed and a nifty glove.
Luckily for the Reds, Duncan had an All-Star-type season with his high batting average and on-base percentage mostly batting in the seventh and eighth spots of the lineup.
After playing in the postseason for the Dodgers (1985) and the Reds, he played in October for the Phillies (1993), Reds (1995) and Yankees (1996).
As for the trade, Daniels had his career year in 1990 by batting .296 with 27 home runs and 94 RBI. Due to knee problems, this would be his last productive season as he retired after the 1992 season.
Harris played with the Dodgers until 1994 mostly as an excellent pinch hitter. He was recently named by the MLB network as one of the top nine pinch hitters in history on their "Prime 9" show.
Shortstop: Barry Larkin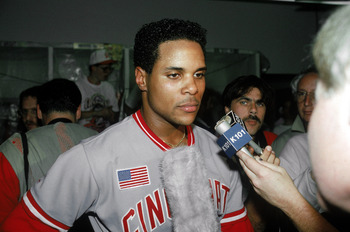 Larkin is expected to be elected to the Baseball Hall-of-Fame in 2012.
Otto Greule Jr/Getty Images
Barry Larkin's 1990 Stats: .301 - 85 R - 7 HR - 67 RBI - 30 SB
How He Became A Red
Drafted in the first round of the 1985 amateur draft (originally drafted in the second round in 1982 but didn't sign with the Reds)
Not many teams can boast about having only two players play an infield position for over three decades like the Reds can at shortstop.
From 1970 to 1985, David Concepcion manned the position with great flair and was an underrated batsman. He is identified as being one of the best defensive shortstops ever.
In his latter days, his job was to groom a young Larkin to take over his position. It seems that Concepcion not only showed him how to play the game on the field but also off the field. Larkin would become a clubhouse leader and a fine ambassador for the game.
On the field, Larkin became the face of the Reds once Eric Davis left town.
By 1990, Larkin played in two All-Star games and won two Silver Slugger awards. He was the best at his position by the time Pinella took over.
In the 1990 postseason, Larkin batted .261 against the Pirates but .353 against the A's. Taking into consideration 1995, Larkin batted .338 during his postseason career. Too bad this nice fellow didn't have more opportunities.
Larkin played in 12 All-Star games, won the MPV award in 1995, won nine Silver Slugger awards and three Gold Glove awards, all as a member of the Reds.
Third Base: Chris Sabo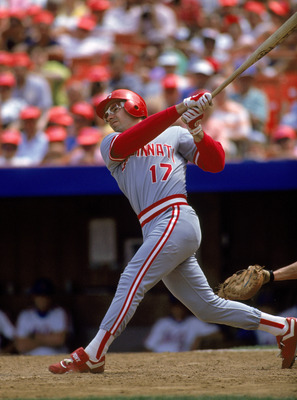 Sabo was a starter for the NL in the All Star game in 1990. This was his second appearance in three years.
Scott Halleran/Getty Images
Chris Sabo's 1990 Stats: .270 - 95 R - 25 HR - 71 RBI - 38 doubles - 25 SB
How He Became A Red
Drafted in the second round of the 1983 amateur draft
When you ask me what symbolized the 1990 Reds team, my first answer was their outstanding bullpen or, more specifically, the "Nasty Boys." My second answer is Chris Sabo's goggles.
There something about players who wore them. It made them stick out from the masses.
Kareem Abdul Jabbar and Eric Dickerson were two outstanding players in their respective sports who made them famous. In the late '80s, Sabo did the same for baseball, especially holding off Mark Grace to win the 1988 Rookie of the Year award.
Sabo was indeed popular, as evident by his two starting nods in the 1990 and 1991 All-Star games.
Sabo continued his consistent hitting for the Reds until leaving for Baltimore in 1994. Due to injuries, Sabo netted approximately 460 at-bats over the next three seasons. He retired in 1996 as a member of the Reds.
Left Field: Billy Hatcher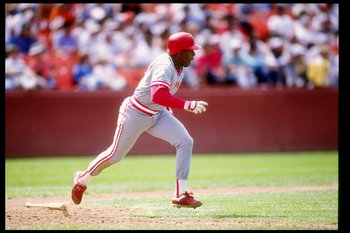 Hatcher always shined in October, sporting a career postseason average of .404
Otto Greule Jr/Getty Images
Billy Hatcher's 1990 Stats: .276 - 68 R - 5 HR - 25 RBI - 30 SB
How He Became A Red
Traded by the Pittsburgh Pirates for Jeff Richardson and Mike Roesler in April of '90
Hatcher's steals were his career high and reflected Pinella's aggressive managerial style.
Hatcher left his best hitting performance for the ultimate stage against the A's, batting .750. The batting average broke a 62-year-old record held by Babe Ruth, who batted .628 in 1928.
Hatcher played for the Reds into the '92 season before being traded to the Boston Red Sox for Tom Bolton.
As for the trade for Hatcher, Richardson and Roesler barely had any time in the big leagues.
This is another win on the trade front for the Reds.
Center Field: Eric Davis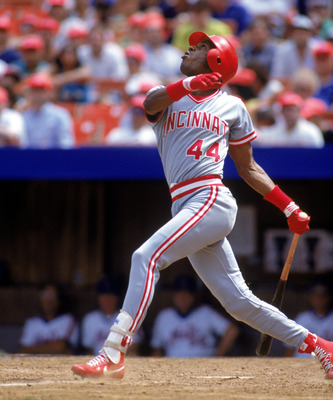 Davis was arguably the best player in baseball in the second half of the 80s
Scott Halleran/Getty Images
Eric Davis' 1990 Stats: .260 - 84 R - 25 HR - 86 RBI - 21 SB
How He Became A Red
Drafted in the eighth round of the 1980 amateur draft
By 1990, everyone thought Davis was on the fast track to the Hall-of-Fame. He was the member of the 30-30 club and the 30-50 club. He was only three home runs short of making the 40-40 club in 1987.
With his blend of speed, power and defense, he was being compared with the greats of the past like Willie Mays and Hank Aaron.
There was just only one problem: He couldn't stay healthy. Even during his best years, Davis failed to play over 135 games. The championship season would mark his peak as Eric's career quickly declined due to various injuries.
The Reds were well aware of Davis' decline and traded him with Kip Gross to the Los Angeles Dodgers for Tim Belcher and John Wetteland. Wettleland was quickly traded the next month as part of a package to the Montreal Expos for Willie Greene, Dave Martinez and Scott Ruskin.
After one year of retirement in 1995, Davis returned to the Reds and had a very productive year, hitting 26 home runs.
After leaving the Reds again to sign with the Baltimore Orioles, he was able to have one more productive season and hit 28 home runs in 1998.
He finished with 282 home runs and 349 stolen bases.
Right Field: Paul O' Neill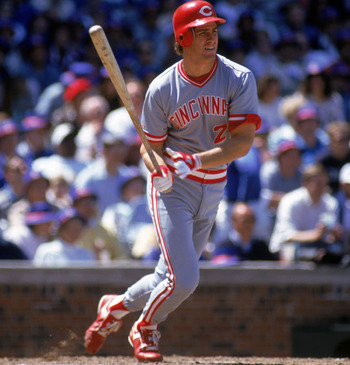 Paul O'Neill is one of those that slipped away. This Ohioan should have been a Red for life.
Jonathan Daniel/Getty Images
Paul O'Neill's 1990 Stats: .270 - 59 R - 16 HR - 78 RBI - 13 SB
How He Became A Red
Drafted in the fourth round in the 1981 amateur draft
O'Neill was a solid baseball player who fit nicely in the sixth spot. Aside from his All-Star campaign of '91, nobody saw the signs that O'Neill was ready to make the leap to perennial All-Star (four times from '94-'98). You were basically able to pencil him in for 18 home runs and 72 RBI with a .265 batting average.
So after regressing from 28 home runs in '91 to 14 in '92, the Reds traded him and Joe Deberry to the New York Yankees for Roberto Kelly.
I remember wondering why this trade happened when it happened. I totally didn't understand trading two players who were relatively the same age, played the same position and were basically similar in potential.
It didn't take long to find out that the Yankees got the better end of the deal. Kelly was traded a year-and-a-half later to the Atlanta Braves for Deion Sanders.
O'Neill went on to become the next leader of the Yankees until his retirement after the 2001 season.
Catcher: Joe Oliver
In Game 2 of the WS, Joe won the game with a RBI single that scored Billy Bates from second.
Ken Levine/Getty Images
Joe Oliver's 1990 Stats: .231 - 34 R - 8 HR - 52 RBI - 364 AB
How He Became A Red
Drafted in the second round of the 1983 amateur draft
Oliver was drafted as a compensation pick from the Yankees due to their signing of Bob Shirley.
Joe played eight years out of 13 with the Reds.
He was your typical low batting average catcher who batted .333 (6-18) in the World Series.
Jeff Reed was his back up in 1990.
Starting Pitcher No. 1: Tom Browning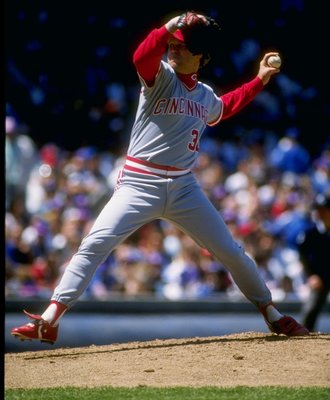 Browning led the Reds in wins with 15 in 1990.
Jonathan Daniel/Getty Images
Tom Browning's 1990 Stats: 15 W - 9 L - 3.80 ERA - 227.2 IP
How He Became A Red
Drafted in the ninth round in the 1982 amateur draft
Browning started his career with a bang. He won 20 games in 1985 but finished second to Vince Coleman in the ROY race.
From '85-'91, Browning was one of the best pitchers in the game, compiling 106 wins (avg. 15 wins per year).
Unfortunately, Tom's career basically ended in '94 after breaking his arm throwing a pitch in a game against the San Diego Padres.
Starting Pitcher No. 2: Jose Rijo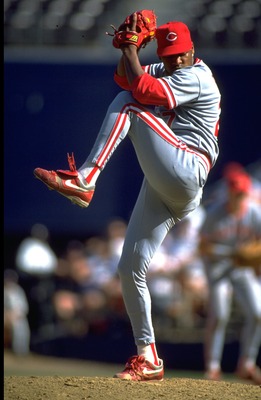 Rijo was obtained for Dave Parker in 1987.
Stephen Dunn/Getty Images
Jose Rijo's 1990 Stats: 14 W - 8 L - 2.70 ERA - 197 IP - 152 K
How He Became A Red
Traded by the Oakland Athletics with Tim Birtsas for Dave Parker after the 1987 season
Jose Rijo was the World Series MVP due to his two wins in the sweep, which included a two-hitter in Game Four.
This is what you expect from your ace. Prior to 1990, Rijo defined himself as a top-of-the-rotation pitcher with the Reds in his first two seasons with Cincy. In over 300 innings, his ERA was approximately 2.75 with 238 strike outs. If it wasn't for injuries and the Reds' poor play in '89, Rijo would have a lot more than the 20 wins he compiled.
From 1990 to 1993, Rijo won a total of 58 games and led the NL in strike outs in '93 with 227.
Due to elbow problems, Rijo didn't pitch in a major league game for five seasons. Finally in 2001, at the age of 36, Rijo pitched in three games for 17 innings and showed his talented ways. His ERA was 2.12 over that span.
He finally was able to make the full comeback in '02, starting in nine games. His record was 5-4.
He retired after the season and won the Tony Conigliaro Award, which is given to the player who overcomes adversity and obstacles.
As for Dave Parker, he continued to be a productive player for the rest of his career. With the A's, Parker reached the World Series in both seasons (winning the WS in '89).
He left Oakland after the '89 season and signed with the Milwaukee Brewers and just missed playing his former team in '90.
Starting Pitcher No. 3: Jack Armstrong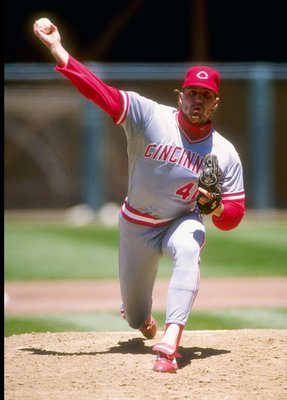 Armstrong started the 1990 All Star Game.
Otto Greule Jr/Getty Images
Jack Armstrong's 1990 Stats: 12 W - 9 L - 3.42 ERA - 166 IP
How He Became A Red
Drafted in the first round of the 1987 amateur draft
The first half started as a dream for Armstrong in '90, and he was one of the main reasons for the quick start by the Reds.
Jack won eight of his first nine decisions and was chosen to start the All-Star game for the National League.
Unfortunately, the second half was so bad that the Reds didn't even give Armstrong a start in the postseason. His only appearance was a three inning relief outing during the World Series.
This Cinderella season would mark the only season in which Armstrong finished with a winning season.
He was traded with Joe Turek and Scott Scudder to the Cleveland Indians for Greg Swindell after the '91 season.
Due to a torn rotator cuff, Armstrong retired at the age of 27 in '94.
Setup Reliever: Rob Dibble and Norm Charlton
Dibble was selected to the All-Star Game in 1990 with Randy Myers.
Getty Images/Getty Images
Rob Dibble's 1990 Stats: 8 W - 3 L - 1.74 ERA - 98 IP - 136 SO - 12.5 K/9
Norm Charlton's 1990 Stats: 12 W - 9 L - 2.74 ERA - 154.1 IP - 117 SO - 16 Game Starts
How They Became Reds
Dibble: Drafted in first round of the 1983 amateur draft
Charlton: Traded with Tim Barker by the Montreal Expos for Wayne Krenchicki
The "Nasty Boys" (including Randy Myers) were dominate in the postseason, as they were during the season.
They combined to give up one earned run over 24 innings. Basically, if you were losing in the seventh or eighth inning to the Reds, you were done.
Dibble continued dominating as the closer after Myers was moved to the rotation in 1991. Rob saved 31 games in '91 and was selected to the All-Star game again.
Charlton made the All-Star game in '92 and saved 26 games.
After that season, he was traded to the Seattle Mariners for Kevin Mitchell.
Closer: Randy Myers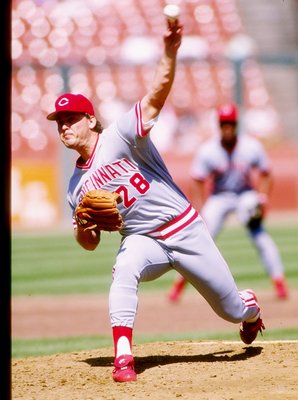 Myers saved 346 games over his career, pitching for seven different teams.
Otto Greule Jr/Getty Images
Randy Myer's 1990 Stats: 4 W - 6 L - 2.08 ERA - 86.2 IP - 98 K - 31 SV
How He Became A Red
Traded by the New York Mets with Kip Gross for John Franco and Don Brown
Myers was the anchor of one of the best and most recognized bullpens ever.
After dominating his first year with the Reds, the management decided to move Myers to the rotation. He finished '91 with a record of 6-13 and 12 starts.
He was traded after that season to the San Diego Padres for Bip Roberts and Craig Pueschner.
John Franco pitched for the Mets into the next millenium and finished with over 400 saves.
Following Years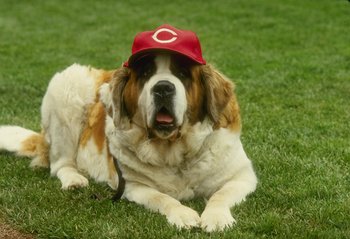 Getty Images/Getty Images
The Reds slipped to fifth place in '91 due to various reasons.
Eric Davis only played in 89 games due to injuries.
Aside from Jose Rijo and Tom Browning, the rotation wasn't that good, and the bullpen wasn't as strong. The team ERA of 3.83 ranked them eighth out of the 12 NL teams. They were ranked second in '90.
The team made the postseason in 1995 but lost to the Atlanta Braves in the NLCS.
Even though the Reds team of the '70s is considered one of the best of all time, the Reds fans will always remember the Cinderella team who won it all in 1990.
This was a team who was put together with smart trades in the late '80s and even smarter draft picks in the early '80s.
Keep Reading

Cincinnati Reds: Like this team?