Toronto Blue Jays: With the Bullpen Reorganized, Fielder or a Starter Next?
January 3, 2012
Ed Zurga/Getty Images
The Toronto Blue Jays have made a lot of small moves over the past week to bolster their bullpen after an abysmal season in 2011.
The Toronto Blue Jays reacquired Jason Frasor, who has appeared in more games for the Blue Jays than any other player, while signing a pair of lefties: Aaron Laffey and Darren Oliver.
Without going into too much detail in regards to these moves, they definitely help the bullpen. Oliver is an impressively old and skilled specialist against left-handed bats while Laffey has a chance to make the rotation. Jays fans know that Frasor is a solid eighth inning arm and coupled with Janssen make a great set-up team for Sergio Santos. 
So now that the biggest need for the Jays has been addressed, what is the next step this offseason?
The most impressive thing so far about the Blue Jays is that they have greatly improved their pen without spending any real money, especially on a possibly dynamite closer. That being said, wasn't there rumors about the Jays having money to spend?
So who should we spend the money on?
The obvious answer would be Prince Fielder in regards to free agents. As many on this site have already mentioned, he would be an excellent acquisition on the field, but with Scott Boras as his agent, he will get paid, and get paid for many, many seasons.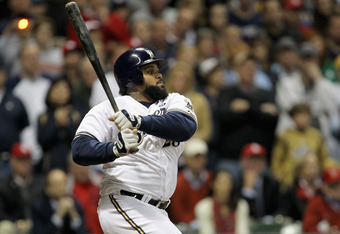 Jonathan Daniel/Getty Images
So unless Fielder yields to the Blue Jays' terms Toronto won't get the Prince.
So the Jays have all this money to burn and no one to spend it on?
That is a good problem to have.
The hope is that AA won't force the issue and make a bad signing or trade just to spend the money. This seems highly unlikely especially when looking at AA's pedigree.
Let's just hope he doesn't get pressured into it.
So what is next?
Well everyone and their grandma wants a starter, but it seems AA (Alex Anthopoulos) is holding strong and not going to mortgage the future for a decent arm. Sure the rotation struggled last year, but with Romero a bonafide ace, Morrow looking for consistency, McGowan looking for comeback player of the year honors and Alvarez and Drabek looking for breakout seasons, the Jays have the possibility of having a solid staff already.
Not to mention that guys like Litsch, Cecil and Villanueva can always push these guys to compete as well as the youngsters who have yet to make their debut.
Personally, I do not advocate trading for a middle of the rotation starter. We have enough of those guys, and all that pitcher will do is block the way for the Blue Jays' great farm system.
AA, if you are going to make a move for a starter, take the Nestea plunge and get a top of the rotation guy to lead the team with Ricky. We don't need someone else named Carlbrett McDrabarez to pitch an average season for the Jays.
Hope everyone had a great holiday!
Get at me on twitter @the__ste (Double Underscore)