Fiesta Bowl 2012: Justin Blackmon Bests Andrew Luck in Instant Classic
January 3, 2012
You knew Monday's Fiesta Bowl featuring Stanford and Oklahoma State was going to be a great game.
It featured top NFL prospect Andrew Luck against an Oklahoma State offense complete with quarterback Brandon Weeden and receiver Justin Blackmon that was averaging 49.3 points per game headed into Monday's battle.
And, just as expected, the game came down to the very end as the Cowboys won in overtime, 41-38.
In the end, it was Blackmon, the potential No. 2 pick in the 2012 NFL draft, who bested Luck, who is sure to end up with the Indianapolis Colts at No. 1 overall.
Blackmon finished with 186 yards receiving and three touchdowns in his final game before entering the NFL draft, while Luck threw for 347 yards, two touchdowns and one interception.
There was a bit of bad luck on, well, Luck's part. Stanford kicker Jordan Williamson had the chance to win the game for the Cardinals with three seconds remaining, but missed wide left. In overtime, he missed again, setting up Oklahoma State's game-deciding field goal.
Or as college football blogger Clay Travis tweeted: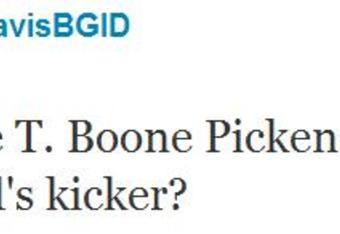 But there's no question that without Blackmon Oklahoma State wouldn't have have won this game. He came up with numerous big plays, capped off by a 21-yard gain with the Cowboys facing a 4th-and-3 on their 40-yard line in the closing minutes.
With the game, Blackmon could have very well solidified his status as the No. 1 receiver taken in the NFL draft. He was also a part of a crushing loss for Luck, who undoubtedly would have liked to end his Stanford career on a high note. He stayed another year for the very reason of bringing more glory to the school.
Regardless, both players had spectacular performances and will go down in their respective schools' record books while they move onto the NFL with a wealth of potential.