Tennessee Football: 5 Reasons to Be Pessimistic for 2012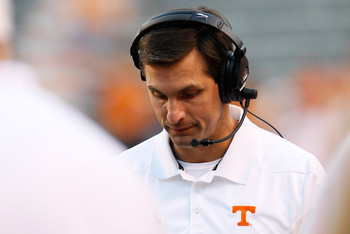 As if Tennessee Volunteers football could've gotten any worse, it has. Once an unapologetic Derek Dooley defender, I have had to completely rethink where the program is going. Unfortunately, the 2012 season doesn't look much better.
After salvaging two top 15 recruiting classes in his first two season, Dooley's 2012 recruiting class has taken hits due to de-commits. Hey, it happens.
The only difference is that Dooley asked two of the recruits to look elsewhere. If he doesn't have a few aces up his sleeve, this could cost him his job.
Besides mysterious recruiting tactics, here are five reasons you should be cautious, possibly even pessimistic about the 2012 season.
Justin Wilcox and Peter Sirmon Are Gone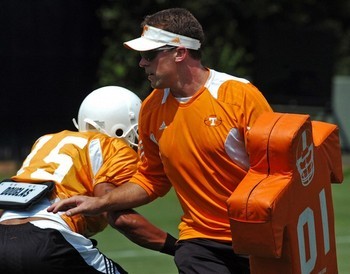 Just today, it was learned that defensive coordinator Justin Wilcox and linebackers coach Peter Sirmon were leaving Tennessee for Washington.
Both are young coaches with a bright future and had several recruits they were targeting to bring to Tennessee. Together they have brought in Tennessee's lone defensive tackle commitment, Danny O'Brien, and hidden gem linebacker, Dalton Santos.
Wilcox and Sirmon represented an upcoming-and-coming spirit that the youthful Tennessee defense embraced this year. Not only is replacing them important for recruiting, it's important for actual on-field performance.
No New Running Backs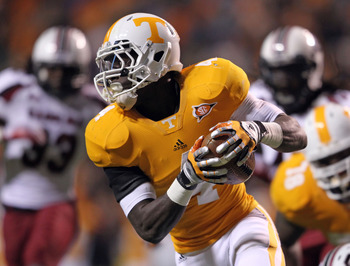 Andy Lyons/Getty Images
Quick! What was the biggest hole on the Tennessee Volunteers' offense this year? The correct answer is running back.
It's not even close. The Vols ranked dead last in the SEC in rushing this year, a statistic that must be fixed if Tennessee ever hopes to become relevant again.
After hinting to running back commit Imani Cross that it may not work out, the Big Orange is left with only two running backs for the 2012 recruiting class. Besides that, the Vols have Marlin Lane, Rajion Neal, Jaron Toney and Tom Smith returning.
Lane has shown flashes but is injury-prone. Neal is more of a wide receiver/Wildcat threat, while Toney and Smith are virtual non-factors. Who's to say the Vols will improve at all in rushing.
Jay Graham has his work cut out...
No New Defensive Linemen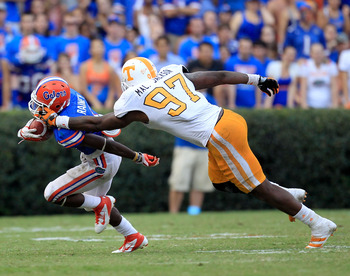 Sam Greenwood/Getty Images
Another quick question! What was the biggest hole on the Tennessee Volunteers' defense this year? The correct answer is defensive tackle.
The defensive backfield certainly needs improvement, but there are plenty of cornerbacks, safeties and athletes on the team and coming this fall that can fix that. Freshman Brian Randolph was a bright spot on the team.
The linebackers were quite good, starting two true freshmen. Curt Maggitt and A.J. Johnson will only get better.
The defensive line, while pleasantly surprising, was unable to put consistent pressure on the quarterback. The great leader and fighter Malik Jackson was playing out of position at defensive tackle, and now that he's gone, the hole is even bigger.
Maurice Couch needs to be the player the Vols recruited him to be last year, and Daniel Hood and/or Allan Carson need to find their inner Albert Haynesworth. The aforementioned Danny O'Brien is the only incoming defensive tackle.
Lack of Confidence in Vols' Leadership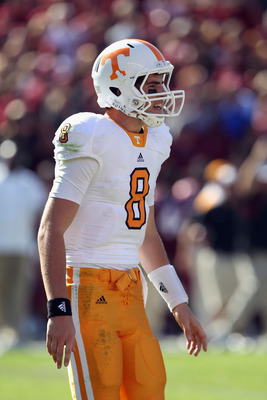 Streeter Lecka/Getty Images
The most devastating thing about the 2012 season is the leadership of the Tennessee Volunteers. I have absolutely no confidence in Tyler Bray's ability and willingness to grow, listen and lead.
His uninspired performance against Kentucky just a few weeks ago was one of the most embarrassing things I've ever seen. It has been rumored that he and wide receiver Da'Rick Rogers didn't want to go to "some shitty bowl," though it's unconfirmed.
If that's the case, shame on them. For a quarter of a century, the Big Orange prevailed over Big Blue. Extending that streak wasn't enough? Is it cooler to sit at home and watch other teams play in and win "shitty bowl" games than to be playing in one yourself?
If that's not true, the fact remains that I saw no fire in the team. The blame for that rests on the leadership of the team, as well as the coaches.
You have to ask yourself, what's going to make Bray and Rogers change in the next six months?
Another Year of Finishing 4th/5th in SEC East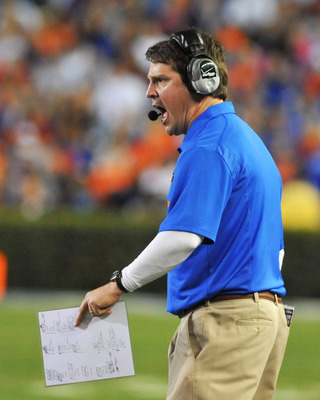 Al Messerschmidt/Getty Images
The Tennessee Volunteers aren't going to beat a top 10 South Carolina team at their place next year. They also won't beat defending SEC East champion Georgia in Athens.
Florida coming to Knoxville is a possibility, but I'm not going to call the Vols the favorite in that bout. With Kentucky invigorated after breaking the streak, and Vanderbilt gaining traction under the loud-mouth James Franklin, Tennessee is falling quickly.
Furthermore, Missouri is joining the East next year. They just capped off a 7-5 regular season with a win over North Carolina in their bowl game. Oh, the irony...
Can Tennessee begin a new streak against Kentucky? Can they break Florida's current streak over them? Is Missouri going to walk in and immediately bump the Vols down a spot?
I feel pessimistic about it all.
Keep Reading

Tennessee Volunteers Football: Like this team?