Everton January Transfer Rumours: Rating the Chances of Each Early Gossip Story
January 2, 2012
Scott Heavey/Getty Images
After watching their side eventually emerge victorious against West Brom yesterday, Evertonians will no doubt have been in jovial spirits for much of 2012. With January's inaugural Premier League fixture a particularly tedious tussle on the eye, the three points earned so late on in the contest will be tasting all the sweeter today.
January is of course always accompanied by the mid-season transfer window and, with new loan addition Landon Donovan now eligible to feature, David Moyes will be looking to bring in further bodies to boost his squad.
Hibernating since the summer, transfer gossip columns have suddenly awoken in a frenzy, already throwing numerous names around and linking many with a move to Goodison Park. 
This window is a notoriously complicated period to navigate for football clubs. Not only are prices often inflated at this time of year, but with the fixture list especially dense, managers have to access potential targets whilst leading extra prepping sessions for the additional games January brings.
It will certainly be an onerous month for David Moyes, who has gone on record stating his desire to be active this window.
Despite offloading almost £18 million of talent in the summer, most of the funds raised then will have already been used to ease Everton's frosty relations with their bank, as their debt menacingly continues to rise.
Realistically, unless they sell again, the Toffees will only be able to seek those available on loan, or those accompanied by a minute fee. Depleted up front and in the creativity ranks, those two areas will be prioritised.
To kick the window off, here is a quick slant on the chances of each of the following early links making a switch to Everton at some point in January.
Darron Gibson: Manchester United, Midfielder
An early January scenario sees Irish international, Darron Gibson, potentially seen as being on David Moyes' radar. Very much adrift from contention at Manchester United, the Irish international was poised to join Sunderland in the summer for a fee around the £5 million mark. This was before a fall-out over personal terms scuppered the deal.
A move only seems feasible should the signing be on loan, something Gibson may possibly consider as he seeks match time to cement his place in the Irish Euro 2012 squad. Unlikely to enthuse most supporters, many will be relieved that if Manchester United want any price, it's surely a no go.
An interesting side plot is the interest Manchester United are generally assumed to have had in Jack Rodwell for several seasons. Were this to manifest in an approach this winter, many would instantly link players on the periphery of proceedings at Old Trafford, such as Gibson, in with any deal.
Chances of becoming an Everton player in January? 2/5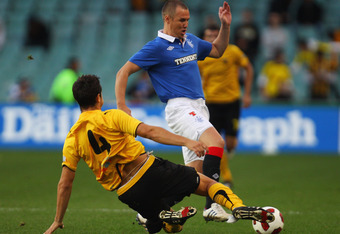 Mark Kolbe/Getty Images
Kostas Manolas: AEK Athens, Centre Back
Kostos Manolas is a highly rated young defender sure to migrate away from Greece in the coming weeks. Having already gained a plethora of suitors after some standout performances in Greece, Everton are one of a number of clubs said to be monitoring his situation.
Shane Duffy and Shkodran Mustafi are both nearing the end of their contracts and, so far, have yet to convince the Everton hierarchy they warrant extensions to their deals.
Potentially, it seems the role of promising young centre back is up for grabs and, with fellow Greek Under 21 international, Apostolos Vellios, having instantly prospered as part of David Moyes' armoury, he may well be on the Scot's January wish list.
However, Manolas is again a player sure to require a fee, and therefore Everton may be forced to watch this protegee sparkle elsewhere unless further funds are made available due to another player being sold.
Chances of becoming an Everton player in January? 1/5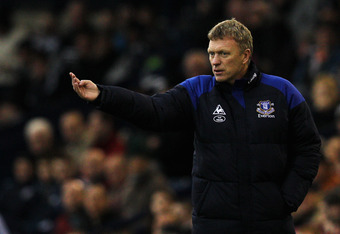 Dean Mouhtaropoulos/Getty Images
Steven Pienaar: Tottenham, Midfielder
Having seen Landon Donovan rekindle his relationship with Everton, by now predicting a swoop for Steven Pienaar may be on the cards, it seems the media feel there will be some form of reunion occurring at Goodison Park this winter.
How the Toffees would love this to include Mikel Arteta and even Yakubu, considering the goal scoring form he is currently producing.
Frustrated at being on the fringes at White Hart Lane, Everton are supposedly keen to bolster their dwindling creative ranks by re-signing Steven Pienaar on a six month loan deal.
Having made many friends on Merseyside, any move back would be welcomed by Evertonians keen to see a former Player of the Year renew his formidable left-sided partnership with the currently overworked Leighton Baines.
If a club comes in offering Spurs a price, any deal becomes instantly tricky for the Toffees, but if it is a loan, they will surely be in pole position to obtain his signature.
Chances of becoming an Everton player in January? 4/5
Nikica Jelavic: Rangers, Striker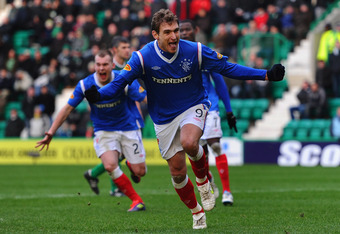 Stu Forster/Getty Images
With Rangers facing testing times financially, one of their leading players, Nikica Jelavic, seems sure to depart Ibrox this winter. His impressive displays have supposedly caused Everton to take an interest, having allegedly missed out on signing the Croatian international earlier in his career.
However, with the prices Rangers are rumoured to be holding out for approaching £10 million, this seems a non starter, again only really feasible if Everton let go a Ross Barkley, Jack Rodwell, Leighton Baines or Marouane Fellaini.
Chances of becoming an Everton player in January? 1/5
Nicky Maynard: Bristol City, Striker
Maynard has been a player David Moyes has reportedly tracked for a number of years and, shortly out of contract, some sort of enquiry about his availability is probable over the next month.
He is currently at Bristol City, where he will not be by the summer. If Everton do show interest Maynard would do well to acknowledge the way Tim Cahill, Phil Jagielka and Joleon Lescott (among others) flourished having moved up from the Championship to the Toffees.
This one may have some legs in it, if Everton do not act now, then maybe by the summer as his contract expires. It all depends on whether somebody is willing to take a punt on Maynard's services in January and, if they do make an offer, whether the Everton board muster up sufficient funds to match it.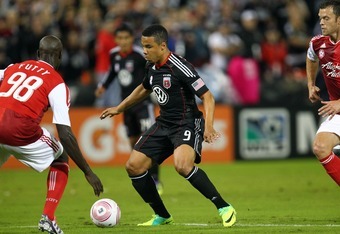 Ned Dishman/Getty Images
Chances of becoming an Everton player in January? 3/5
Charlie Davies: Sochaux, Striker
Finally, another name associated with Everton early in this January transfer window has been Charlie Davies, an American international striker currently in France at Sochaux. Having struggled to settle at the French side, he has recently been impressing on loan at DC United, although he has now returned following the end of the MLS season.
With his services reportedly available for as little as £1 million, he seems just about a credible target, who is sure to leave Sochaux in the near future.
With his compatriots Tim Howard, Marcus Hahnemann and Landon Donovan currently on Everton's roster, all sure to soothe any arrival, could David Moyes be tempted to pursue another American?
Chances of becoming an Everton player in January? 2/5
Thanks for reading! I will persist with this format as Everton continue to get linked with various potential targets throughout January,
If you liked this article, follow me on Twitter for more EFC chat.