2012 Outback Bowl: Why Michigan State Will Beat the SEC This Time
January 1, 2012
Andy Lyons/Getty Images
Big Ten Bowl Preview Extravaganza—Part 8 of 10

Michigan State tied with Wisconsin and Ohio State for the 2010 Big Ten title, but then was left out of the BCS and got throttled by Alabama in the Capital One Bowl. Despite finishing with the best conference record this year, the Spartans fell in the new conference championship game to Wisconsin and again got shut out of the BCS.
However, the Spartans have another opportunity to redeem themselves against the SEC, as Georgia comes into this game off their own conference championship loss. The Bulldogs had a 10-game winning streak snapped by LSU, although the game was competitive through halftime.
Each of these teams needs a big win on this big bowl stage to perhaps set up a run for bigger things in 2012. With both coaches needing a bowl win to keep the alumni and fans happy, this game has big implications for a non-BCS game. Let's look at the keys for Michigan State against Georgia:
No. 1: Michigan State Must Dominate the Line of Scrimmage To Shut Down RB Isaiah Crowell
Freshman RB Isaiah Crowell led the Georgia running game this season, although Georgia struggled to have a consistent running game. Crowell wore down at the end of the year, missing two of the final five games and only exceeding 15 yards against Kentucky.
The break between the SEC championship and this bowl game will hopefully have Crowell back to the form he had at the beginning of a season. Michigan State was solid on defense this season, and it all started up front with the defensive line.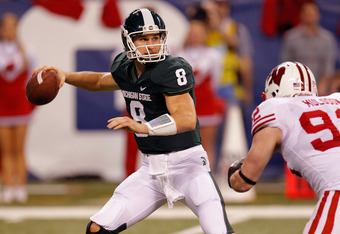 Gregory Shamus/Getty Images
The Spartans only surrendered 273 yards per game total, with only 104 of that on the ground. Thus, Crowell will find the going rough, and perhaps as rough as he did against LSU. If Michigan State can force Georgia into a one-dimensional attack, then the Spartans will have the upper hand over the course of the game.
No. 2: Jerel Worthy Needs to Rush QB Aaron Murray's Decisions
DL Jerel Worthy earned All-American honors for his leadership of the strong Michigan State defensive line. One view of the game tapes against Ohio State and Michigan reveal just how talented this group of linemen can be, as Denard Robinson and Braxton Miller looked completely lost against this front.
Michigan State does a great job of generating pressure with only the front four, and Aaron Murray is not a quarterback who likes to operate quickly. Murray only completed 16-of-40 passes with two interceptions when pressured heavily by LSU, and the Spartans could produce even more pressure with better coverage against the Bulldogs receivers.
The other team like Michigan State that generates good pressure with the defensive line in the SEC is Mississippi State, and Murray threw three interceptions in his game against those Bulldogs. If Michigan State can rush Aaron Murray into a couple of interceptions, then Michigan State will have a huge advantage in dictating the pace of the game.
No. 3: Kirk Cousins and B.J. Cunningham Should Challenge the Bulldogs Secondary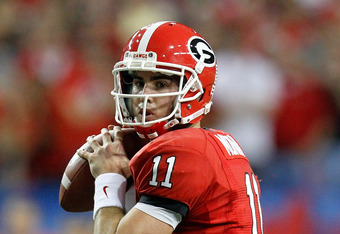 Kevin C. Cox/Getty Images
Two seniors lead the Spartans offense, both of whom set school records at East Lansing. Kirk Cousins has already won more games than any other quarterback in Michigan State history, while B.J. Cunningham set the school record for receiving yards in the middle of the season.
One thing these two players have not done is win a bowl game, and they would love to leave the program with at least one bowl trophy. In fact, Michigan State lost three years ago to Georgia and could repay the favor before Cousins and Cunningham graduate.
Georgia had an even more dominant defense statistically than Michigan State, but Georgia faced a relatively weak schedule before the SEC championship. The best passing attack faced by Georgia this season was probably Boise State and Kellen Moore, but Moore had a field day in the season opener against Georgia. With another experienced duo like Cousins and Cunningham, Georgia could be in trouble if Michigan State decides to stretch out the defense.
However, look for All-Americans LB Jarvis Jones and FS Bacarri Rambo to try and make plays against Cunningham when he moves across the middle of the field. Cousins will need to be deadly accurate, but he has the ability to do so and move the ball against this Georgia defense.
No. 4: Mark Dantonio Should Have Some More Trick Plays Ready To Roll Out
A couple of the biggest wins the past couple seasons have come on trick or gimmick plays from Mark Dantonio. Two years ago when Michigan State knocked off Notre Dame on a fake field goal, they called the play Little Giants.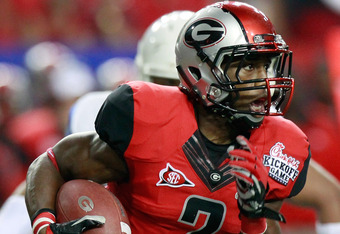 Kevin C. Cox/Getty Images
In the first game against Wisconsin, Michigan State won with a Hail Mary tip drill that was not executed well but still did the job. B.J. Cunningham has the size and leaping ability to make any jump ball or tip drill possible, so expect more trick plays to be possible against Georgia.
Sometimes it takes a little something extra to win a big game like a bowl game, and Dantonio has had a month to plan for this game. Expect some crazy calls out of both Mark Richt and Mark Dantonio, but Dantonio has a better track record with his magic. This is an advantage that could make all the difference in a closely matched game with two good defenses.
No. 5: Michigan State Should Follow the South Carolina Blueprint to Victory
South Carolina defeated Georgia with a solid running game and an opportunistic defense, and Michigan State has the same type of talent to win a game against Georgia. However, Michigan State would prefer that the game stay in the teens and 20s instead of the 45-42 showdown between USC and Georgia.
Michigan State does not have the same talent as LSU, but the Spartans are better than last year's team that fell to Alabama. This Michigan State team looks ready for the spotlight against the SEC, and using a strong running game and defense like South Carolina is the recipe for success for the Spartans.
If RB Edwin Baker and RB LeVeon Bell can wear down the Georgia defensive front, then the Spartans and especially Kirk Cousins will be very successful.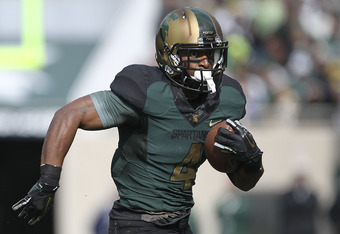 Leon Halip/Getty Images
Game Prediction
Michigan State and Georgia will likely each find moderate success early, but expect both defenses to lock down by the second quarter and make the game a defensive slug fest. In the second half, both quarterbacks will make some big plays, but Kirk Cousins will avoid the mistakes while Aaron Murray will turn the ball over a couple of times to decide the game.
Michigan State 21, Georgia 16
David Fitzgerald II is a Big Ten Football Featured Columnist for Bleacher Report.  Follow him on Twitter for new article updates @BuckeyeFitzy