2011 Liberty Bowl: Cincinnati's Win over Vanderbilt Does Not Make Bearcats Elite
January 1, 2012
Jared Wickerham/Getty Images
After the AutoZone Liberty Bowl, Cincinnati coach Butch Jones used the word "elite" when talking about the Bearcats.
Cincinnati did finish the season 10-3 and shared the Big East championship with West Virginia and Louisville. In just his second season with the Bearcats, Jones' squad had a big turnaround. Last year Cincinnati was 4-8.
So Jones has every right to be excited about what Cincinnati accomplished in 2011.
But let's not go overboard.
The Bearcats, one of the Big East's best teams, had to fight until the end to pull out a 31-24 victory over the SEC's ninth-best team.
If you go back to the second week of the season when Cincinnati traveled to Knoxville, Tenn., the Bearcats were whipped 45-23 by Tennessee—which finished 11 out of 12 teams in the SEC.
And that was with a healthy Zach Collaros. The senior quarterback played the Liberty Bowl at not quite 100 percent. Collaros broke his ankle against West Virginia on Nov. 12, and had surgery. Clearly he rehabbed his tail off to be able to play against Vanderbilt.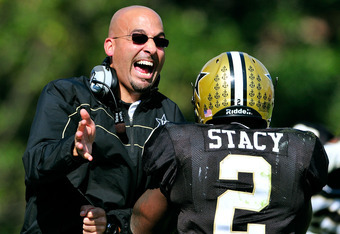 Grant Halverson/Getty Images
On this point, I agree with Jones, who praised Collaros as being the story of the bowl season during his post-game interview on ABC.
If Collaros had not been out for the rest of the regular season, I doubt Cincinnati would have lost to Rutgers a week after the WVU game. You can make a good case that the Bearcats would have defeated the Mountaineers as well, and would be in the Orange Bowl instead of WVU.
Instead, Cincinnati gives the Big East its first 10-win team of the season. West Virginia can join them with a win over Clemson in the Jan. 4 Discover Orange Bowl.
Vanderbilt finishes the season 6-7, but the record doesn't even come close to showing the improvement made under first-year coach James Franklin.
He has instilled a new swagger in the Commodores, and it was on display as Vanderbilt battled Cincinnati until the very end.
Franklin can't be pleased with the way quarterback Jordan Rodgers played (4-of-14 passing for 26 yards and an interception). However, the offense came alive when Franklin inserted Larry Smith.
Vandy seemed to take control of the game when Smith hit Chris Boyd for a 68-yard touchdown and a 21-17 lead. But it was short-lived.
Cincinnati's Ralph Abernathy took the ensuing kickoff and returned it 90 yards for a 24-21 lead and the Bearcats never looked back.
Yes, Cincinnati did win a competitive game. But the Bearcats are far from being an "elite" program.