ACC Basketball Year-End Report Cards for All 12 Teams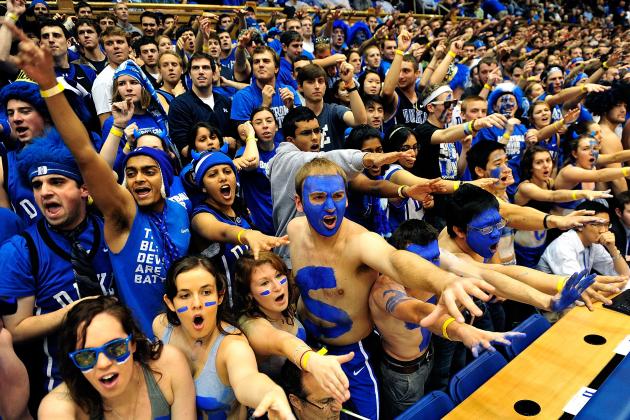 Grant Halverson/Getty Images

Heading into the conference season, some ACC teams are surpassing their preseason expectations while others are disappointing their fans. Let's take a roll call alphabetically (these are supposed to be "report cards" after all) and grade each school while selecting their best win and worst loss to date.
Begin Slideshow

»
Streeter Lecka/Getty Images

When you graduate your top five scorers from the previous year's team and you're not named North Carolina or Duke, chances are you have a big problem. The Eagles will be the only ACC team to enter conference play with a losing record.
Best Win: New Hampshire
BC won their opener to go 1-0. It'll likely be the high-water mark for the year.
Worst Loss: UMass
It was a 36-point loss to the in-state rival Minutemen in which BC committed eight more turnovers than made baskets.
Grade: F
Not unexpectedly, the Eagles are struggling.
J. Meric/Getty Images
Senior Andre Young directs the Clemson attack.
One thing second-year coach Brad Brownell hasn't changed is the Tigers' easy pre-conference schedule. Clemson left the state only twice prior to spending Christmas in Hawaii at the Diamond Head Classic. Diminutive senior Andre Young directs a team short on size, experience and scoring.
Best Win: Iowa
The Tigers have been a notoriously bad road team, but did go into Iowa City and manage to bring home one of only two ACC road wins in the ACC-Big Ten Challenge. It's also the Tigers' only win over a team with a winning record.
Worst Loss: South Carolina
For a Tiger booster, a loss to the hated Gamecocks in a debate is hard to swallow. Clemson led from midway in the first half until under the four-minute mark in a festive-turned-sour Littlejohn Coliseum.
Grade: C-
There are no embarrassing losses although the Hawaii trip was disappointing. However, thus far, there's no signature win, either.
Streeter Lecka/Getty Images
Some think frosh Austin Rivers will be flying to the NBA after a brief layover in Durham.
Playing the Dukes and North Carolinas of the world must be a little like fighting the colonial British—you wipe out one row of redcoats and here comes another one!
Stars and top NBA draft choices go and these programs barely miss a beat. This year's edition of Dukies portends well for the future without eliminating the prospect of an ACC title or better now. There's only one senior, Miles Plumlee (one of three Plumlees, who seem to have their own version of the British strategy at work), and he represents just eight percent of Duke's court time.
Best Win: Maui Invitational
Hawaii is to Duke as spinach is to Popeye. Duke is 15-0 with five titles in the Maui Invitational. They capped this year's effort with a 68-61 defeat of No. 14 Kansas.
Worst Loss: Ohio State
Um, let me see...yeah, that's it: Ohio State. Yes, Regis, I'm going with Ohio State. Final answer. Duke's only loss thus far was at No. 2 Ohio State. It wasn't pretty, but it was November.
Grade: A
After a while it almost seems formulaic: outstanding guard play, with solid if not spectacular frontcourts. This team is top echelon all the way.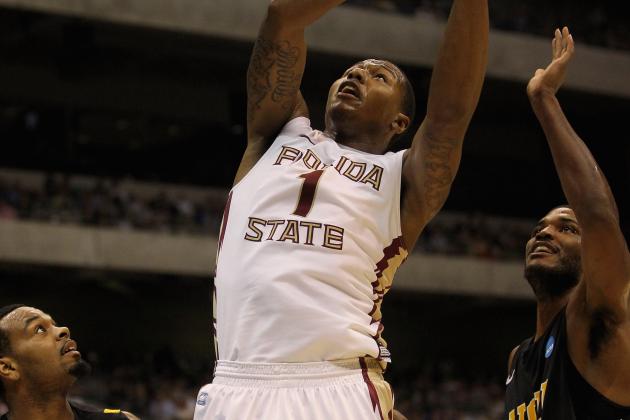 Ronald Martinez/Getty Images
Xavier Gibson is at the center of an imposing frontcourt.
The loss of NBA first-round draft pick Chris Singleton along with last season's second-leading scorer, Derwin Kitchen, left the Seminoles with no returning starters averaging double figures. Since points figure to be hard to come by, defense is coach Leonard Hamilton's emphasis and FSU presents an imposing front line.
The 'Noles are averaging seven blocks per game and have only allowed then No. 4 UConn to crack 70 points (in regulation).
Best Win: UMass
The Seminoles have not defeated a team ranked in the Sagarin Top 100. A 20-point victory over UMass to kick off FSU's visit to the Bahamas would have to be the choice.
Worst Loss: Princeton
A triple-overtime loss to Princeton (in Tallahassee) in which the 'Noles' first-half stat line looked like this: 4-of-24 from the field, 0-of-11 from three-point land, 12 turnovers, two assists and outrebounded (by Princeton!) 21-18.
Grade: D+
So far this team is getting the media's benefit of the doubt. Starting January 7 it will be "put up or shut up" for Florida State.
Streeter Lecka/Getty Images
The Yellow Jacket had plenty to applaud as Georgia Tech thumped archrival Georgia.
The Yellow Jackets staggered to a, dare I say it, wreck of a finish last year, winning only two of their last 10 ACC games. To make matters worse, Tech graduated more than half of last year's scoring output.
First-year head coach Brian Gregory (Dayton, eight seasons) inherits a steadying influence in Glen Rice Jr., who has increased his numbers across the board, and a blossoming presence in the center with Daniel Miller.
Best Win: Georgia
Georgia! The Ramblin' Wreck ran over the Dawgs at Athens for the first time in 35 years! Georgia Tech's ACC season may not amount to a hill of beans, but Jacket fans will always have Athens.
Worst Loss: Mercer
And then they lost to Mercer for the first time in 37 years.
Grade: C-
With the exception of the two games above, Georgia Tech's results have run to form. ACC beat writers picked them 10th in the ACC Preseason Poll, but things may turn out better than that in Atlanta.
Jamie Squire/Getty Images

Gary Williams picked a good time to say, "See ya!" Mark Turgeon welcomed back less than one-third of last season's scoring output. In October, Turgeon greeted Maryland's media-day crowd with a team that included six walk-ons. Add to that the NCAA suspended newcomer Alex Len, a seven-foot center from the Ukraine ("amateurism issues") for Maryland's first 10 games and the Terps have struggled.
Best Win: Notre Dame
Maryland defeated a rebuilding Notre Dame club in College Park, 78-71.
Worst Loss: Illinois
All three losses have come to respectable teams. Of as much importance is the fact that Maryland will not play its first true road game until its ACC opener. In the meantime, we'll call the Terps' inability to hold their home-court advantage in the ACC-Big Ten Challenge versus Illinois their worst loss.
Grade: C
Very hard to evaluate what's happened so far. They've lost to the good teams and beaten everyone they should have.
Streeter Lecka/Getty Images
Malcolm Grant wants to take the 'Canes dancing.
Departing head coach Frank Haith hardly left the cupboard bare for incoming Jim Larranaga. The 'Canes return the core of a team that took North Carolina to the buzzer in last year's ACC tourney. Led by preseason All-ACC selection Malcolm Grant, backcourt mate Durand Scott and the big man in the middle, Reggie Johnson, this is a team that could put some fannies in the seats at BankUnited Center.
Best Win: Rutgers
Another team that's won every game it was favored to win and lost every game in which it was the underdog. Take your pick: Rutgers or UMass. I'll take the 15-point win over Rutgers.
Worst Loss: Ole Miss
All four came to good teams and happened before Johnson returned from offseason knee surgery. There truly isn't a "worst loss" here, but I'll select the Ole Miss loss since the other three all came versus Sagarin Ratings Top 40 teams.
Grade: B
Miami almost deserves an "Incomplete" since Johnson has just returned. This team will be dangerous in a weaker-than-usual ACC.
Grant Halverson/Getty Images

A number of ACC coaches went to bed last week asking Santa for a few kids like those Roy Williams brings off the bench! As usual, the Tar Heels have high school All-Americans stockpiled down to the student manager. There can't be another team in the country where 15 players have appeared in at least 10 games already.
Best Win: Wisconsin
The Heels showed they can play it their way or they can play it your way in beating the Badgers 60-57.
Worst Loss: UNLV
In a 90-80 loss to UNLV, North Carolina was beaten on the boards 46-37 and the Runnin' Rebels had 20 second-chance points to just six for the Tar Heels.
Grade: B+
Yes, North Carolina is the favorite to win the ACC. And yes, they began as No. 1, but Roy Williams doesn't schedule hard pre-conference play and so any little stumble hurts the grade...
Going forward, one very small spot on that Achilles' Tar Heel could be the free-throw shooting of Kendall Marshall. The guy with the ball in his hands at the end of close games needs to shoot them better than he has.
Streeter Lecka/Getty Images

The Wolfpack are the poster children for the term "balanced scoring." New head coach Mark Gottfried had five players averaging between 12 and 12.8 points per game entering a New Year's Eve tilt with Western Carolina. NC State is young, with only one senior, CJ Williams, logging serious playing time.
Look for this club to be coming on under Gottfried's tutelage.
Best Win: Texas
They defeated Texas 77-74 in the Meadowlands.
Worst Loss: Vanderbilt
All four defeats have come at the hands of teams in the Top 60 of the Sagarin Ratings. Just going by that, I'll call it a loss to then-No. 20 Vanderbilt, 86-79.
Grade: B-
No bad losses, but no eye-catching wins yet, either—not that one or two might not come in conference play.
Jeff Zelevansky/Getty Images
Mike Scott leads the Cavs in scoring and rebounding.
Coach Tony Bennett's third season at the helm should see the Cavaliers returning to the Big Dance. Led by fifth-year seniors Mike Scott and Sammy Zeglinski, Virginia should contend for runner-up honors to the two "usual suspects" that have owned this league for what seems like forever.
The Hoos want to play you in the 50s or 60s and should be able to do that with everyone except you-know-who and maybe even them at John Paul Jones Arena.
Best Win: Michigan
The schedule has been soft so the 70-58 defeat of then-No. 15 Michigan in the ACC-Big Ten Challenge sticks out.
Worst Loss: TCU
The Cavaliers stubbed their toe in the Bahamas, losing to an average TCU team, 57-55. The game spotlighted the Hoos' sometimes vanishing offense with a couple of five-plus-minute scoring droughts sealing their fate.
Grade: B
Virginia might be the ACC's version of "The Little Girl with a Curl": "When she was good, she was very, very good. And when she was bad she was horrid."
Patrick McDermott/Getty Images
Dorenzo Hudson looks to take Tech to new heights.
The Hokies said goodbye to their two go-to men and more than half of their offensive output. In spite of that, Seth Greenburg has solid experience returning in the backcourt in Hudson and Green and reasonable height in the interior.
What hasn't changed much is Tech's reluctance to upgrade their non-conference schedule. Easy prediction: Greenburg will lobbying for a dance ticket again come early March.
Best Win: Oklahoma State
A steady diet of cupcakes makes the choice pretty simple. Tech has beaten Oklahoma State twice. The win at Stillwater, 67-61, gets the nod.
Worst Loss: Minnesota
There isn't a bad loss. They've lost to Syracuse, Kansas State and Minnesota. The Golden Gophers are the weakest, plus Tech led with under 20 seconds before losing, 58-55.
Grade: C
They've eaten their dessert first; now it's time for the main course. Tech has a plus/minus factor of about three spots from the middle of the pack
Streeter Lecka/Getty Images
Travis McKie goes inside and out for Wake.
The Demon Deacons return a wing-dominated offense that receives almost two-thirds of its points from its three perimeter stars. Last year's entry won once in league play. This year's edition has BC home and away and could double their wins total right there.
Give them one shocker on a night all three shooters are hitting, and that's about the best you can hope for.
Best Win: Nebraska
Easily their road win at Nebraska, 55-53, in the ACC-Big Ten Challenge. Seven-foot center Carson Desrosiers had career highs in points and rebounds. More of that kind of performance could move the Deacs up a notch or two.
Worst Loss: Richmond
This pre-conference schedule makes Virginia Tech's look hard. Let's call it a home loss to Richmond, 70-62.
Grade: D+
Wake may have some hope for the future, but their schedule thus far has produced seven wins that amount to little more than scrimmages.